Key Lime Coconut Cheesecake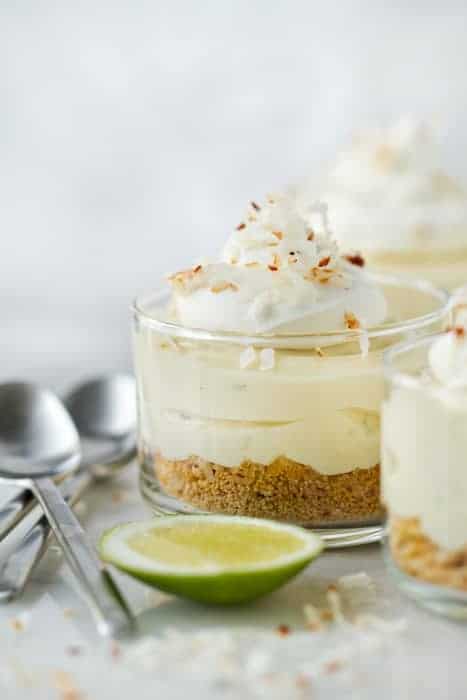 Coconut graham cracker crust topped with Key Lime Cheesecake filling and a swirl of whipped cream creates a simple and delicious dessert for every summer occasion.
If you've followed My Baking Addiction for awhile, you are well aware of the fact that I have a minor obsession with layered desserts – especially of the mini variety. My friend Glory of the incredible blog, Glorious Treats, recently sent me a copy of her debut cookbook, Glorious Layered Desserts. As you can imagine, it's pretty much my favorite cookbook – ever.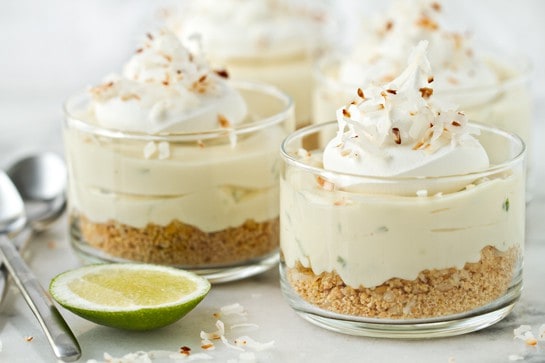 Not only is Glorious Layered Desserts beautiful, it's brimming with over 60 amazing desserts for every occasion. From Peach Raspberry Almond Trifle to Chocolate Raspberry Cheesecakes – there's truly something for everyone. And as if her delectable recipes weren't enough, Glory also included tips, tricks, and source information that will make you the layered dessert queen – or king – in no time.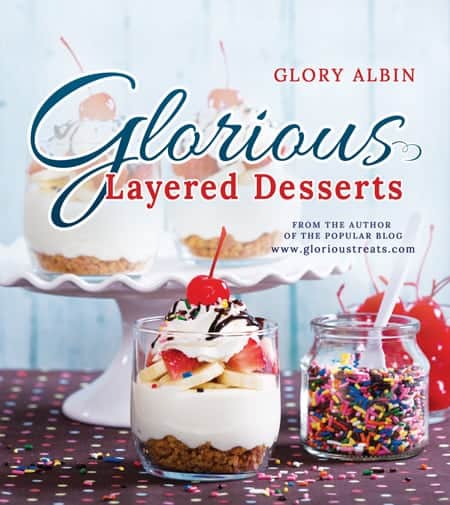 While flipping through Glorious Layered Desserts, I was immediately drawn to Glory's recipe for Key Lime Coconut Cheesecake. Since I just so happened to have all of the ingredients on hand, I made them the very next day. And then we ate every last crumb. I love Key Lime Pie, but the addition of toasted coconut and cream cheese takes the key lime pie eating experience to a whole new delicious level.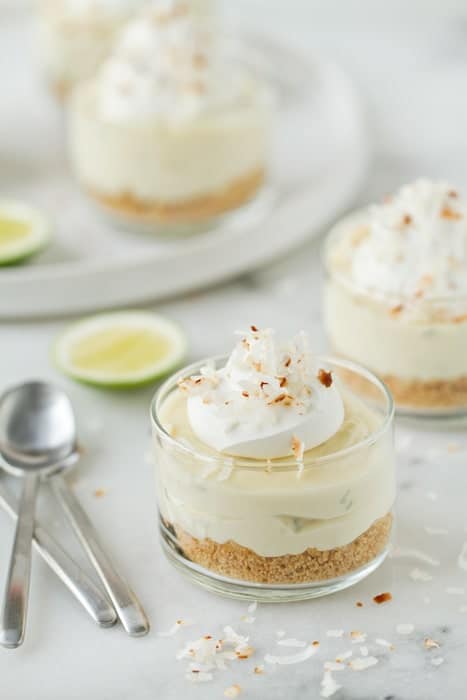 If you want a cookbook on hand for easy, quick desserts that are perfect for last minute barbecues all summer long, this is the book for you!
Key Lime Cheesecake
Yield: 6-8 servings
Prep Time: 25 minutes + chill time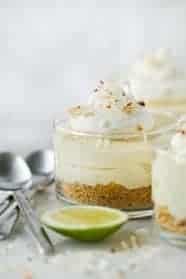 Ingredients:
For the Coconut Graham Cracker Crumble
1 sleeve (9 whole crackers) graham crackers
1 tablespoon sugar
6 tablespoons butter
1 1/2 cups shredded sweetened coconut
For the Key Lime Cheesecake
1 (8-ounce) block cream cheese
1 (14-ounce) can sweetened condensed milk
1/4 cup fresh lime juice (you'll need 3-4 limes on average), or key lime juice
1 teaspoon lime zest, finely chopped
3 tablespoons Greek yogurt (any fat content), or sour cream
1 teaspoon vanilla
Optional Toppings
whipped cream
toasted coconut
fresh lime slices
Directions:
For the Coconut Graham Cracker Crumble
1. Preheat oven to 350&degF;.
2. Crush graham crackers in a large ziplock bag and then place crumbs into a large bowl. Add sugar and stir to combine,
3. In a small bowl, melt butter in microwave.
4. Pour melted butter over bowl of crumbs and stir until crumbs are evenly moistened. Stir in shredded coconut
5. Spread crumbs onto a rimmed baking sheet and bake 8-10 minutes.
6. Allow to cool before use.
7. Crumble can be stored in sealed container up to a week.
For the Key Lime Cheesecake
1. In the bowl of an electric mixer, beat cream cheese until smooth.
2. Slowly pour in sweetened condensed milk while mixing. Mix until fully incorporated and smooth.
3. Add lime juice and zest and continue to blend. Add yogurt (or sour cream) and vanilla, and mix until all ingredients are well incorporated.
4. Pour into desired containers and chill at least 3 hours.
5. If desired, top with whipped cream and toasted coconut before serving.
From Glorious Layered Desserts
27 Responses to "Key Lime Coconut Cheesecake"

Leave a Comment