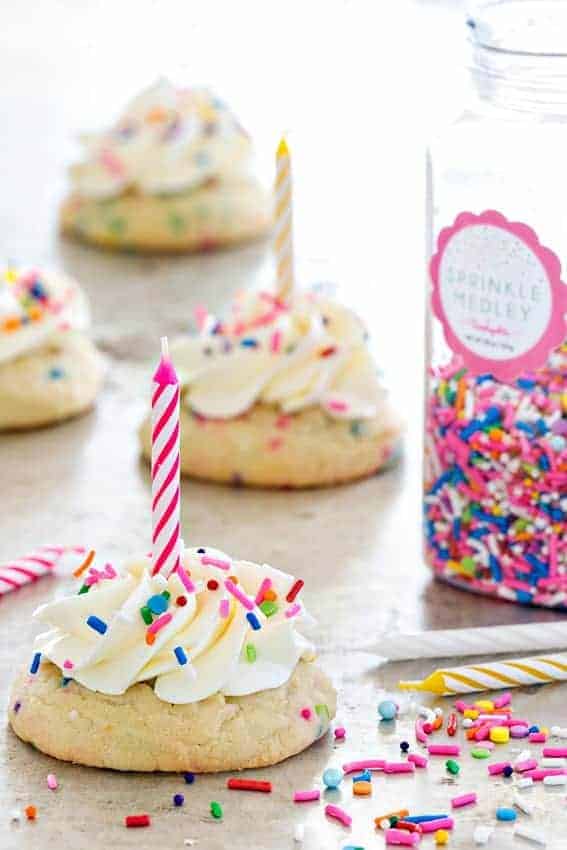 Birthday Cake Cookies are everything you love about birthday cake in cookie form – sprinkles, buttercream frosting, and more sprinkles.
When we were deciding on the plans for our new home, one room was an absolute must. It wasn't a home office or playroom for Elle, nope – it was a walk-in pantry.
A place that I could deck out with floor to ceiling shelving to accommodate my massive collection of baking pans, small appliances and enough sprinkles to last me a lifetime.
When we sat down with our builder, none of the plans we were interested in included a walk-in pantry. I had a slight diva moment, I mean how can anyone possibly have enough space to store everything in a tiny kitchen pantry?!
That's when Eric reminded me that my everything is a tad bit different from everyone else's everything. What he was saying was that 7 styles of bundt pans and a gazillion bags of chocolate chips is not the norm.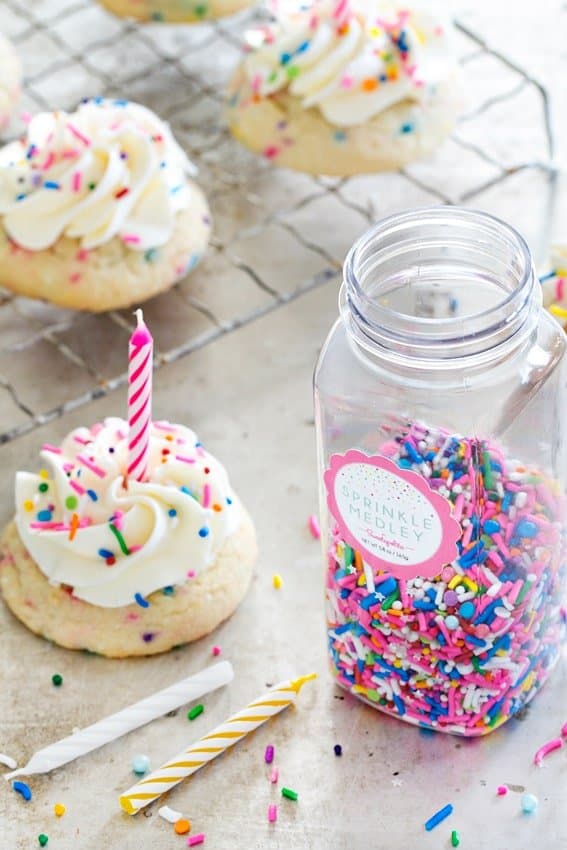 We ended up adding an extra room that is intended to be used for additional laundry space or a small home office, but we're adding in custom shelving and drawers, and I couldn't be more excited to organize all the sprinkles.
Speaking of sprinkles, I recently placed an order to Sweetapolita's Sprinkle Shop and I'm officially obsessed with every single one of her creations.
Words cannot even begin to describe how beautiful her custom blends are – you just have to check them out for yourself. You guys, she has a blend called Happy Unicorn and now she officially has all my money.
I told you, I'm obsessed.
Sweetapolita's Birthday Party sprinkles are what inspired these Birthday Cake Cookies. They're soft, chewy, topped with a swirl of vanilla buttercream and loaded with sprinkles.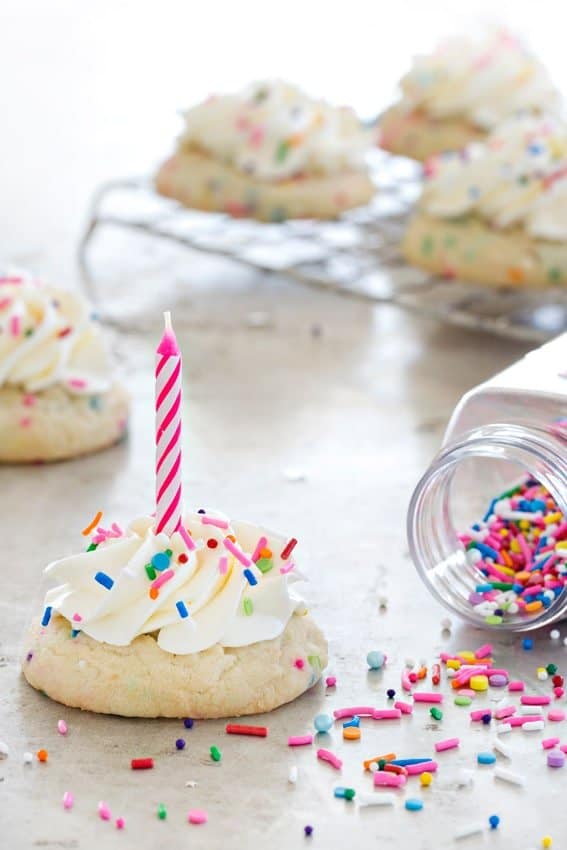 Although I'm no stranger to doctored up cake mixes, I wanted to create these cookies from scratch, but if you're short on time, these Cake Mix Cookies are a definite winner!
Of course, this Birthday Cake Cookies recipe is perfect for celebrating anyone's special day, but they're also great for small celebrations like getting through the first few weeks of school or getting a brand new pantry installed. You can even celebrate on a whim when you follow my instructions for how to freeze cookie dough on this recipe!
If you're as obsessed with sprinkles as I am, be sure to check out my Funfetti Sugar Cookie Bars and Funfetti Cupcakes!