Who said that Hawaiian roll sliders were only for dinner? These breakfast sliders are topped with eggs, cheese, and sausage for a hearty make-ahead breakfast that will feed a crowd.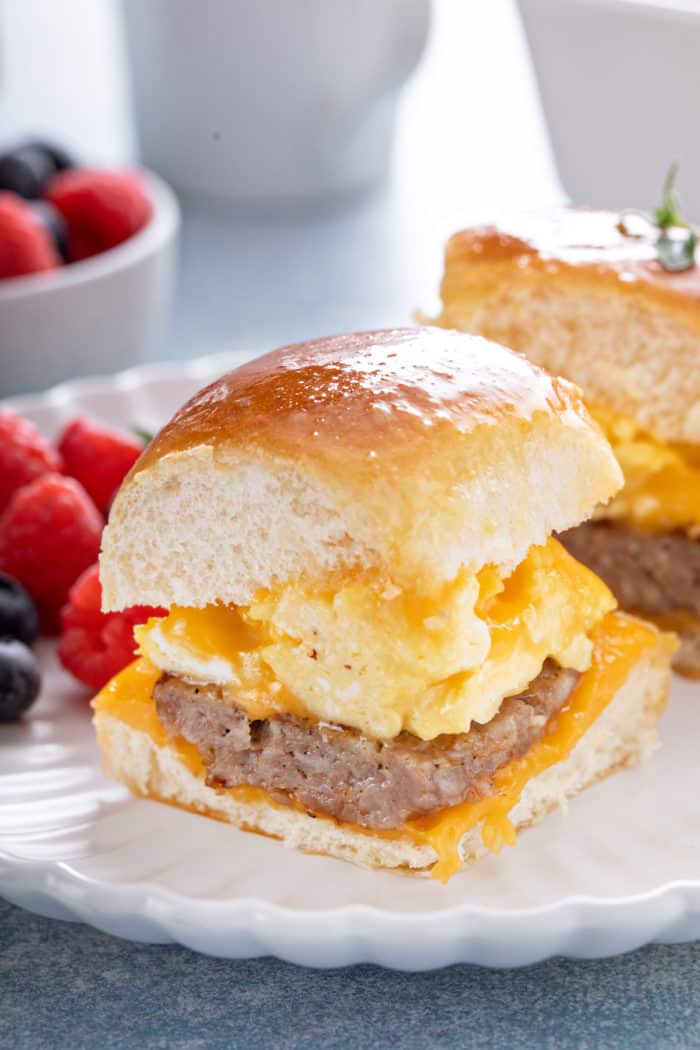 With the holidays coming up in just a few weeks, I know everyone is preparing to pull out all of the stops for their holiday meals.
But while you're planning big, fancy dinners, don't forget that anyone staying at your house also needs to eat breakfast.
I'm guessing that if you're anything like me, you don't want to spend hours and hours of time making breakfast for everyone the day of a big family dinner, so make-ahead breakfasts are where it's at.
This year, I'm taking my family's love of Hawaiian roll sliders – we can't get enough of ham and cheese sliders or meatball sliders – and turning them into easy breakfast sandwiches with these breakfast sliders.
They're super simple, easy to customize, can feed a crowd, and can be prepped ahead of time so all you have to do is throw them in the oven in the morning.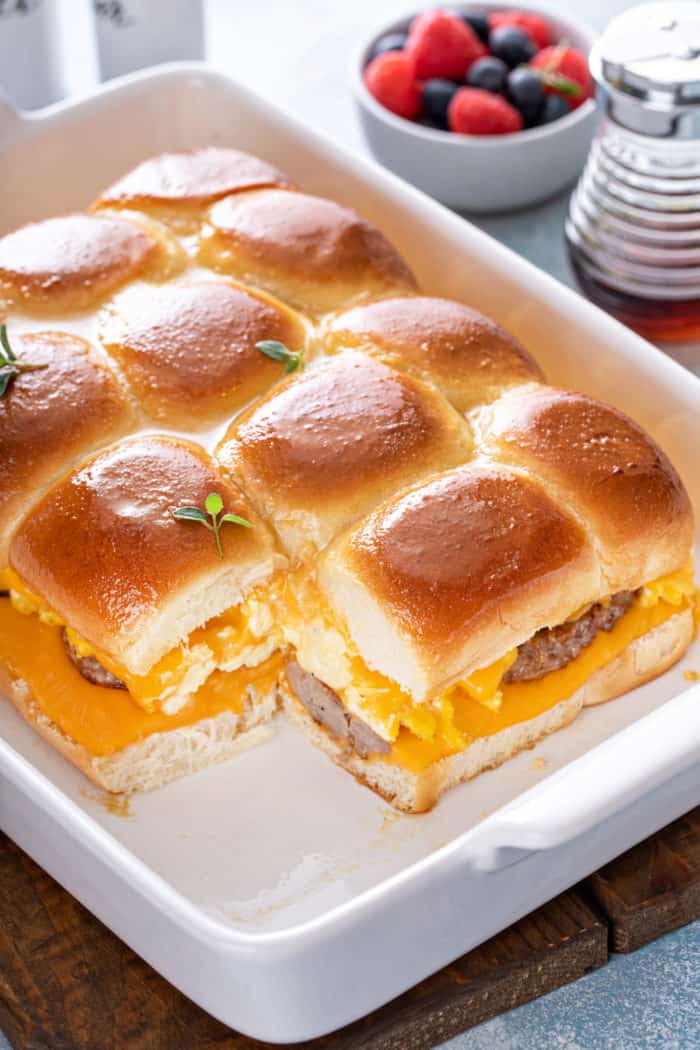 HAWAIIAN ROLL BREAKFAST SLIDERS
If you're a fan of breakfast sandwiches, you will love these simple sliders. They're a much easier way to feed a crowd than trying to make multiple individual breakfast sandwiches, making them perfect for holiday breakfasts.
Ingredients you'll need
You can make these breakfast sliders to mimic your favorite breakfast sandwiches (skip down to "recipe variations" for some ideas), but here are the basics of what you'll need:
King's Hawaiian Rolls: The recipe card is written for a 12-count package of rolls, but you can easily scale this up to make as many batches as you need.
Breakfast sausage patties: If you want to make your sliders with sausage, the easiest way will be to use pre-formed breakfast sausage patties. If you can't find preformed sausage patties, you can use a 1-pound tube of breakfast sausage. Place it in the freezer for 15-20 minutes to firm up, then use a large, sharp knife to slice it into ¼-inch patties.
Eggs: Can you really have a breakfast sandwich without eggs? We'll whisk these with a splash of milk before softly scrambling them.
Cheese: I think that sliced American cheese is the best on these sliders because it gets so nice and melty. It's the same reason I use American cheese on my cheeseburger sliders! Cheddar is great too, though, if that is your preference.
You'll also need some butter, dijon mustard, and a bit of maple syrup for the butter topping.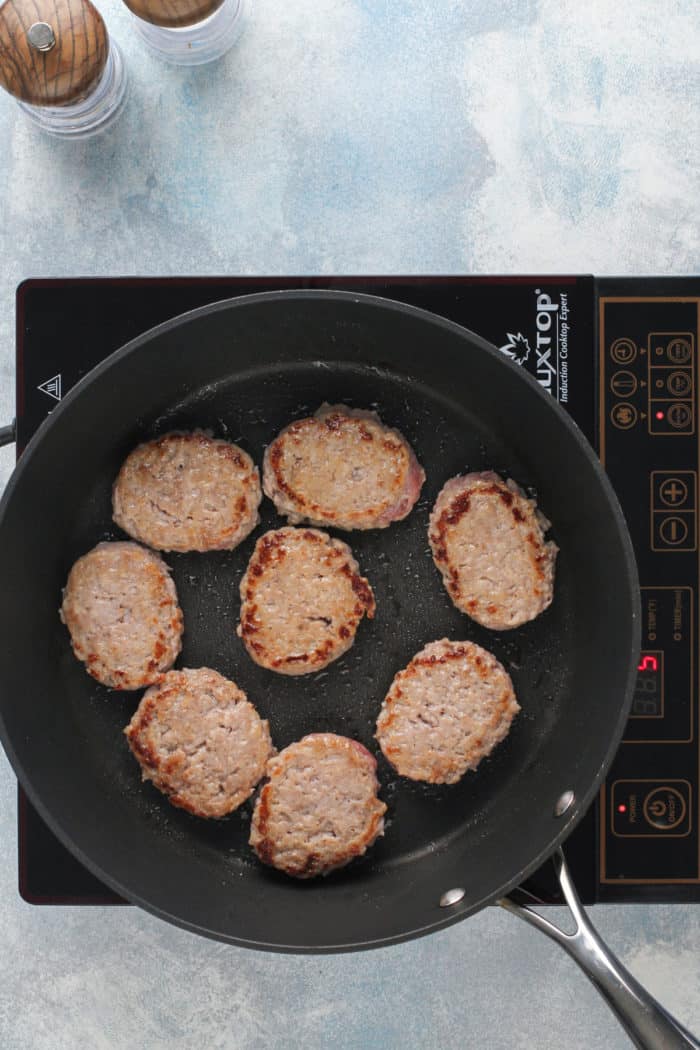 How to make breakfast sliders
The first step to making breakfast sliders is cooking the sausage and the eggs.
I like to pat the sausage patties down slightly to thin them out a bit, then brown them on both sides in a large nonstick skillet. Place the cooked sausage patties on a paper-towel-lined plate and set them aside.
Wipe out the skillet with a paper towel so that it's ready for cooking the eggs.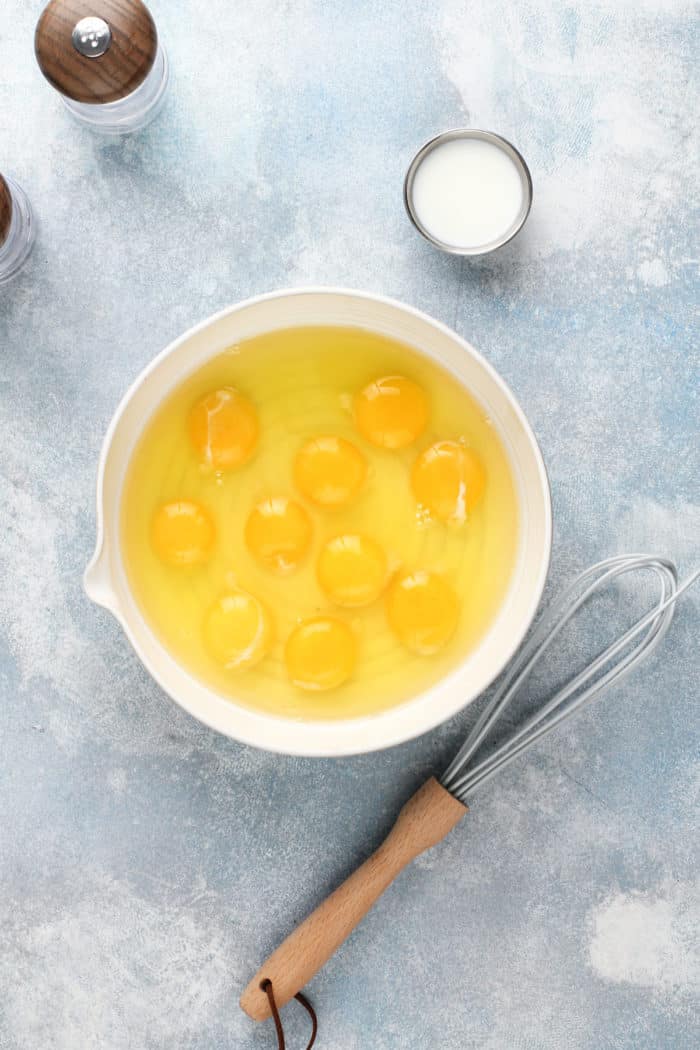 Whisk together the eggs with a splash of milk. Melt the butter in the skillet, then add the eggs and lightly scramble them. Make sure to season the eggs with salt and pepper during cooking.
You're looking for the eggs to be cooked through but still soft – remember that they'll cook a little bit more in the oven, so don't over cook them now.
Remove the eggs to a bowl to stop them from cooking while you assemble the sliders.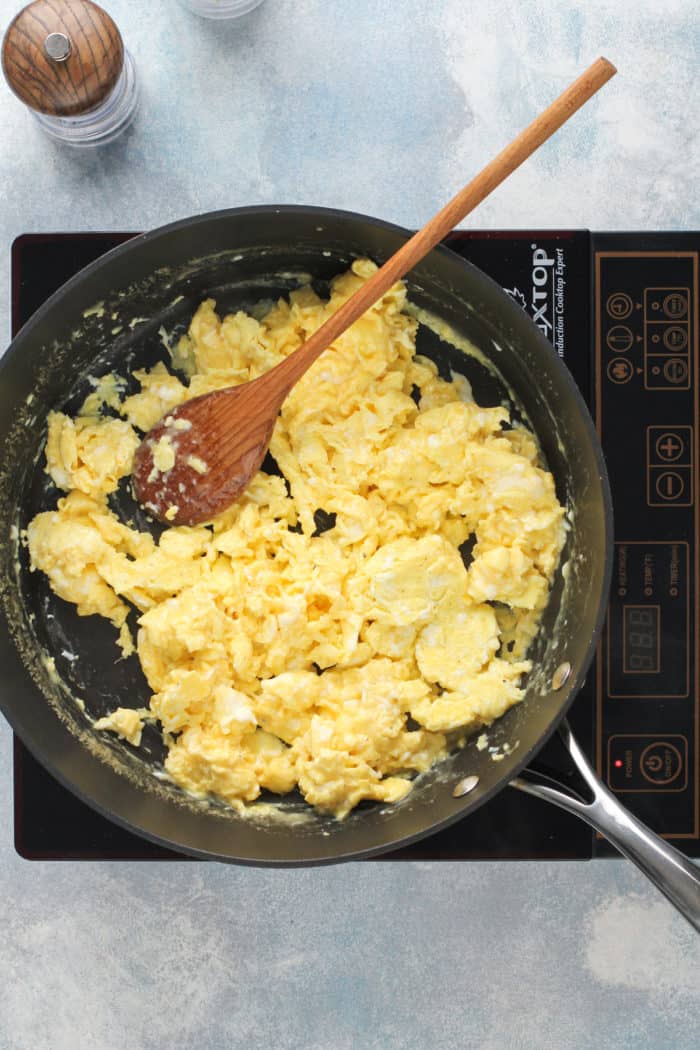 Slice the rolls in half the way you would a bagel, separating the tops from the bottoms. Place the bottoms of the rolls onto a baking sheet or in a large baking pan, cut-side up.
Layer on half of the cheese. Top with an even layer of the sausage patties, then the eggs, and finally the rest of the cheese. Add the roll tops.
Whisk together the melted butter, dijon mustard, and maple syrup, then brush this mixture over the tops of the rolls before baking for 10-15 minutes, or until the cheese is melted and the sliders are golden.
How to prep these ahead of time
You can make these breakfast sliders right before baking and eating them, or you can assemble them the night before to bake them off in the morning.
Simply assemble the sliders, including brushing the tops with the butter mixture. Cover the pan in foil and place in the refrigerator overnight.
The next morning, let the sliders sit at room temperature while the oven preheats. Bake for 15-20 minutes, or until the cheese is melted and the sliders are warmed through.
If you find that the tops of the sliders are getting golden before the sliders are warmed all the way through, top loosely with a piece of foil to stop the browning while they finish baking.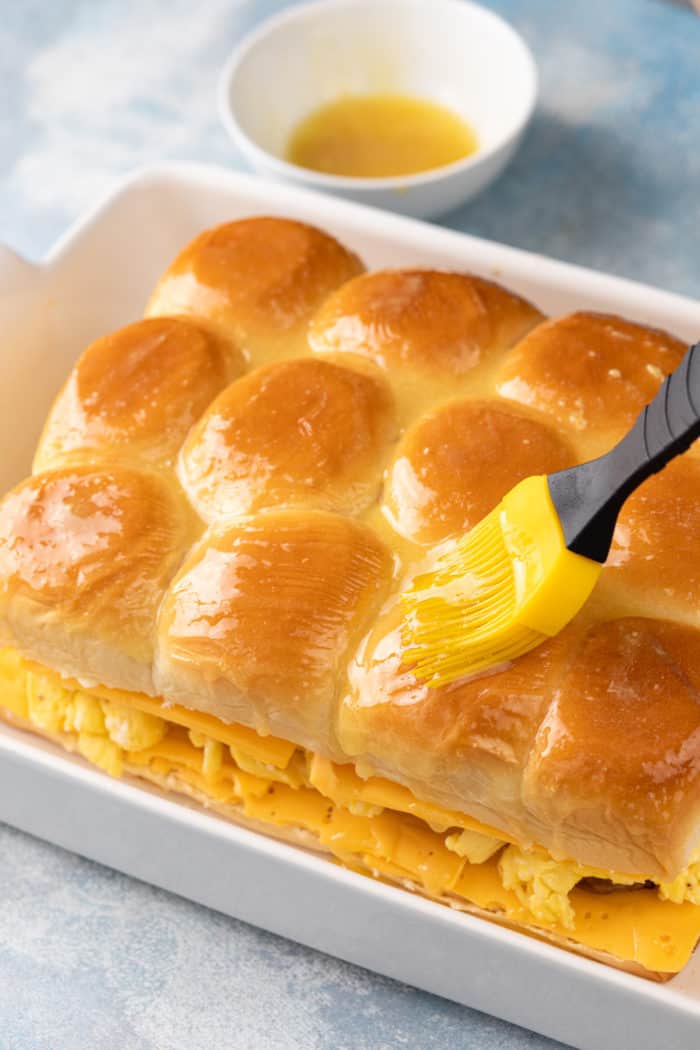 RECIPE VARIATIONS
If you love egg, sausage, and cheese – great! If not, you can still enjoy breakfast sliders. They're easy to customize to your own tastes!
Try swapping out the sausage for cooked bacon or slices of ham. You could even do a combo of your favorite meats, or do half the sliders with one and half with another.
If you don't eat meat, simply increase the amount of eggs. You could even layer on some cooked onions and peppers or add slices of tomato or avocado after the sliders come out of the oven.
Feel free to swap out the cheese, too! Pepperjack, swiss, or gouda would all be great options.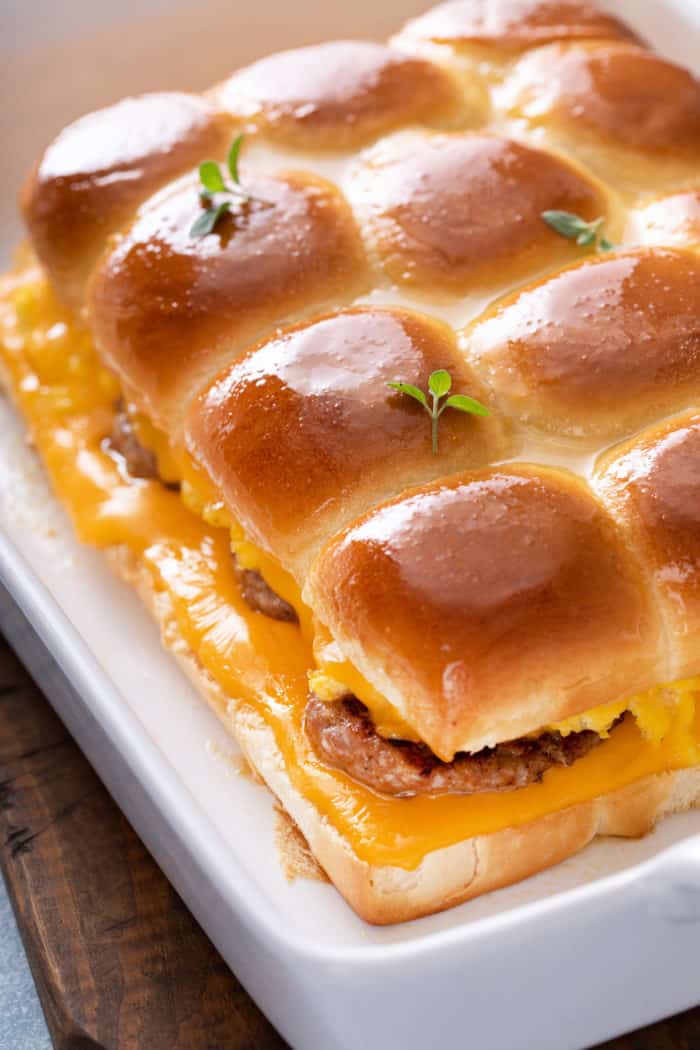 MORE MAKE-AHEAD BREAKFAST RECIPES
If you're on the hunt for more make-ahead breakfast ideas to keep handy this holiday season, check out these six options: