If you follow My Baking Addiction on a regular basis, you're probably aware of the fact that I made a little announcement last week. Due to the fact that there's literally a bun in my oven, I've been taking it easy in the kitchen because I can barely keep my eyes open past 6pm.
Eric and I are opting for easy meals like grilled cheese and tomato soup, and definitely giving our Crock-Pot quite the work out. Lucky for me, I've got a pretty amazing guy who has taken on more than his share of household duties, so I reward him – with cake and cookies!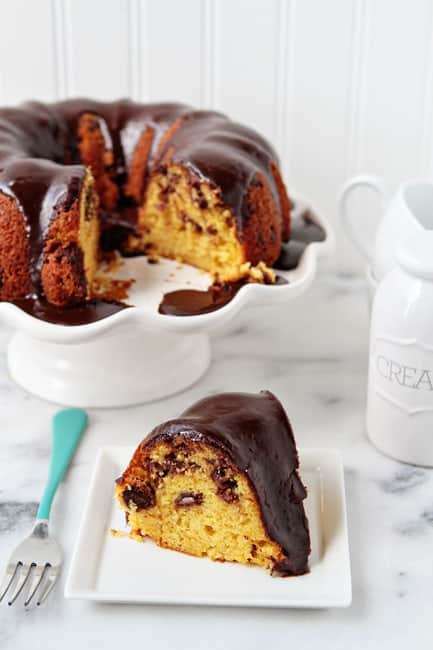 Eric has a thing for chocolate chips – specifically when they're baked inside his favorite chocolate chip cookies. Which, by the way, happens to be the recipe off the back of the bag of Toll House Morsels. And they have to be made with milk chocolate chips and baked until they're extra crispy – after about 1,000 test recipes, he tells me that I've finally perfected them!
Due to the aforementioned utter exhaustion, I'm all about taking shortcuts in the baking department. My updated Doctored Up Cake Mix recipe was the perfect solution. Flecked with milk chocolate chips and dripping with a satiny chocolate glaze – it's the delicious way to say thank you.
Until, of course, you leave it on the floor while taking photos and a cat rubs against it. Hey, at least I tried – right? And a little cat hair in cake never killed anyone!
Chocolate Chip Bundt Cake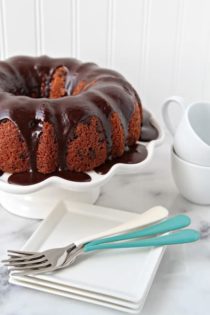 Ingredients:
1 (15.25 ounce) package yellow cake mix
1 (3.4 ounce) package instant vanilla pudding mix
3/4 cup sour cream
3/4 cup vegetable oil
3 large eggs, lightly beaten
2 teaspoons pure vanilla extract
1/2 cup warm water
2 cups milk chocolate chips
For the Glaze
4 oz semi sweet chocolate, chopped into very small pieces
1/2 cup heavy whipping cream
2 tablespoons honey
2 tablespoons light corn syrup
2 teaspoons pure vanilla extract
Directions:
1. Preheat oven to 350 degrees F. Coat a 12-cup bundt pan with non-stick cooking spray.
2. In the bowl of a stand mixer, fitted with the paddle attachment, or with a hand mixer in a large bowl, beat together the cake and pudding mixes, sour cream, oil, eggs, vanilla and water. Beat for about two minutes on medium speed until well combined. Fold in chocolate chips. Pour batter into prepared bundt pan.
3. Bake in preheated oven for 50-55 minutes or until the top of the cake springs back when lightly touched. Allow cake to cool in pan for at least an hour and a half before inverting onto a plate or cake stand.
4. Once cake is cool, prepare the chocolate glaze.
For the Glaze
1. In a small saucepan over medium heat, warm the heavy cream until very hot, but not boiling.
2. Place chocolate pieces in a heat safe bowl. Pour the hot cream over the chocolate and allow it to sit for about 5 minutes. Whisk the cream and chocolate until smooth and thoroughly combined. Whisk in the honey, corn syrup, and vanilla. Allow to cool for about 15 minutes. Do not let the glaze sit for too long or it will harden up before you spoon it over the cake.
3. Spoon the glaze over the bundt cake, allowing it to drip down the sides.
Notes:
- Cake is best served the day it is made, but it will keep in an airtight container within the refrigerator for up to 2 days.
- Recipe for chocolate glaze is from the fabulous Kristan, of Confessions of a Cookbook Queen.
All images and text ©
Follow Jamie on Instagram. We love to see what you're baking from MBA! Be sure to tag @jamiemba and use the hashtag #mbarecipes!