Yes, my friends another pumpkin recipe. I forewarned everyone that my blog is going to be "chock full" of pumpkin in my pumpkin biscotti post. Well, actually there was an initial typo in that description… let's just say I left out the "h" in chock. Ya catch my drift?
However, one of my lovely readers, Lizzy from the blog Lizzy Goes Dutch informed me of this error, so I promptly fixed it in fear of random google hits from odd searches! But all is now well – thanks to Lizzy!
As you know I am on a pumpkin kick and this bread caught my attention while searching allrecipes for…you guessed it, pumpkin! This recipe is really simple to throw together and makes your house smell utterly amazing, plus it has chocolate!
The other bonus is that the bread stays moist for days in a air tight container and freezes perfectly well too. If I haven't got you craving pumpkin yet, try this recipe and I guarantee it will foster a pumpkin addiction. Need another pumpkin fix? Check out my Fall favorites!
Thanks so much for stopping by and have a deliciously addictive day!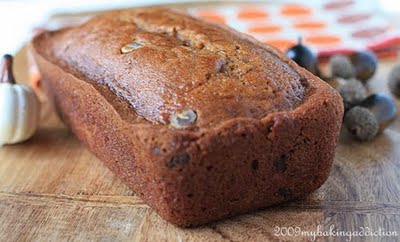 Chocolate Chip Pumpkin Bread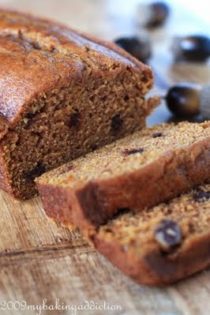 Ingredients:
3 cups white sugar
1 (15 ounce) can pumpkin puree
1 cup vegetable oil
2/3 cup water
4 eggs
2 tsp pure vanilla extract
3 1/2 cups all-purpose flour
1 tablespoon ground cinnamon
2 teaspoons ground nutmeg
2 teaspoons baking soda
1 1/2 teaspoons salt
1 cup semisweet chocolate chips
Directions:
1. Preheat oven to 350°F (175°C) grease and flour three 9×5 inch loaf pans. (I used 2 9×5 loaf pans and 4 mini pans)
2. In a large bowl, combine sugar, pumpkin, oil, water, vanilla and eggs. Beat until smooth. Blend in flour, cinnamon, nutmeg, baking soda, and salt. Fold in chocolate chips.
3. Bake for 1 hour, or until an inserted knife comes out clean. Cool on wire racks before removing from cans or pans.
Follow Jamie on Instagram. We love to see what you're baking from MBA! Be sure to tag @jamiemba and use the hashtag #mbarecipes!
[pinit]