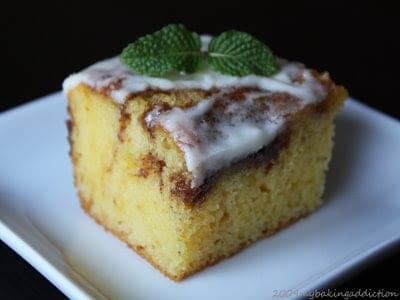 As some of you may know…I suffer from a mild case of OCD which causes me to be a perfectionist in certain areas of my life as well as perseverate on things to the extent of driving myself a little batty! When I saw Ingrid's recipe for Cinnamon Roll Cake, I thought about this sucker for a couple days and even dreamt about it one night…disturbing, I know! Being that I still have a plethora of cake mixes that I bought on sale, I try to find new ways to use them up before they expire! On Friday evening I threw this recipe together in a matter of minutes and as the intoxicating aromas of cinnamon and brown sugar filled my home, I made an important decision. That decision was to change the original glaze recipe for one that contains cream cheese! This my friends made this super simple cake box recipe absolutely delicious! Now let me reiterate…this IS a doctored up cake box recipe…so please do not be expecting a culinary masterpiece! This cake is simply very good for how easy and quick it is to make! Ingrid sings the praises of the original recipe, so I am sure it is amazing as well and I am pretty certain whichever glaze route you take you will be pleased! This would be a great Sunday brunch treat or a super dessert for a mid-week dinner! If ya have any yellow cake mixes on hand, whip this one up today…if you don't, it may haunt you in your sleep!!! I hope you enjoy this as much as we did!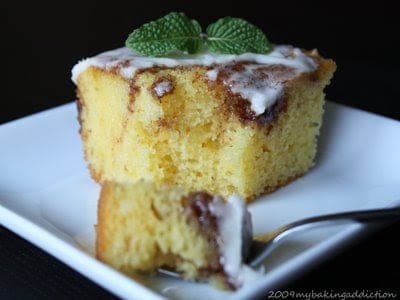 Cinnamon Roll Cake
Yellow Cake Mix
4 eggs
¾ cup oil
1 cup sour cream
Mix by hand and pour in 13 x 9 greased baking pan.
1 cup brown sugar
1 tbsp cinnamon
Mix and pour over cake batter. Swirl into batter with knife. Bake at 325 degrees for 30-40 minutes. Let cake cool 10 – 15 minutes before icing.
Cream Cheese Glaze
1 (3 ounce) package cream cheese, softened
1/4 cup butter, softened
1 1/2 cups confectioners' sugar
1/2 teaspoon vanilla extract
1/8 teaspoon salt
4-5 tablespoons of milk
While the cake is cooling, beat together cream cheese, butter, confectioners' sugar, vanilla extract and salt. Slowly add milk until you reach the desired consistency. Spread frosting on warm cake before serving.