Easy Mocha Brownies- Rich chocolate brownies are loaded with chocolate covered espresso beans and mocha squares to create a decadent dessert perfect for any chocolate lover.
Last week I received an email from a reader (Hi Kelly!) asking if I had a favorite brownie mix. I responded to her email immediately listing my fave followed by a gazillion exclamation points because, let's face it, brownies excite me.
Really, I don't think I've met a brownie that I didn't like unless we're counting the super dry ones with a layer of powdered sugar that graced my junior high lunch trays. Those? They were nasty. Not only do I love brownies, I love stuffing them with candy to create recipes like Twix Brownies and Salted Caramel Brownies. Because what better way to make brownies better than with more chocolate?
If you've followed My Baking Addiction for any length of time, you know that I'm a fan of using cake mixes every now and then. In fact, one of my fave cupcake recipes is a Doctored Up Cake Mix.
And although I've never posted a recipe for a jazzed up brownie mix brownies, I thought I totally should. The boxed brownie question was pretty easy to answer because I definitely have a favorite – hands down Ghirardelli. They're the richest, fudgiest, chocolatiest brownies ever. And since we're all friends here, I'll go ahead and confess that I kinda prefer them to homemade, so I always have a few boxes on hand for those late night chocolate cravings.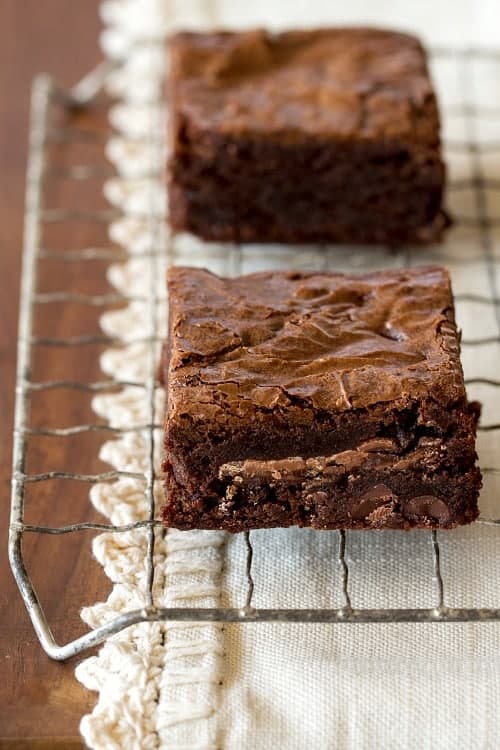 Kelly and I emailed back and forth a few times and she mentioned that she'd love to see some brownie mix recipes pop up here on MBA. How could I deny her?
While perusing the candy aisle at Target (strictly for research purposes) I happily stumbled upon a bag of Ghirardelli Mocha Squares and they leaped off the shelf and landed directly into my cart. Can you tell I have a thing for Ghirardelli? The idea for Easy Mocha Brownies was born.
I started out with Ghirardelli's Double Chocolate Brownie mix and added in instant espresso granules, chopped chocolate covered espresso beans and a layer of Ghirardelli Mocha Squares. Seriously, these are a mocha lover's dream come true. And if you let them cool for about an hour, the brownies will set up, but there will be a glorious band of melty Mocha Chocolate throughout the center.
It'll be hard to wait that hour, I have to tell you. The glorious smell that is coffee and chocolate together wafting through your house may just be too much temptation. You might have to leave for a little while. But it is SO worth it! You want brownies that won't fall apart, it's a sacrifice you have to make.
This is the sort of recipe that comes in handy when you've got guests coming over out of the blue, or a late night craving for chocolate that just won't quit.
If you don't care for box mixes, cool! Try some of my homemade brownie recipes instead and create from scratch mocha brownies! Brownies are worth smiling about, no matter where they come from. Except that school lunch tray.
Looking for more mocha recipes? Check these out!