Kitchen sink cookies are chewy cookies that are packed with everything but the kitchen sink! This version is loaded with chocolate chips, caramel, toffee, and salty pretzels for the best sweet and salty bite.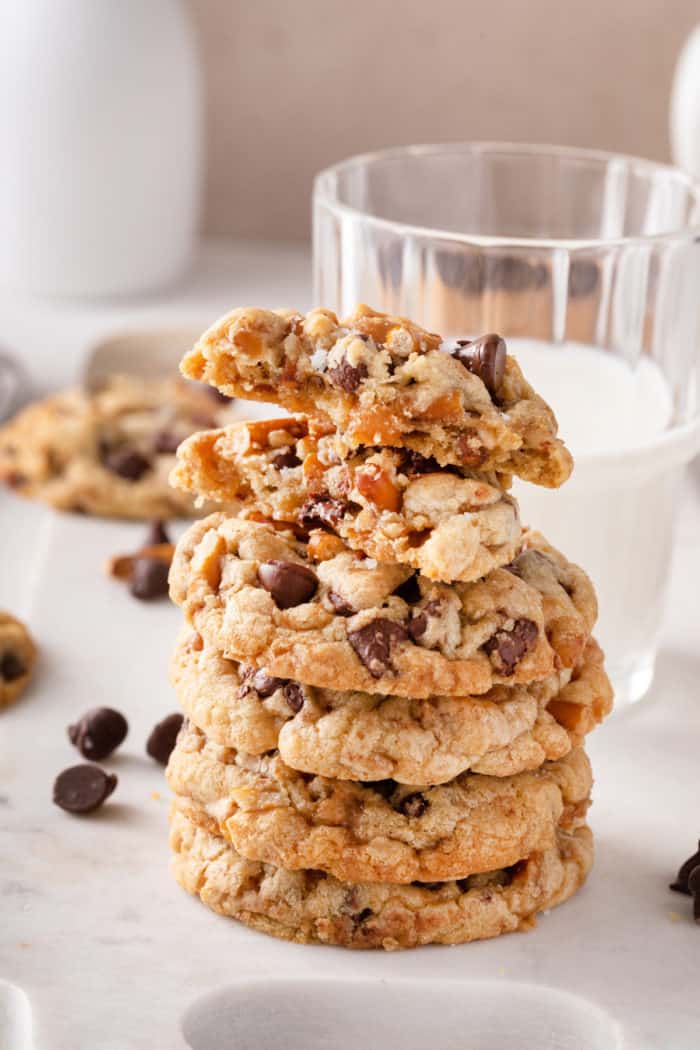 Have you ever wanted to end the meal with a bite of something sweet but not too sweet?
If you've got a notorious sweet tooth, you might not know what I mean. But sometimes I'm craving a treat that has a little bit of a salty bite to it.
If this is you, I've got the perfect salty-sweet solution for you: kitchen sink cookies.
These babies are packed with sweet chocolate and caramel but are balanced with pieces of pretzels and a sprinkle of flaky sea salt at the end.
But don't box yourself in when it comes to this recipe! Keep on reading for more mix-in ideas and to find out how I make my cookies so picture perfect.
WHAT ARE KITCHEN SINK COOKIES?
I know, I know. At a glance, the name "kitchen sink cookies" sounds weird. I mean, what does that mean?
The name is actually a shortened version of "everything but the kitchen sink cookies"! That name is kind of a mouthful, though, so you can see why people usually just call them kitchen sink cookies.
So what are they? Well, they're chewy chocolate chip cookies that are so much more than just chocolate chip cookies. They are also packed with other sweet and salty mix-ins for a cookie that has…you guessed it: everything but the kitchen sink.
I've been spending a lot of time at Panera lately due to my obsession with chicken and wild rice soup, so my version is a little bit inspired by theirs. It has chocolate chips, toffee bits, caramel, and pretzel pieces.
The fun part about these cookies though is that, just like monster cookie bars, you can toss in whatever you like! Potato chips, popcorn, M&M's…there are so many options.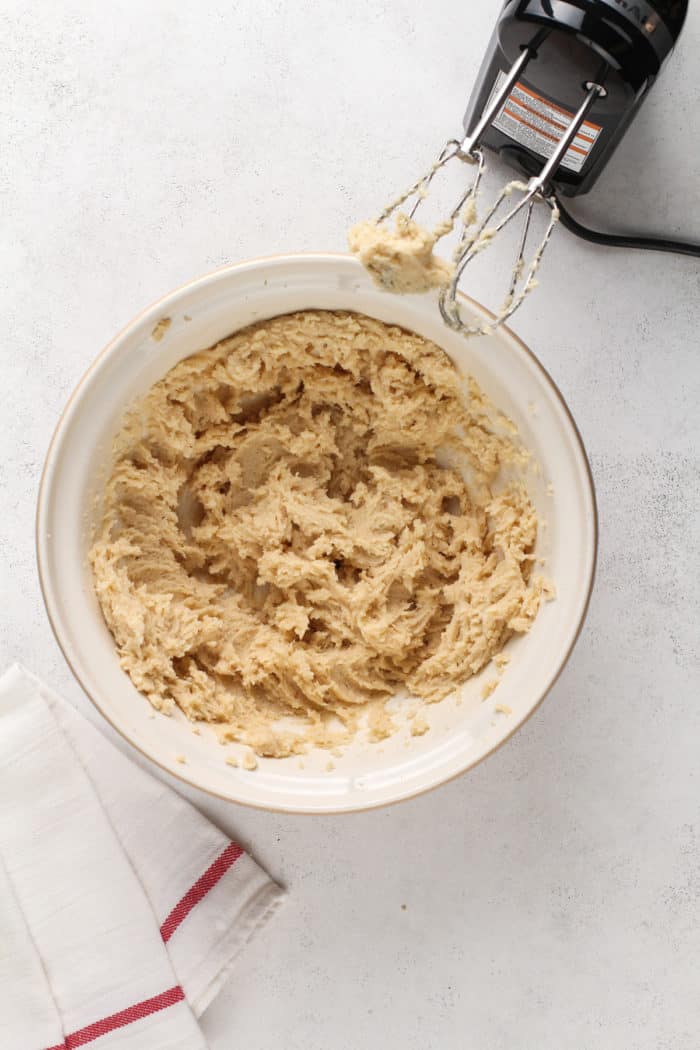 HOW TO MAKE MY KITCHEN SINK COOKIES
I love my favorite chocolate chip cookies, but sometimes you want a cookie that's been zhush-ed up a bit. Not necessarily a fancy cookie, just something a bit different. Ya know?
That's what these kitchen sink cookies are. But even with a little zhush, they're still simple to make!
Cookie mix-in options
The thing that makes these cookies so special is the combo of mix-ins. The best way to go with this recipe is to have a few sweet mix-ins paired with a salty one.
Some sweet options include:
Chocolate chips (semisweet, milk, dark, white chocolate, or a mix)
Toffee bits
Caramel bits
Butterscotch chips
M&M's
Peanut butter chips
Chopped peanut butter cups
Reese's Pieces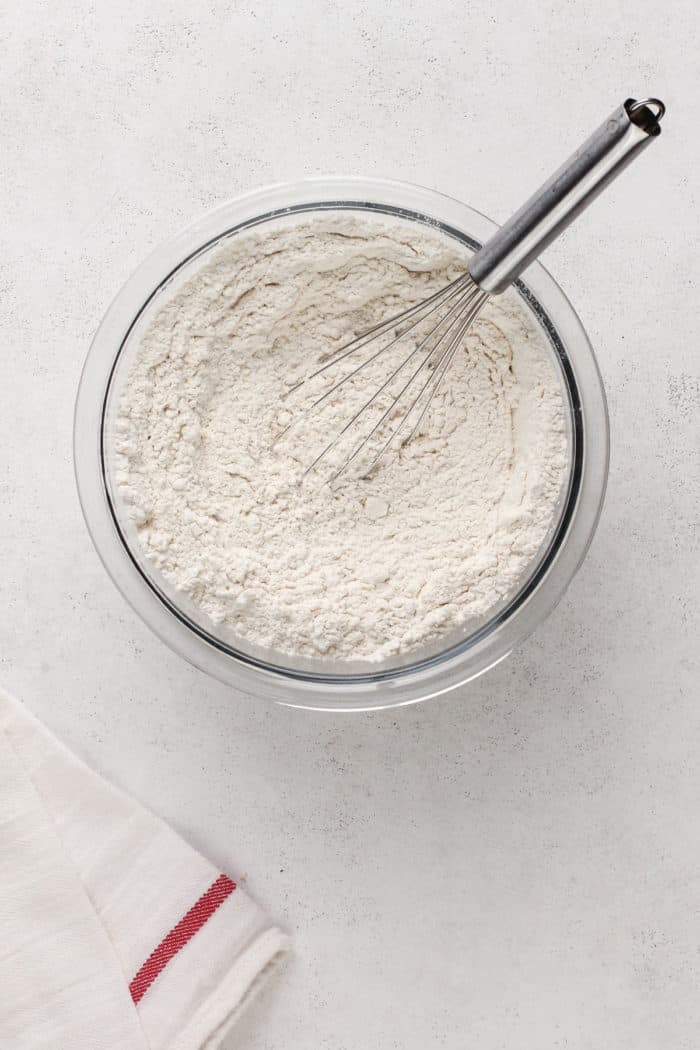 Some salty options include:
Pretzel pieces
Crushed potato chips
Popcorn
Rice Krispies (not salty, but a good crunchy option that isn't sweet)
My family loves these kitchen sink cookies with a mix of semisweet chocolate chips, toffee bits, caramel bits, and pretzel pieces. But use what you like or what you have on hand!
Consider this your permission to mix the bottom of that bag of potato chips into a batch of cookie dough.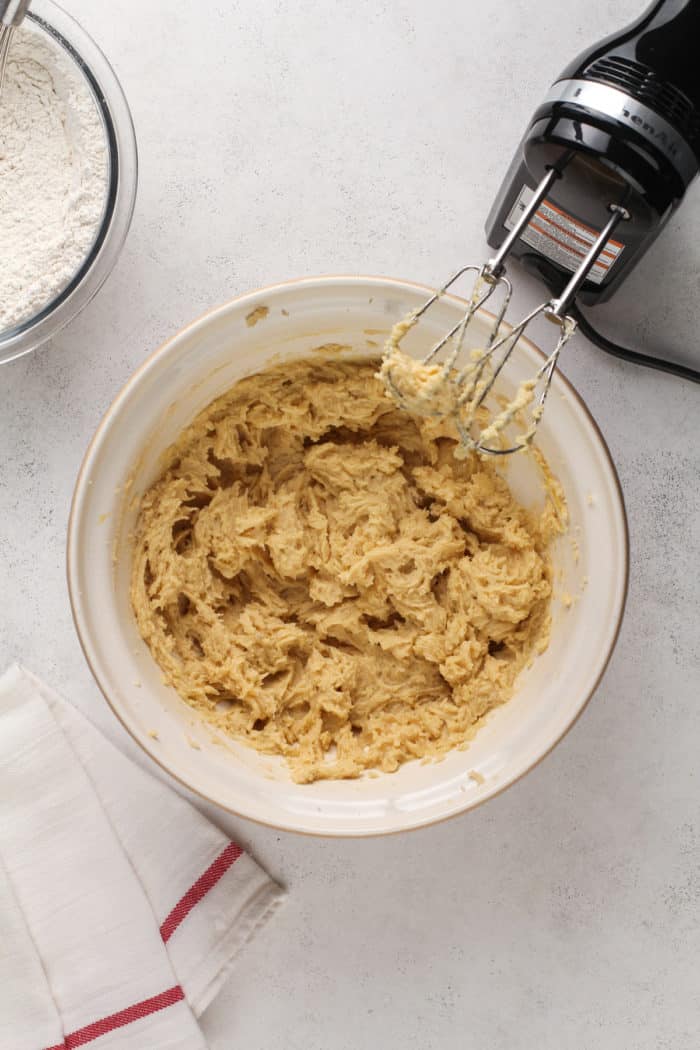 Making this recipe
Using a stand mixer with the paddle attachment or an electric mixer, beat the butter with the sugars for about 4 minutes, or until light and fluffy. Add the vanilla and the eggs and continue beating for another 3-4 minutes.
In a separate bowl, whisk together the flour, baking soda, and salt. Gradually add this mixture to the wet ingredients on low speed until just combined.
Now it's time to add your mix-ins. You can use your mixer to add in any chips or harder candies first, then very gently fold in your pretzels, potato chips, or popcorn. You want to mix them in without completely crushing them.
Cover and chill the dough in the refrigerator for at least 2 hours or even overnight.
When you're ready to bake your kitchen sink cookies, preheat your oven to 350°F.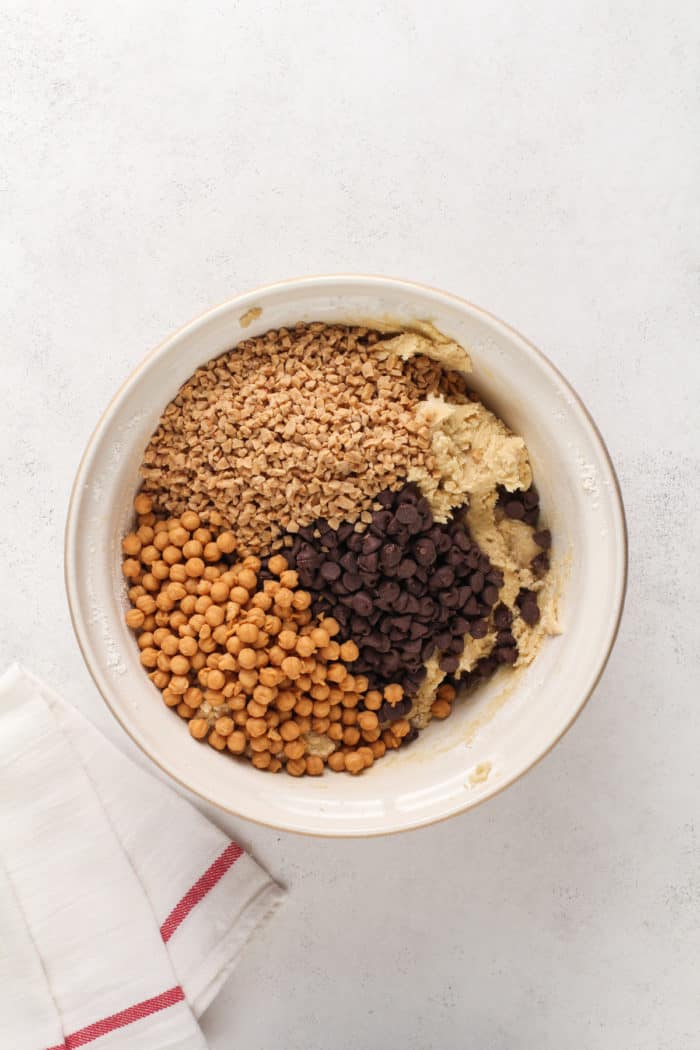 Portion the dough into 2-tablespoon balls and place them at least 2 inches apart on lined baking sheets.
I like to press a couple of additional chocolate chips, caramel bits, and/or pretzel pieces into the top of each cookie ball before baking to get that "bakery" look.
Bake the cookies for 13-15 minutes. The cookies will be golden brown but the centers should still be soft.
While the cookies are still warm, I like to sprinkle them with a bit of flaky sea salt for some extra saltiness and a pretty finish.
Let the cookies cool for a few minutes on the baking sheet before moving them to a wire rack to finish cooling.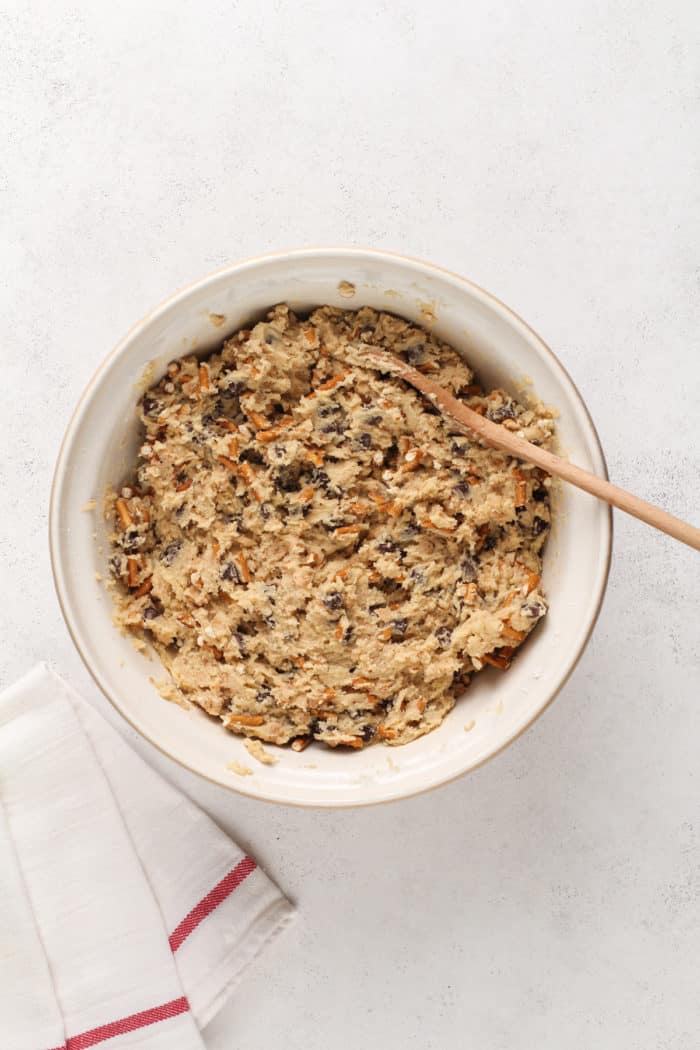 How to get perfectly round cookies
Have you ever wondered how to make your homemade cookies look as perfect as the ones you see at a bakery (or even on a food blog)?
I learn a lot of things from TikTok (like how to make incredible cinnamon rolls with heavy cream), and most recently it taught me how to make perfectly round cookies.
As soon as the cookies come out of the oven, place a glass or mug over the cookies and move the glass in a circle around the cookie for a few seconds. It'll reshape the cookie into a perfect circle!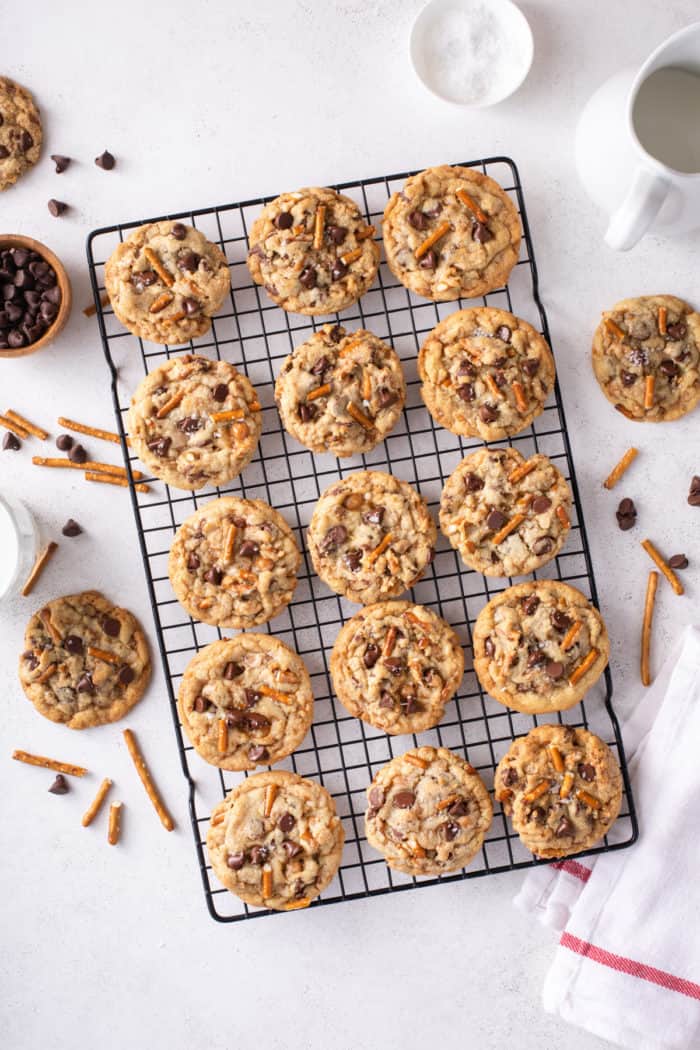 This is the perfect "hack" to use with these kitchen sink cookies because they are super soft when they come out of the oven.
And one more tip for ultra-photogenic cookies: Press a few extra chocolate chips into the tops after they finish baking, before you sprinkle the cookies with flaky sea salt.
And there you go! Cookies that look like they came from your favorite bakery, but actually came from your home kitchen.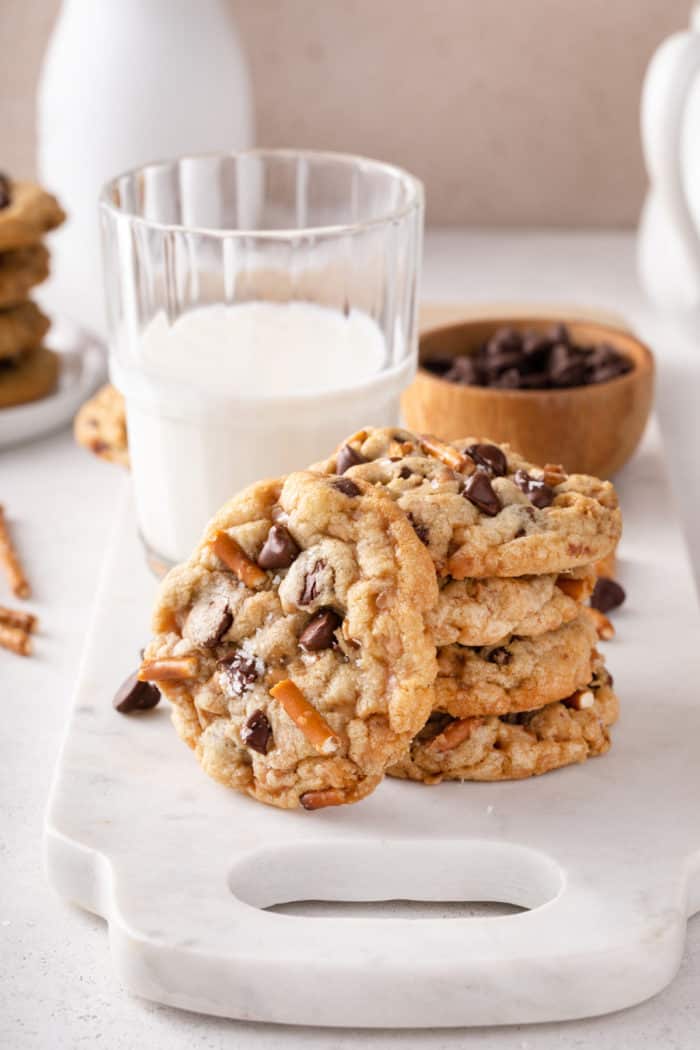 STORAGE AND FREEZING
Store these cookies in an airtight container at room temperature for up to 4 days.
Kitchen sink cookies are also perfect for freezing, especially before baking! Follow my directions for how to freeze cookie dough to freeze the unbaked dough for enjoying later.
If freezing the baked cookies, place them in a zip-top freezer bag or airtight container and freeze for up to a month.