Homemade Chocolate Pudding with Baileys Irish Cream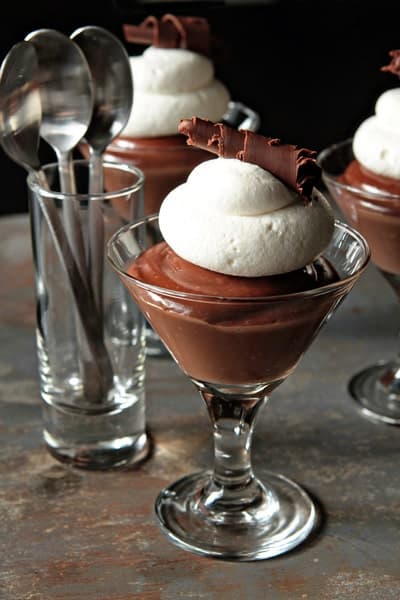 I'm a big fan of pudding, but rarely make it myself, so I'm definitely guilty of spooning down Jell-o snack packs from time to time – even adding a little squirt of whipped cream too!I was craving chocolate something fierce this weekend and decided to make homemade pudding with a little bit of Baileys Irish Cream just to make it extra special.
Although I have made homemade pudding in past, I forgot how easy it is to make. Not only is making homemade pudding incredibly simple, it also tastes amazing and is a great framework for all types of flavor combinations.
Plus, you'll get a mini workout from all the whisking, so you can feel a little less guilty about this decadent treat. I have had my eye on this banana pudding for another easy dessert.
As soon as I indulged in one spoonful of this rich, smooth homemade pudding, my brain went into high gear and immediately started jotting down other flavor ideas. You know how much I love those miniature bottles of liqueur – so be prepared for more ideas in coming weeks!
I served up my homemade chocolate pudding in small martini glasses, topped it with homemade whipped cream and chocolate curls to give it just a bit of elegance. Fancied up Baileys pudding – what more could you ask for?
Homemade Chocolate Pudding with Baileys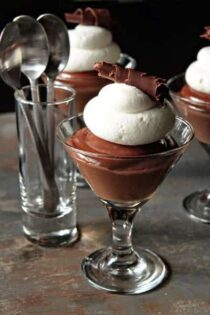 Ingredients:
1/4 cup sugar
1/4 cup cornstarch
1 1/3 cups milk
1 egg yolk
1/2 cup heavy cream
1/3 cup Baileys Irish Cream
1/2 teaspoon pure vanilla extract
3 ounces semisweet chocolate, coarsely chopped
Directions:
1. In a medium saucepan combine sugar and cornstarch whisking to thoroughly incorporate. Add milk and whisk until dry ingredients are dissolved. Next, whisk in the egg yolk and cream.
2. Place the pan over medium heat, whisking constantly until the mixture comes to a full boil and thickens.
3. As soon as the mixture thickens, remove the pan from the heat and whisk in the Baileys Irish Cream and vanilla.
4. Add chocolate and whisk until it is completed melted and smooth.
5. Pour pudding into individual serving dishes. Let the pudding cool slightly then cover the tops with plastic wrap to prevent a skin from forming. Refrigerate for at least 2 hours before serving.
6. If desired, garnish with fresh whipped cream and chocolate curls.
Notes:
– Just in case you are curious, the mini martini glasses were purchased from Pier 1, the spoons are from Ikea.
My Baking Addiction adapted from food.com.
All images and text ©
Follow Jamie on Instagram. We love to see what you're baking from MBA! Be sure to tag @jamiemba and use the hashtag #mbarecipes!
This post may contain affiliate links. We are a participant in the Amazon Services LLC Associates Program, an affiliate advertising program designed to provide a means for us to earn fees by linking to Amazon.com and affiliated sites.