4th of July Recipes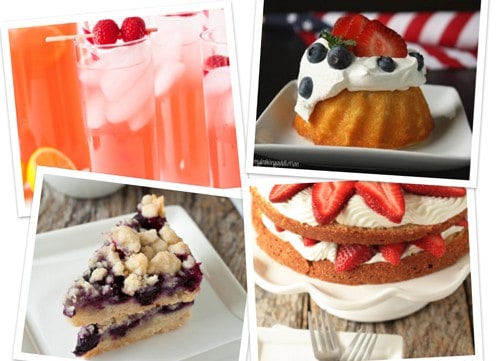 The 4th of July weekend is upon us, so I thought I would post some of my favorite dessert recipes that have a red, white or blue component.  Since most of us from the U.S. have  a long weekend ahead of us, I am guessing the majority of you are either having a party or attending one to celebrate Independence Day. So, if you're looking for something aside from the typical flag cake, I have just the perfect recipes for you.
At the last minute, I decided that  I would also throw some appetizer and pot-luck type dishes into the mix to help you with your last minute party planning. All of these recipes are easy to prepare and are sure to please a crowd.
I hope you have a wonderful weekend full of family, friends, fireworks and food. Be safe and be sure to check out MBA late in the weekend for a fantastically awesome giveaway. If I've piqued your interest, you can find a hint on my Facebook wall.
Desserts:
Stawberry Cream Cake
Lemon Blueberry Crumble Bars (toss in some raspberries to make these super festive)
Mini Lemon Bundt Cakes with fresh summer berries
Fresh Strawberry Bread
Raspberry Lemon Cupcakes
Strawberry Lemon Granita
Drinks:
Raspberry Lemonade
Pot Luck Favorites:
Bite Size Tacos
Spicy Sausage Dip
Spicy Salsa
BBQ Beef Sliders
Greek Chicken Kabobs
This post may contain affiliate links. We are a participant in the Amazon Services LLC Associates Program, an affiliate advertising program designed to provide a means for us to earn fees by linking to Amazon.com and affiliated sites.