I like plans, to-do lists and schedules; rarely do I veer away from my "system". Some think I am slightly obsessed, others totally relate to my anal behavior and embrace it, some even covet this part of my personality. Really I am just not a "fly by the seat of my pants" type of gal and this totally comes into play at the grocery store.
I like my lists…whether handwritten on a yellow post-it, typed into the notepad on my iphone or scrawled across my palm…I simply NEED a list. They keep me accountable for what I am purchasing and without them I would chronically walk out of the market with items like buckwheat and persimmons.
Although I am sure these items are brilliant components to some meals, without a plan, they would go to waste at my house! Sometimes I step out of my comfort zone and away from my list and purchase things simply for their aesthetics…such as a big container of blueberries.
I know you're thinking I am rebel for buying blueberries that were not on my list, but I thought they would be delicious in my Special K. They weren't. In fact they were a
face-contorting sour, not edible on their own or drowning in a pool of skim milk. Instead of throwing them away, I figured I would bake a cake and cross my fingers that the sugar and baking process would mellow the sour twang.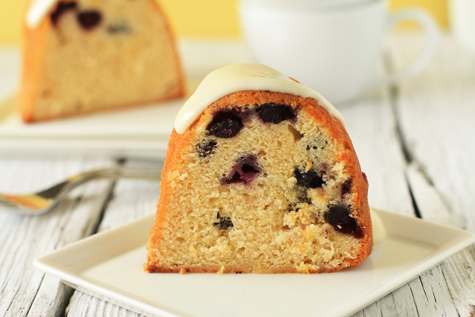 I found a recipe for a lemon blueberry bundt cake via The Food Librarian and slightly adapted the recipe to create one amazing cake. The blueberries ended up being little bits of heaven that burst in your mouth with each forkful . The added cream cheese glaze pushed this cake over the edge and made it truly stunning and worthy of being on any brunch or dinner table. Brian being a self-proclaimed lemon loather, said this cake was fantastic! So make a list, head to the market and bake this cake.
If you haven't joined my Facebook page, check it out, I would love to connect with you! Have a great day!

Blueberry-Lemon Bundt Cake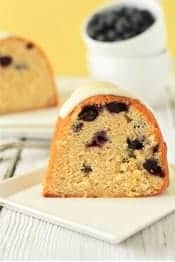 Ingredients:
For the Cake
2 1/2 cups all-purpose flour, plus 1 teaspoon for blueberries and zest
2 teaspoons baking powder
1/2 teaspoon salt
1 cup (2 sticks) unsalted butter, room temperature
1 cup packed light-brown sugar
1 cup granulated sugar
4 large eggs
1 teaspoon vanilla extract
1 cup sour cream
2 cups blueberries
2 tablespoons grated lemon zest
juice of one lemon
Nonstick cooking spray, for pan
For the Cream Cheese Glaze
1 (4 ounce) package cream cheese, softened
1 tablespoon butter, softened
2 cups confectioners' sugar
1/2 teaspoon vanilla extract
1 tablespoon milk
Directions:
For the Cake
*For best results, coat the inside of the Bundt pan with cooking spray just before filling it with the batter to prevent it from pooling in the bottom.
1. Preheat oven to 350 degrees. In a bowl, whisk 2 1/2 cups flour with baking powder and salt; set aside.
2. In a mixing bowl, cream butter and sugars on high speed until light and fluffy. Add eggs, one at a time, beating until incorporated. Beat in vanilla and lemon juice. Reduce speed to low; add flour mixture in three additions, alternating with two additions of sour cream.
3. In a bowl, toss blueberries and zest with remaining teaspoon flour; gently fold into batter. Coat a 12-cup nonstick Bundt pan with cooking spray. Spread batter in prepared pan.
4. Bake cake on bottom rack of oven until a toothpick inserted into center of cake comes out clean, 60 to 70 minutes. Cool in pan 20 minutes. Invert onto a rack; cool completely, top side up. Dust with confectioners' sugar before serving or drizzle with the cream cheese glaze.
For the Cream Cheese Glaze
Mix the cream cheese with the butter, confectioners' sugar, vanilla extract, and milk in a bowl. Heat in a microwave oven for 10-15 seconds. Drizzle spoonfuls over the cooled cake.
Follow Jamie on Instagram. We love to see what you're baking from MBA! Be sure to tag @jamiemba and use the hashtag #mbarecipes!
[pinit]