Pumpkin Blondies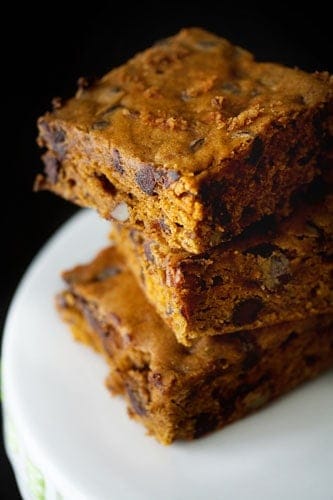 Just a word of caution for all of you pumpkin haters out there, I am on a pumpkin kick! This happens every year around this time, and it doesn't really fade until late November. Last Friday, I went to bed thinking of pumpkin shortages and cookies and around midnight, I had a pumpkin blondies moment.
You see, I pretty much have food and blogging on the brain all. the. time. I get random ideas throughout the day and night regarding recipe ideas, flavor combinations, props, etc.
Luckily my iPhone is pretty much glued to my hand, so I can keep track of all of the information bouncing around in my brain. The notepad in my iPhone is full of a ridiculous amount of pages overflowing with ideas, some of which make absolutely no sense to me. Truly, I would be up a creek if my phone ever rendered inoperable because I never remember to back anything up…in fact, maybe I should go do that now.
This recipe is one of those random ideas, it is brimming with great fall flavors and aromas. The texture of these pumpkin blondies are definitely in between chewy and cakey. The flavors and textures melded together beautifully and were definitely more delicious once they sat overnight. The great thing about this recipe is that it can be easily doctored up to suite your tastes. Personally, I am thinking butterscotch chips with dried sour cherries would make these pumpkin blondies irresistible. If these look and sound like something your family will love, but you can't find canned pumpkin yet, definitely use my butternut squash puree recipe as an amazing substitute. Have a great day and thanks so much for stopping by My Baking Addiction.
If you haven't done so already, be sure to fill out our reader survey for a chance to win one of two gift cards to Williams Sonoma.

Pumpkin Blondies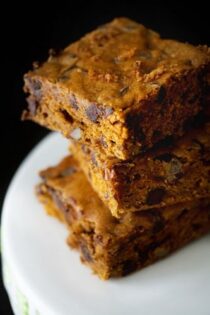 Ingredients:
2 1/3 cups all-purpose flour
1 tablespoon pumpkin pie spice
1 teaspoon cinnamon
1 teaspoon baking soda
3/4 teaspoon kosher salt
1 cup (2 sticks) unsalted butter, room temperature
3/4 cup granulated sugar
3/4 cup dark brown sugar
1 large egg
2 teaspoons vanilla extract
1 (15 ounce) can pure pumpkin puree
2 cups dark chocolate chips
3/4 cup pecans; roughly chopped
Directions:
1. Preheat oven to 350 degrees. Line bottom and sides of a 9-by-13-inch baking pan with parchment, leaving an overhang on all sides. Grease with nonstick cooking spray.
2. In a medium bowl, whisk together flour, pumpkin pie spice, cinnamon, baking soda, and salt; set aside.
3. In the bowl of a stand mixer fitted with the paddle attachment, cream butter and sugars on medium-high speed until smooth; beat in egg and vanilla until combined. Beat in pumpkin puree. If the mixture looks curdled, do not fret.
4. Reduce speed to low, and mix in dry ingredients until just combined. Fold in chocolate chips and pecans.
5. Spread batter evenly in prepared pan. Bake until edges begin to pull away from sides of pan and a toothpick inserted in center comes out with just a few moist crumbs attached, 35 to 40 minutes. Cool completely in pan.
Notes:
- Store the pumpkin blondies in a single layer inside an airtight container for up to three days.
Adapted from Martha Stewart
All images and text ©
Follow Jamie on Instagram. We love to see what you're baking from MBA! Be sure to tag @jamiemba and use the hashtag #mbarecipes!
This post may contain affiliate links. We are a participant in the Amazon Services LLC Associates Program, an affiliate advertising program designed to provide a means for us to earn fees by linking to Amazon.com and affiliated sites.