Pumpkin Spice Fluff is the creamiest, dreamiest marshmallow fluff. Loaded with pumpkin spice flavors and topped with candied pecans, this fluff salad is a must-make for your Thanksgiving table.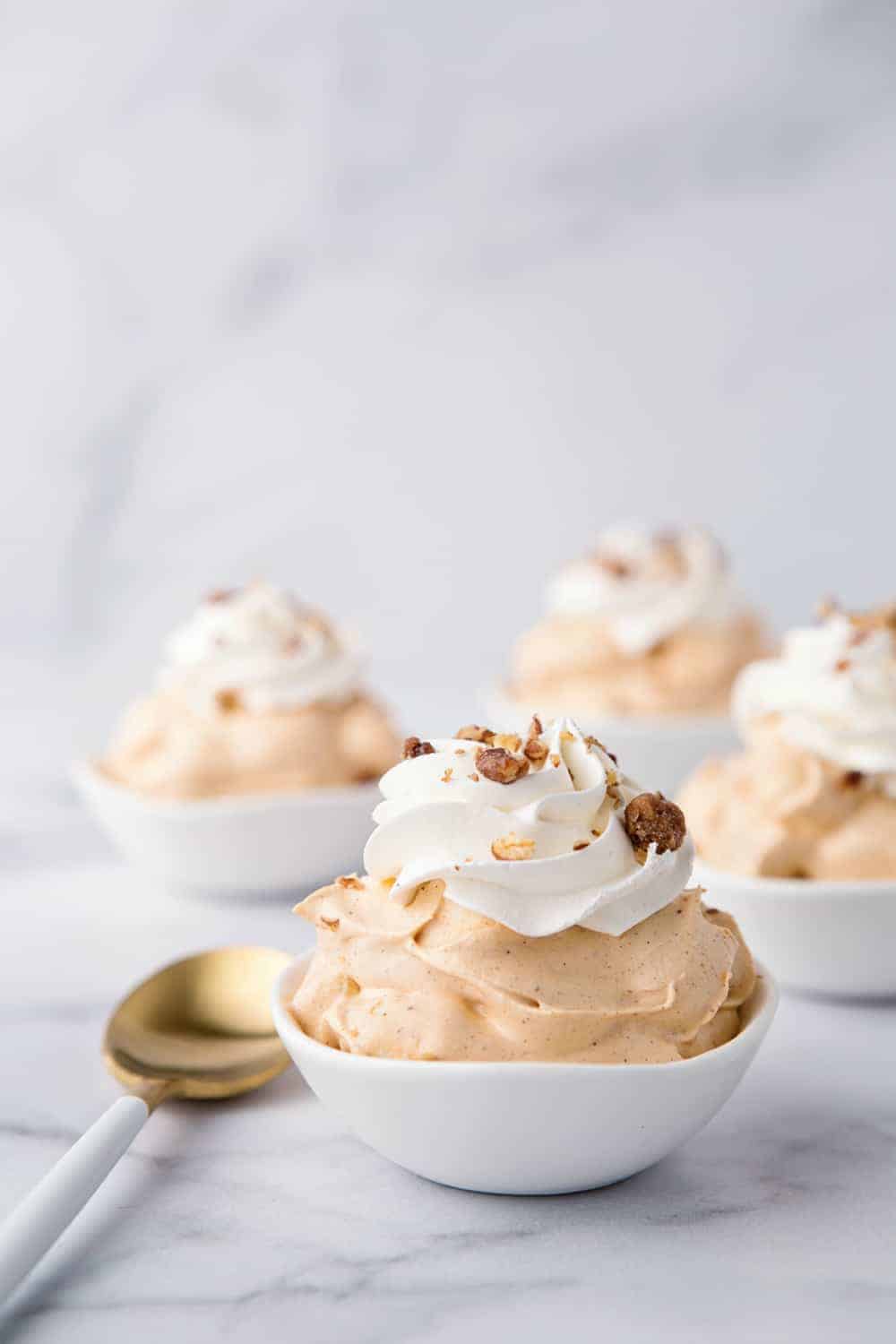 Guys, I have a confession to make.. I am very meh about pumpkin pie.
I remember my Nana making it for Thanksgiving when I was a kid, and in order for me to eat it, I had to dollop about half a container of whipped topping on it.
And still to this day, it's just not my favorite thing.
Sure, I have a pumpkin pie every year for Thanksgiving, because I feel like it's an essential, but my pumpkin pie comes from Costco unless I decide to whip up my mini pumpkin pies.
I'm more of a pumpkin roll, pumpkin crunch cake, and pumpkin praline cheesecake kinda girl!
But I'm also a fluff lover, so I thought I'd try to combine the flavors of pumpkin pie into a dreamy Thanksgiving fluff recipe.
And let me tell you guys, this Pumpkin Spice Fluff is so darn good!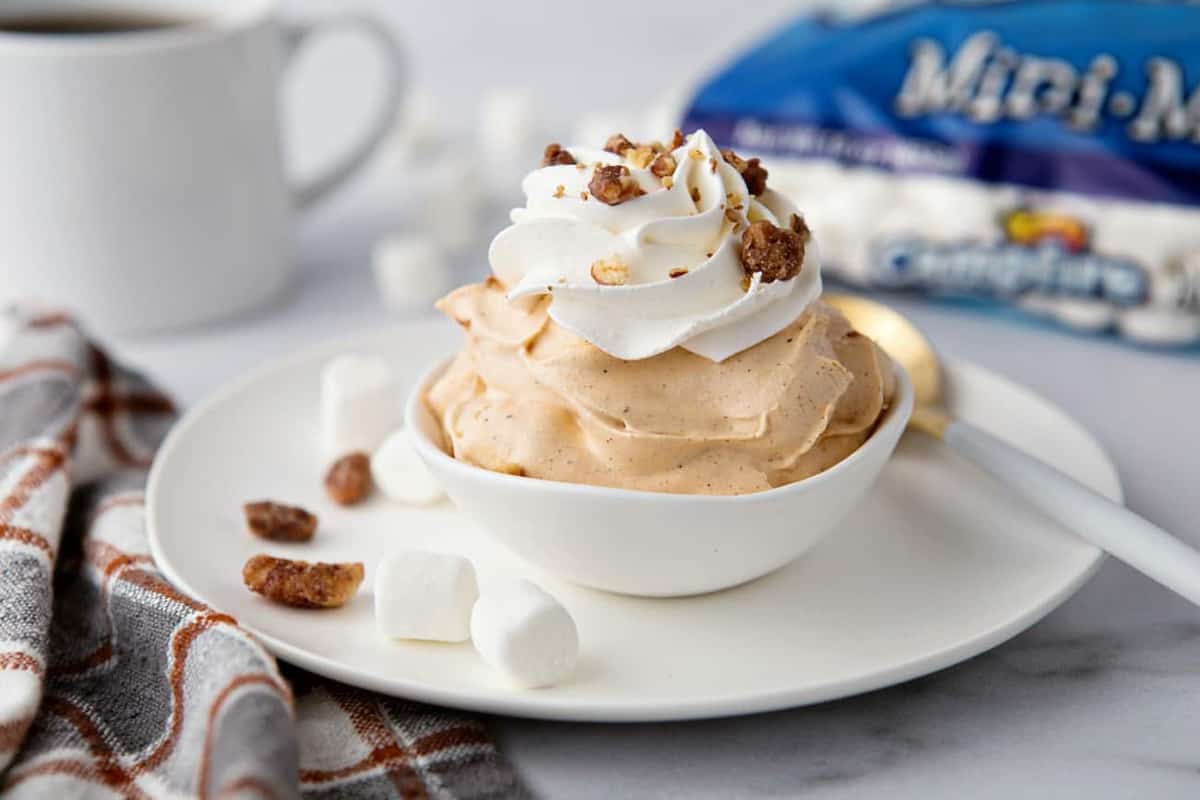 WHAT IS PUMPKIN SPICE FLUFF?
If you haven't noticed, I kind of have a thing for fluff salad recipes.
I've made everything from Banana Cream Pie Fluff and Strawberry Cheesecake Fluff to Cranberry Fluff using cranberry sauce.
But this Pumpkin Spice Fluff? It might be my favorite fluff recipe yet.
Yes, I am probably biased thanks to my love of pumpkin recipes. But honestly, this recipe tastes like creamy pumpkin pie goodness. Who wouldn't love that?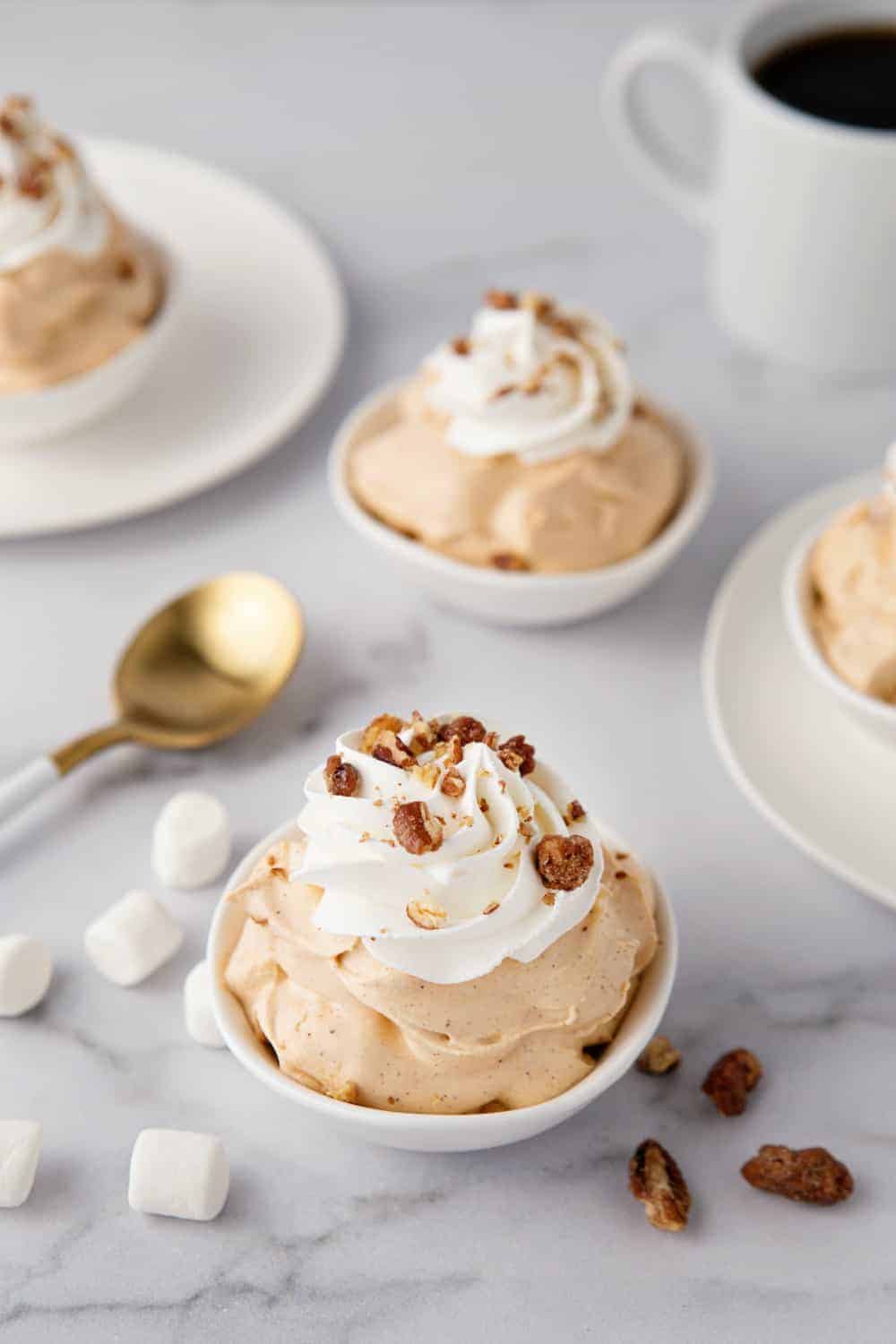 To me, fluff salads are a sweet and creamy combination of pudding, cream cheese, and whipped topping with mini marshmallows folded in. Depending on the flavor, there might be other goodies, such as fruit or nuts, added in.
For this pumpkin fluff version, I used pumpkin spice pudding mix, a little bit of my homemade pumpkin pie spice, candied pecans, and my favorite Campfire® Mini Marshmallows.
I always reach for Campfire® Marshmallows when I make fluff salads. They're the best, and perfect for so many other seasonal pumpkin recipes, such as Pumpkin Trifles, Marshmallow Pumpkin Pie, and Pumpkin Spice Marshmallow Treat Cupcakes.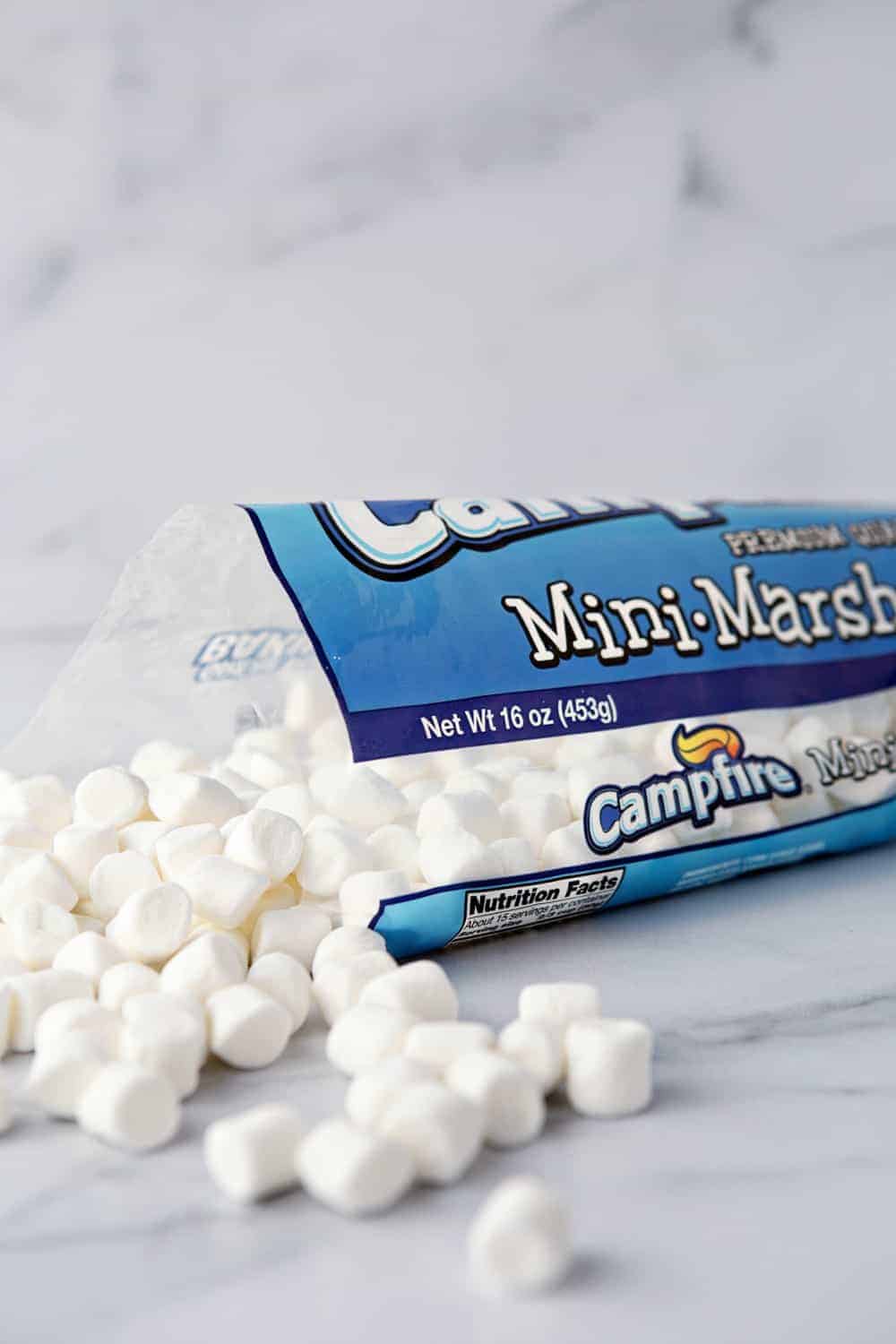 HOW TO MAKE FLUFF SALAD
One of the reasons I love to make fluff – besides the fact that it is delicious – is because it is so easy:
Combine cream cheese with powdered sugar
Beat in pumpkin spice pudding
Fold in thawed whipped topping and Campfire® Mini Marshmallows
Cover and refrigerate for at least 2 hours
Fold in candied pecans just before serving and garnish with more whipped topping
My Pumpkin Spice Fluff starts with softened cream cheese (learn how to soften cream cheese quickly with my tutorial!) and powdered sugar.
Once that is combined, add in the pumpkin spice pudding. I add a little homemade pumpkin pie spice to the pudding for extra flavor.
Then, fold in the thawed whipped topping and the mini marshmallows. Wait to add in the candied pecans until serving – you don't want them to get soft while the fluff chills in the refrigerator.
Just before serving, fold in the candied pecans. Garnish the fluff with more whipped topping and extra pecans if you like!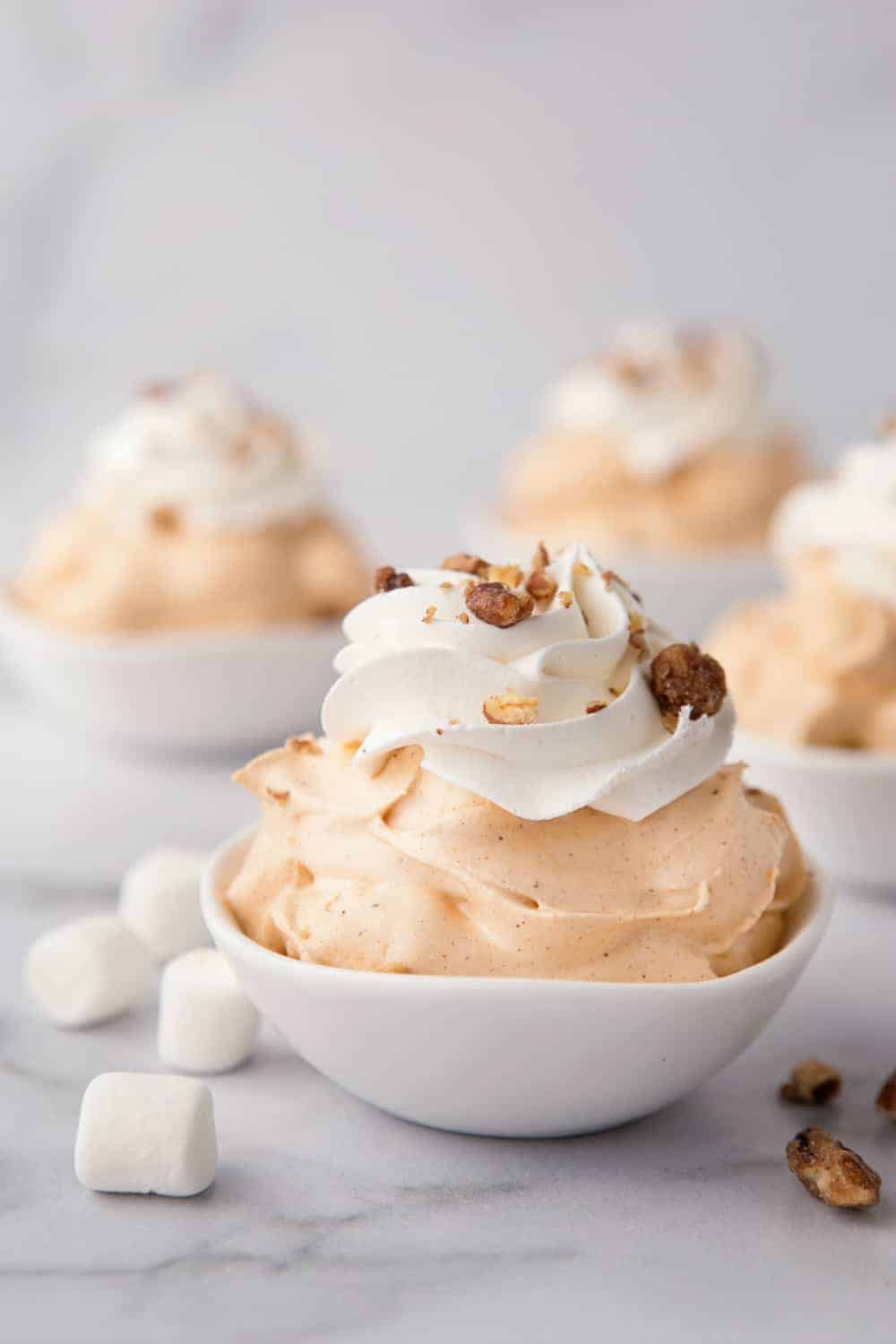 CAN YOU MAKE PUMPKIN FLUFF AHEAD OF TIME?
Fluff is great to make for parties or get-togethers because you make it ahead of time. Once you mix the fluff, it needs to chill in the refrigerator for at least two hours.
But you can make it more than two hours ahead of time if you want! As long as you wait to fold in the pecans until just before serving, you could even make the fluff the night before if you want.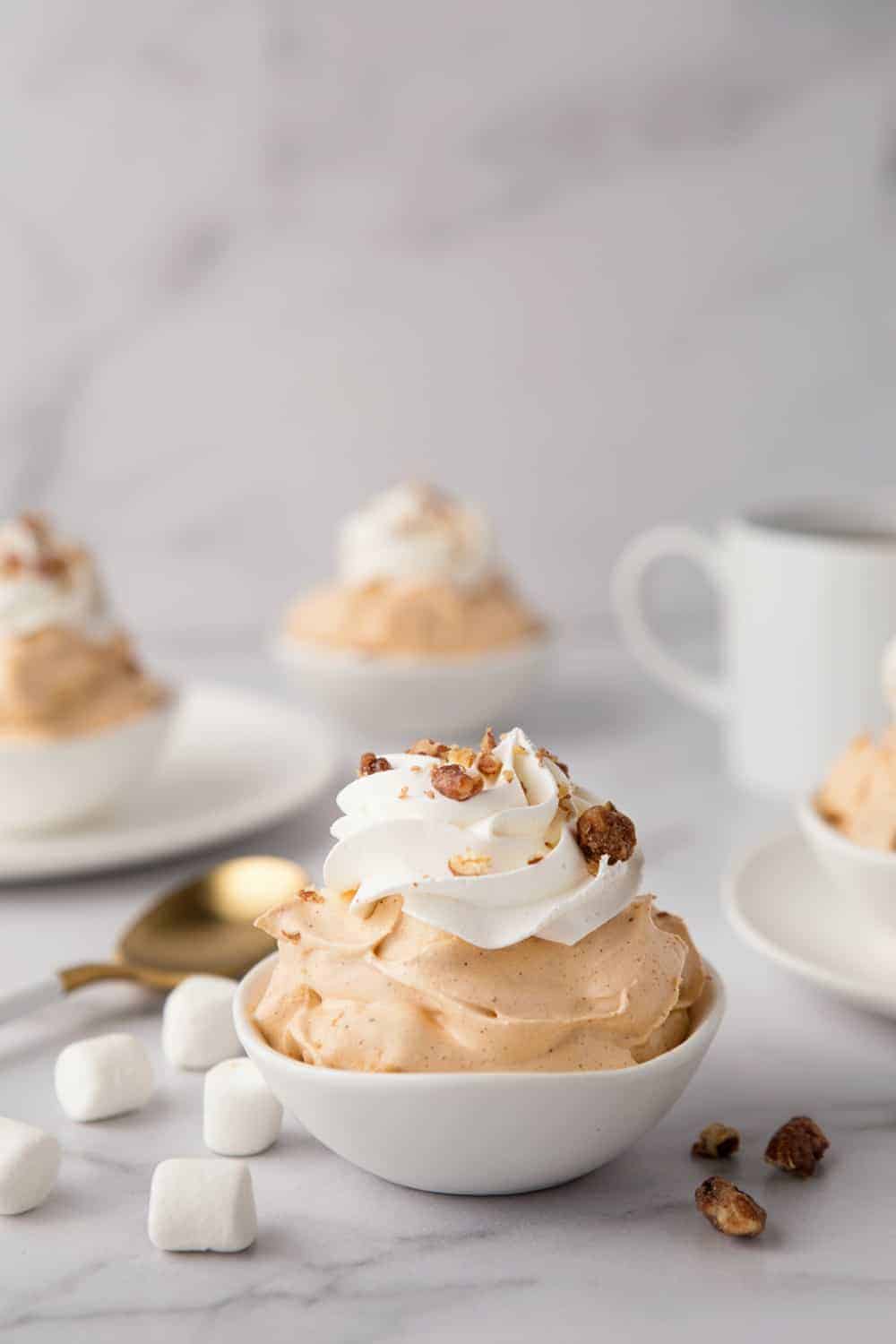 HOW TO SERVE PUMPKIN SPICE FLUFF
I like to serve Pumpkin Spice Fluff in individual dishes, garnished with a dollop of whipped topping and extra candied pecans, as an easy alternative to pumpkin pie.
If you're taking it to a party, though, you could serve it in a trifle dish instead!
And even though I like to eat it with a spoon like pudding, you could totally serve it with graham crackers, vanilla wafers or sliced apples as a dip instead!
Really, there's no wrong way to enjoy Pumpkin Spice Fluff when you're enjoying it with friends and family this holiday season.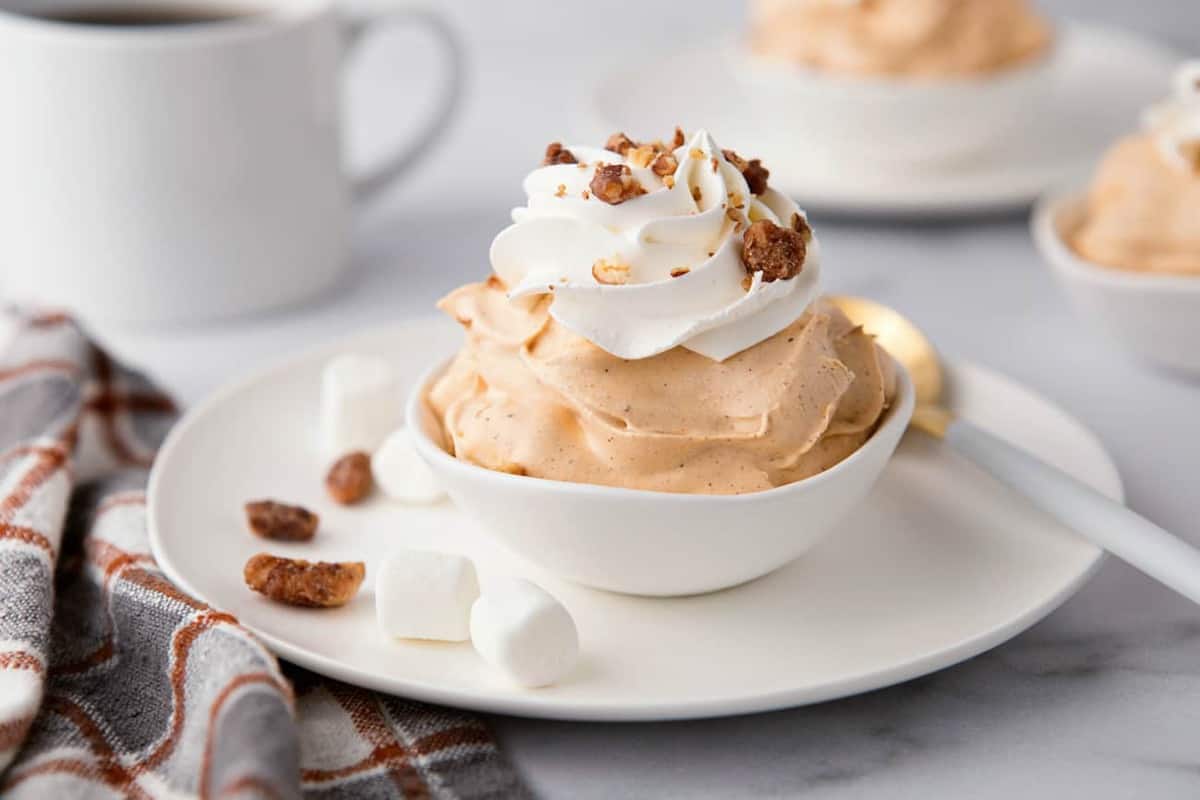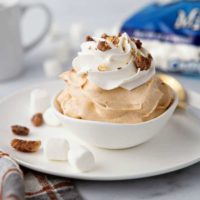 Pumpkin Spice Fluff
Pumpkin Spice Fluff is the creamiest, dreamiest marshmallow fluff. Loaded with pumpkin spice flavors and topped with candied pecans, this fluff salad is a must-make for your Thanksgiving table.
Print
Pin
Servings: 12
Ingredients
16 ounces cream cheese room temperature
1 cup powdered sugar
2 teaspoons pure vanilla extract
2 boxes Pumpkin Spice Pudding Mix 3.4 ounces each
¾ teaspoon pumpkin pie spice
1 ½ cups 2% or whole milk
12 ounces frozen whipped topping thawed
1 cup candied pecans chopped
additional whipped topping and candied pecans for garnish
Instructions
In the bowl of a stand mixer fitted with the paddle attachment, or in a large bowl with an electric mixer, beat the cream cheese for 3 minutes. Scrape down the sides of the bowl and add in powdered sugar and vanilla and beat an additional 3 minutes.

In a large bowl, whisk together the dry pudding mixes, pumpkin pie spice and milk. Allow pudding to set up for a few minutes. It will be very thick and not the consistency of regular pudding.

Add the pudding to the cream cheese mixture and beat until fully incorporated. Be sure to scrape down the sides of the bowl to incorporate all of the cream cheese.

Fold in whipped topping until completely incorporated. Fold in the marshmallows.

Cover and refrigerate for at least 2 hours.

Just before serving, fold in candied pecans. Serve topped with additional whipped topping and candied pecans.
Nutrition
Calories: 375kcal | Carbohydrates: 46g | Protein: 5g | Fat: 19g | Saturated Fat: 9g | Polyunsaturated Fat: 2g | Monounsaturated Fat: 6g | Cholesterol: 46mg | Sodium: 195mg | Potassium: 129mg | Fiber: 0.5g | Sugar: 37g | Vitamin A: 607IU | Vitamin C: 0.03mg | Calcium: 113mg | Iron: 0.2mg
The default measuring system on My Baking Addiction is US Customary. Unit conversions are provided as a courtesy; please be aware that there may be some discrepancies.
Card may contain affiliate links. As an Amazon Associate and member of other affiliate programs, I earn from qualifying purchases.