This lightly spiced zucchini cake is topped with a luscious maple cream cheese frosting for the perfect fall touch. This moist zucchini cake recipe is one you'll want to make all autumn long!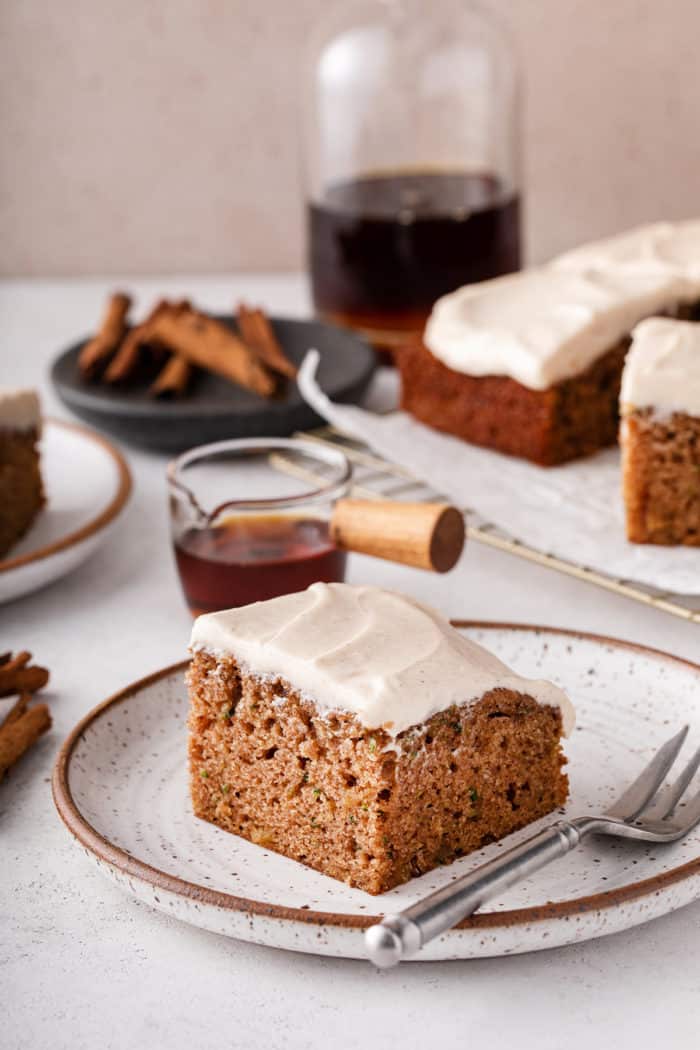 Alright, I'm finally almost ready to embrace fall.
Even though the afternoons are still a bit warm and humid around here, the mornings are starting to be nice and cool. With school in session and Labor Day over, it's starting to feel more like fall.
So to continue to ease us into the season, I'm taking some of the last of my summer zucchini and putting in this zucchini cake with maple cream cheese frosting.
It's a little hybrid of summer and fall, with the zucchini pairing with fall spices, ginger, and maple.
It's a simple cake that you can whip up quickly, so it's perfect for guests or just because you're craving cake on a Thursday afternoon.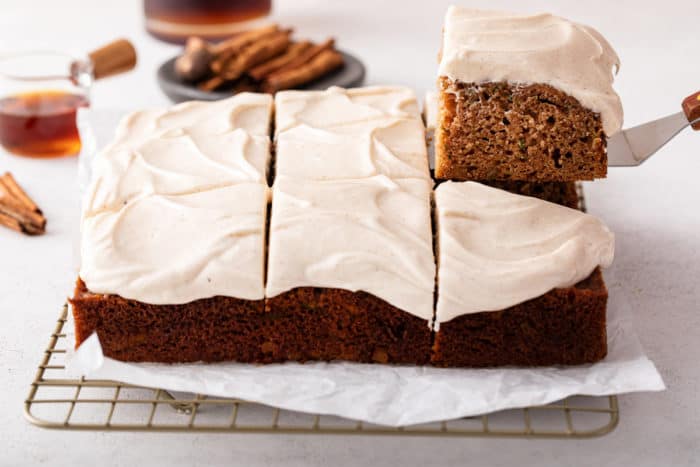 WHY PUT ZUCCHINI IN CAKE?
I put zucchini in baked goods all of the time. It's the only way I stand a chance at getting zucchini into my family.
But other than trying to get my husband and kid to eat zucchini, why put zucchini in recipes like chocolate zucchini cake, lemon zucchini bread, chocolate zucchini muffins, and this zucchini cake with maple cream cheese frosting?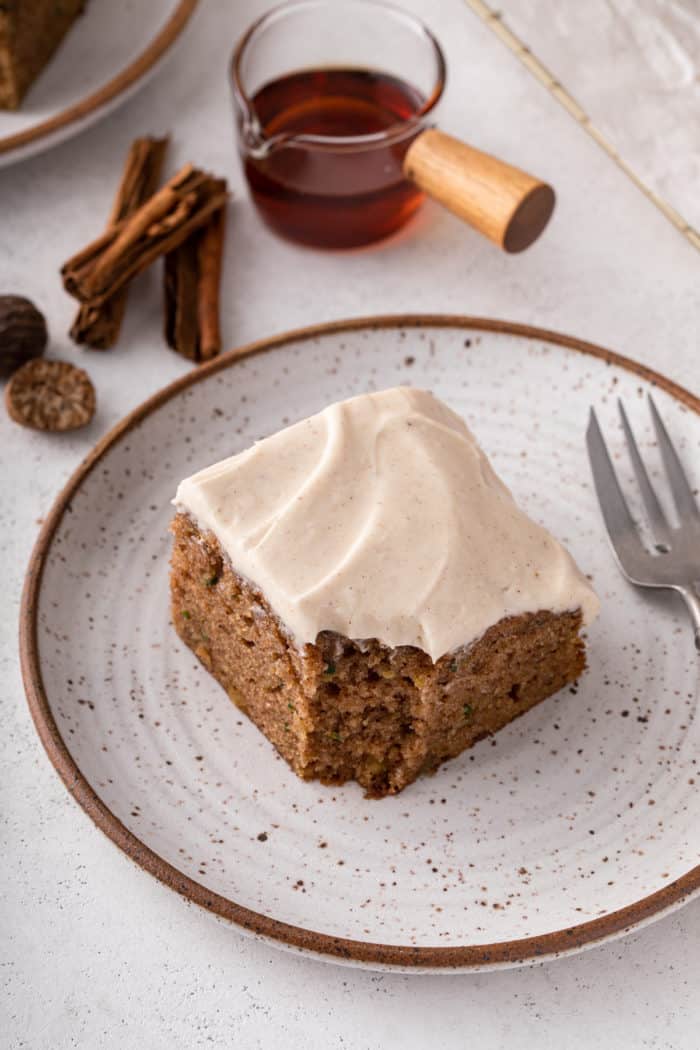 You can think of zucchini the way you'd think of bananas or applesauce in a baked good. Why would we put bananas in moist banana cake or applesauce in applesauce bread?
For moisture and texture!
Zucchini has such a high water content that it instantly helps keep baked goods moist and tender. It also has a lovely mild flavor that pairs nicely with warm spices like cinnamon and ginger.
Even though some recipes, like chocolate zucchini bread, are made to hide the flavor of zucchini, this zucchini cake recipe lets the zucchini shine alongside the spices and maple frosting.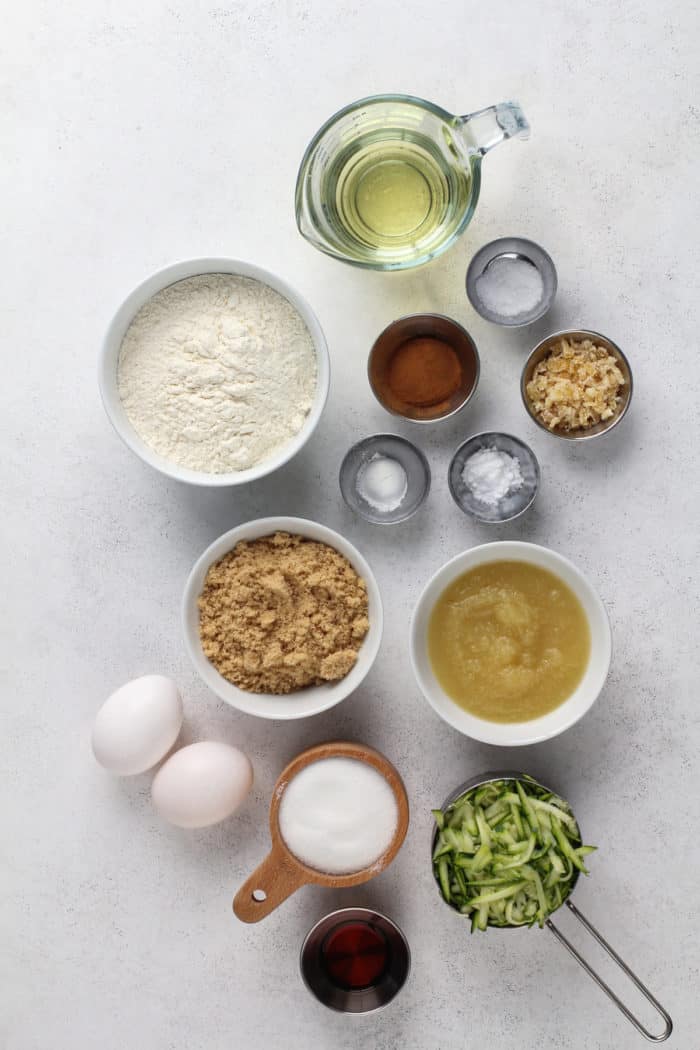 HOW TO MAKE THIS ZUCCHINI CAKE WITH CREAM CHEESE FROSTING
This zucchini cake recipe is super simple to make. In fact, you can mix up the cake batter with just a bowl and a spatula – no mixer required!
Key ingredients
There are a few key ingredients that work with the shredded zucchini to really make this simple cake extra special.
Apple pie spice: Remember how zucchini pairs well with warm spices? Apple pie spice has all of the spices we need here: cinnamon, nutmeg, ginger, allspice, and cardamom.
Crystallized ginger: This is an optional ingredient, but I think it's one of the best parts of this cake! Chopped crystallized ginger adds a great zip and amazing texture to this recipe. Most grocery stores sell crystallized ginger in the baking aisle, but you can also purchase it online.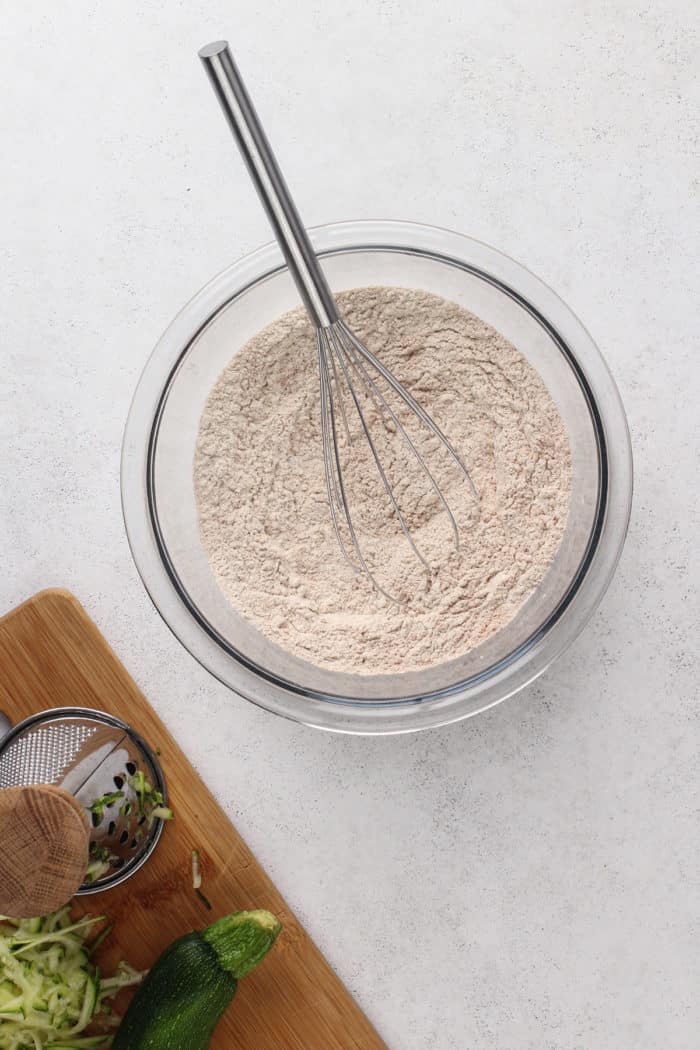 Vegetable oil and applesauce: To make sure this cake is super moist, vegetable oil and applesauce are used in place of butter in this recipe.
Brown sugar and granulated sugar: This recipe uses half brown sugar and half granulated sugar. The brown sugar is especially important – it adds flavor and helps the cake hold the moisture from the zucchini, vegetable oil, and applesauce.
Other ingredients you will need are:
1 ¼ cups all-purpose flour
½ teaspoon kosher salt
1/2 teaspoon baking powder
1/2 teaspoon baking soda
2 eggs
1 teaspoon vanilla extract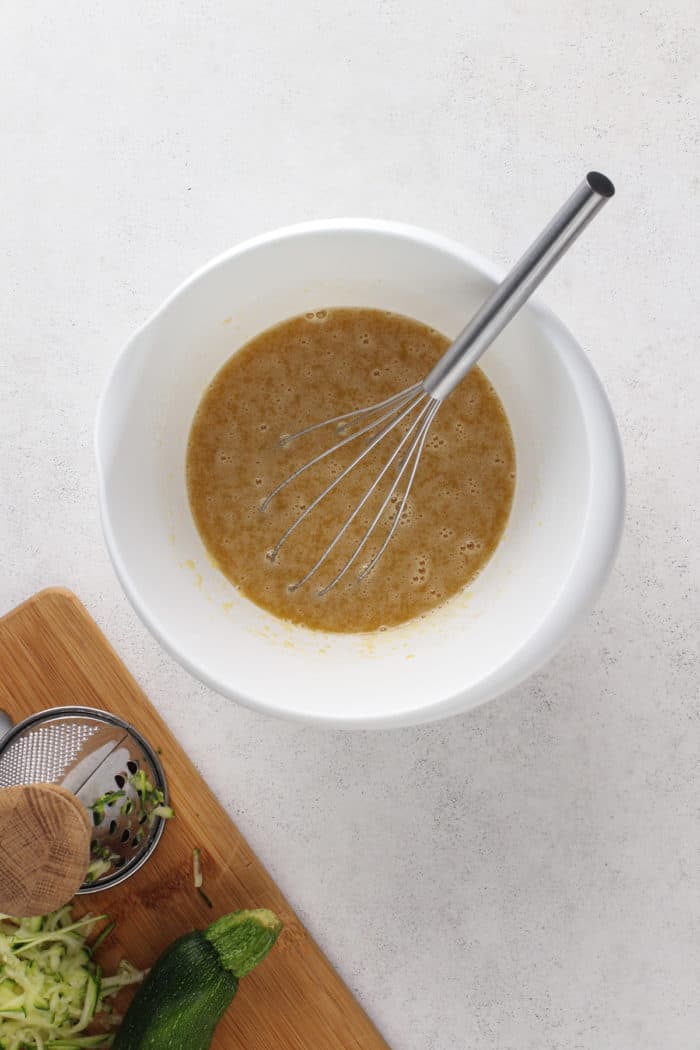 Making this recipe
Making the batter for this zucchini cake recipe is as simple as 1, 2, 3:
Whisk together the dry ingredients: flour, apple pie spice, crystallized ginger, salt, baking powder, and baking soda.
Whisk together the wet ingredients: oil, applesauce, eggs, sugars, and vanilla extract.
Add the wet ingredients to the dry and fold in the zucchini.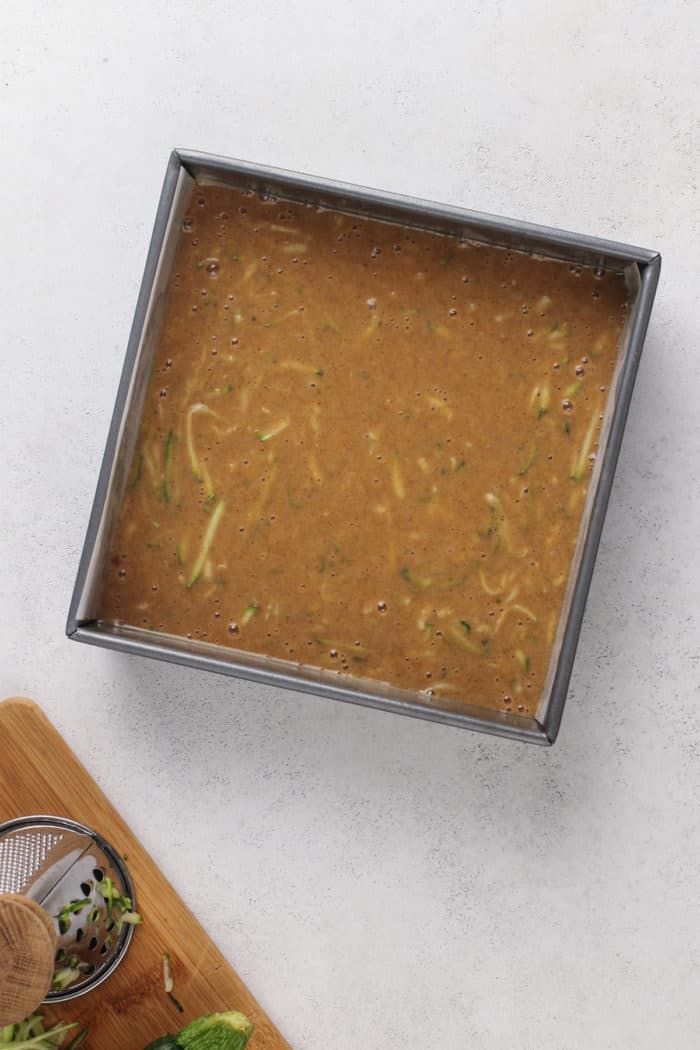 From there, pour the batter into a greased 8×8-inch cake pan and bake for 35-40 minutes. The cake is done when a toothpick inserted into the center comes out clean.
Let the cake cool completely before adding the maple cream cheese frosting.
This frosting has maple syrup and apple pie spice in it for a flavorful twist, but you can use a classic cream cheese frosting if you prefer.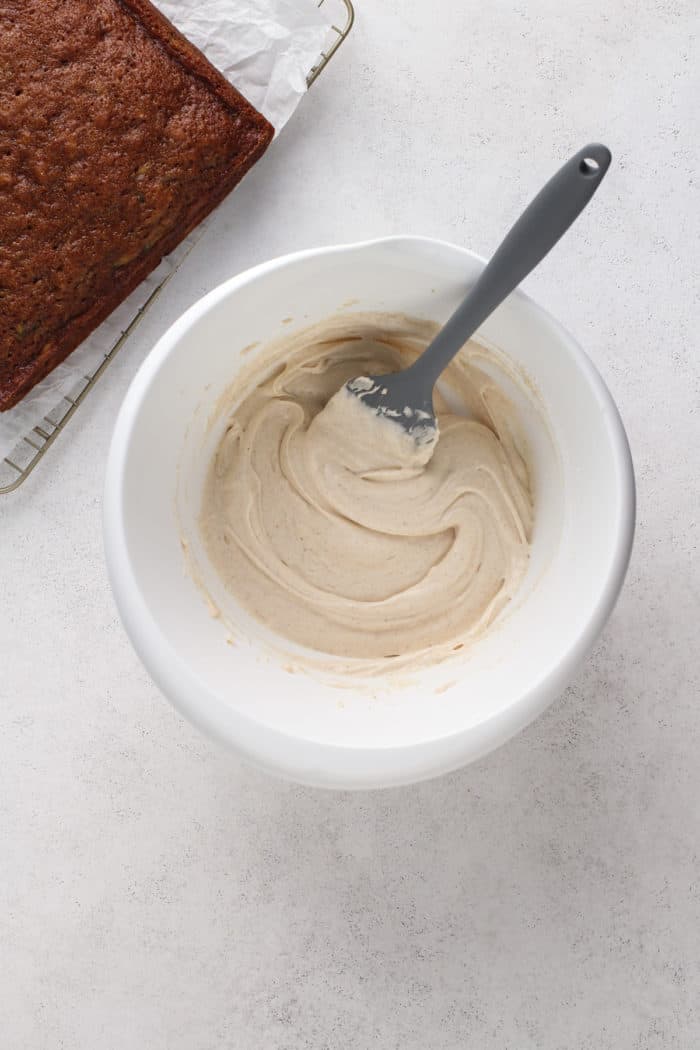 STORAGE AND FREEZING
Because of the cream cheese frosting on this cake, store the cake in the refrigerator for up to 2 days. I recommend bringing the cake to room temperature before serving it.
Wondering if you can freeze this zucchini cake?
For best results, I recommend freezing the cake before adding the frosting. Wrap it tightly in a layer of plastic wrap, followed by a layer of foil, and freeze for up to 1 month.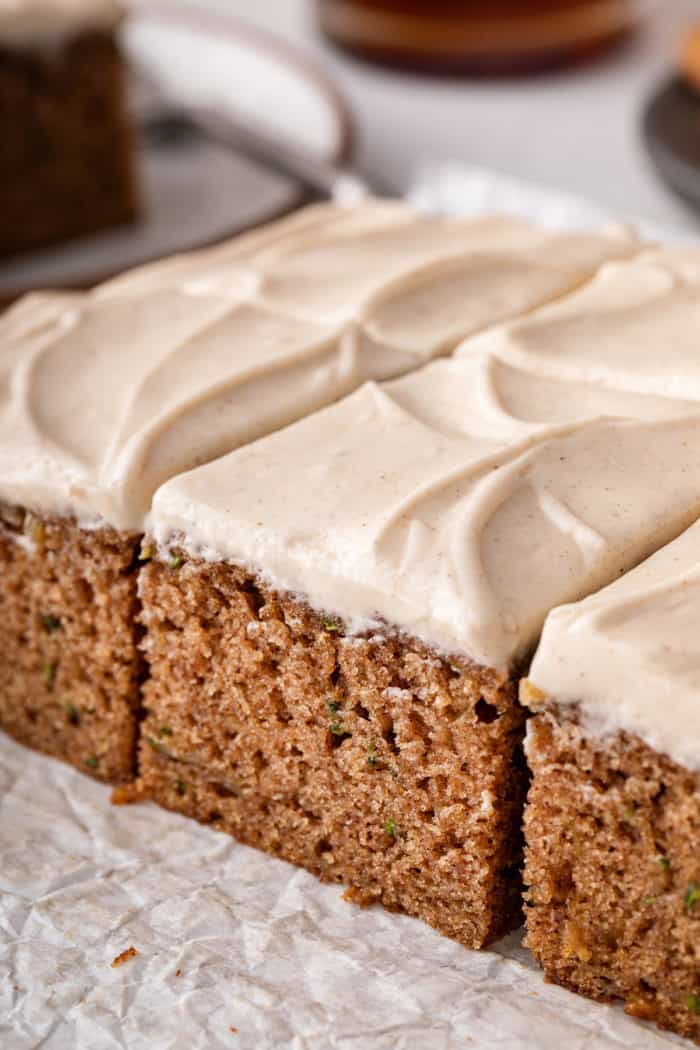 Let the cake thaw at room temperature before frosting.
You can make the frosting ahead of time and freeze it separately from the cake if you'd like. Freeze it in an airtight container for up to a month.
Let the frosting thaw overnight in the refrigerator. Bring it to room temperature, then whip it with an electric mixer for a minute before spreading it over the thawed zucchini cake.