A guilt free cake? Not quite, but we can pretend right? Well, maybe if we forget about the cream cheese frosting. I don't know about you, but there's something about a cake that is textured and flavored with zucchini and sweetened with applesauce that makes my hand much lighter when I'm reaching for a second piece.
With a surplus of zucchini in my house, it was time to get creative in the kitchen. I took a basic zucchini cake recipe and added in some cinnamon, nutmeg, crystallized ginger and cardamom to give a plain cake an autumnal twist. The spiced maple-cream cheese frosting made this zucchini cake incredibly irresistible and quick to disappear.
I have to admit trying to convince Brian that a cake made with zucchini and applesauce could stand up next to a butter laden dessert wasn't as difficult as I had anticipated. He's used to zucchini being in stir-fries and quick breads; not cake. Well, after that first taste, all was quiet and it was pretty much a session of fork to mouth until the plate was empty. The next morning he took the remaining slices to his co-workers who welcomed it with open arms on an brisk, fall morning.
Don't be surprised if you see some zucchini cookies and other sweets with zucchini as the star or in a supporting role. This cake is moist, delicious and is definitely the perfect recipe to transition your kitchen to fall baking. Have a fantastic week and thanks so much for stopping by My Baking Addiction.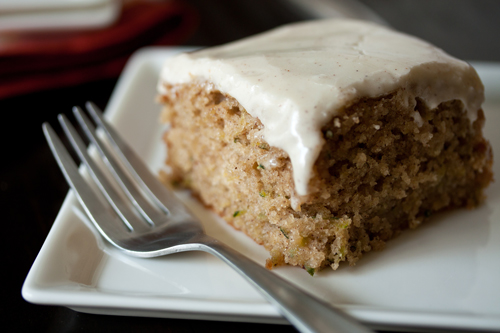 Looking for more zucchini deliciousness?
Chocolate Zucchini Cake from My Baking Addiction
Blueberry Zucchini Bread from My Baking Addiction
Pineapple Zucchini Cake with Cream Cheese Frosting from My Baking Addiction
Zucchini and Cream Cheese from Vino Luci Style

Spiced Zucchini Cake
with spiced maple-cream cheese frosting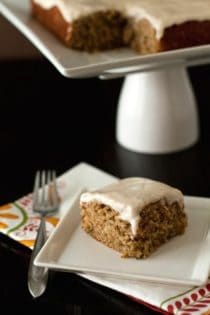 Ingredients:
For the Cake
1 ¼ cups all-purpose flour
½ cup brown sugar
½ cup sugar
1 ½ teaspoons ground cinnamon
½ teaspoon ground cardamom
½ teaspoon ground nutmeg
½ teaspoon minced crystallized ginger
½ teaspoon kosher salt
1/2 teaspoon baking powder
1/2 teaspoon baking soda
½ cup vegetable oil
½ cup applesauce
2 eggs
1 cup shredded zucchini
For the Frosting
4 ounces cream cheese, softened
3 tablespoons butter, softened
3 tablespoons pure maple syrup
½ teaspoon ground cinnamon
¼ teaspoon ground cardamom
2 cups confectioners' sugar
Directions:
For the Cake
1. Preheat oven to 350 degrees F. Butter or spray an 8x8 inch baking pan with non-stick cooking spray; set aside.
2. In a bowl, combine flour, cinnamon, cardamom, nutmeg, crystallized ginger, salt, baking powder and baking soda.
3. Combine oil, applesauce, eggs and sugars; add to dry ingredients and mix well. Add zucchini; stir until thoroughly combined. Pour into the prepared 8x8 inch baking pan.
4. Bake at 350 degrees F for 30-35 minutes or until a toothpick inserted near the center comes out clean. Cool on wire rack.
For the Frosting
1. For the icing: In a small bowl, beat cream cheese, butter, maple syrup, cinnamon and cardamom until smooth and creamy. Add confectioners' sugar and mix well.
2. Frost cake with icing once completely cool.
Notes:
- Store covered in refrigerator for up to 2 days. Bring to room temperature before serving.
- This icing is a little on the thin side and is not able to be piped. If you find the consistency to be too thin for your taste, gradually add in a little more confectioners' sugar.
- If you enjoy nuts, pecans and walnuts both pair well with this recipe. Simply fold in a ½ cup of chopped nuts before pouring the batter into the pan.
- Don't have cardamom or crystallized ginger? No problem, just omit them, but I do highly recommend adding both of these to your spice rack.
All images and text ©
Follow Jamie on Instagram. We love to see what you're baking from MBA! Be sure to tag @jamiemba and use the hashtag #mbarecipes!