Poundcake. For some reason, every single time I think of pound cake I think of little old grandmas and Sarah Lee. Why? I have no idea, it's just a thing. I also don't make a lot of pound cake. Not that I have anything against it, it just seems kinda mundane to me next to candy bar cupcakes and goodie-filled cookies. If your thoughts on pound cake are at all similar to what mine were, allow me to change your mind.
This Lemon Cream Cheese Pound Cake will open up a brand new world of pound cake consideration and will literally have you secretly escaping to the kitchen to nibble on it. A magical crust develops on the top of this cake that's so incredible, I seriously wanted to the slice the top off (well, actually the bottom once you flip it) and keep it all to myself. Yes, it is that good.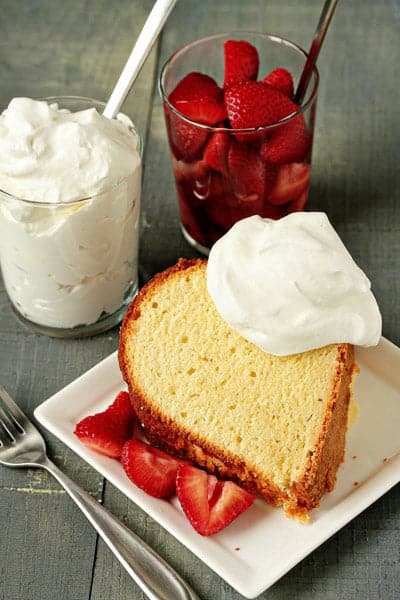 This cream cheese pound cake is definitely dense – like you didn't know that. So, one cake can feed a pretty large group of people. It's really perfect for summer barbeques and even better if you toss it on the grill for a few minutes and serve with fresh summer fruit like blueberries or grilled pineapple. I opted to plate it up with fresh whipped cream and Grand Marnier soaked strawberries. Any way you serve it, I'm betting it will be hit!
Cream Cheese Pound Cake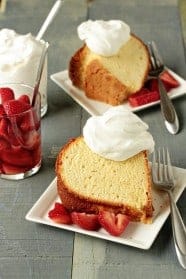 Ingredients:
1 (8 ounce) package cream cheese, softened
1 1/2 cups butter, softened
zest of 4 lemons
3 cups granulated sugar
6 large eggs
3 cups all-purpose flour
1 tablespoon vanilla extract
Directions:
1. Preheat oven to 325 degrees F. Grease and flour a 10 inch bundt pan.
2. In the bowl of a stand mixer, fitted with the paddle attachment, or with a hand mixer in a large bowl, cream the butter and cream cheese until smooth.
3. In a medium bowl, combine the sugar and lemon zest and mix together with your fingertips until the sugar is moistened and fragrant. Add the sugar mixture gradually to the butter and beat on medium speed until light fluffy, about 3 minutes.
4. Add eggs two at a time, beating well with each addition. Add the flour all at once and mix in. Add vanilla and mix thoroughly.
5. Pour into prepared pan. Bake at 325 degrees F for 1 hour and 20 minutes. Check for doneness at 1 hour. A toothpick inserted into center of cake will come out clean.
Notes:
- Store cake at room temperature in an airtight container for up to 3 days.
- Recipe adapted from allrecipes.
Copyright © My Baking Addiction
65 Responses to "Cream Cheese Pound Cake"