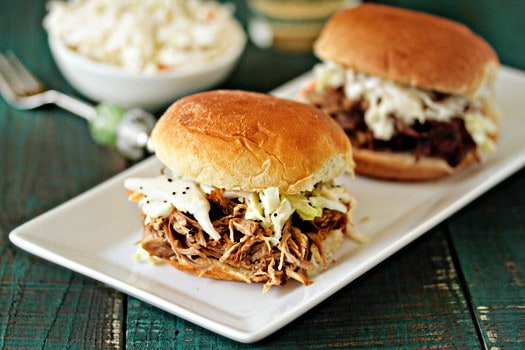 I'm sick. In my dramatic mind it seems like it's been weeks since I've felt normal, but it's actually only been about 7 days. I've cycled through the typical flu symptoms a couple of times and have been donning a bright red, chapped nose for about four days. Needless to say I'm not looking so hot, nor do I have any desire to cook or bake.
Actually the thought of being in the kitchen kind of revolts me because blowing my nose and hacking up a lung don't necessarily go hand in hand with food preparation…if ya know what I mean.
I have been relying on simplicity and the crock pot has become my new BFF. I have been making this pulled pork for years. Randomly, I found the recipe on a make up (yes, as is blushes and eyeshadows) related message board that I used to frequent.
Little known fact: I'm not just a baking addict, I also have a serious thing for make up. I've got enough eye shadows and blushes in my arsenal to paint up my face for the next 30 years. It's a sickness, I tell ya. Anyway, this pulled pork circulated through this message board like wild fire. Everyone was making it and raving about it's results although no one was really sure where it originated.
It's simple, delicious, and most importantly can be slow cooked all day in the crockpot which requires very little effort. It gets a glorious rub down of brown sugar, paprika and other spices before being cooked in a tangy cider vinegar sauce. After about 10 hours in the crock pot, you're left with incredibly tender, succulent, and flavorful pork. I typically shred it up and serve on slider buns with a side of homemade coleslaw. Honestly, it doesn't get much easier than this and it feeds a crowd, so there's always leftovers – which, by the way, are incredible!
Random Question:
Do you ever toss something into the crock pot and head out for the day to come home wondering why your house smells of something funky? I do this every. single. time.

Easy Crockpot Pulled Pork
May 13th, 2011
Yield: 6-8 servings
Ingredients:
1 large Vidalia onion, sliced thin
2 tablespoons brown sugar
1 tablespoon paprika
2 teaspoon kosher salt
½ teaspoon freshly ground black pepper
1 (4-6 lb) boneless pork butt or shoulder
¾ cup cider vinegar
4 teaspoons Worcestershire sauce
1 ½ teaspoons crushed red pepper flakes
1 ½ teaspoons sugar
½ teaspoons dry mustard
½ teaspoon garlic salt
¼ teaspoon cayenne pepper
Directions:
1. Rinse pork roast under cold water and pat dry with paper towels.
2. Place onions in crock-pot. In a small bowl, combine brown sugar, paprika, kosher salt and pepper; mix thoroughly. Rub mixture all over roast and place the roast on top of the onions.
3. In a medium bowl, combine vinegar, Worcestershire, red pepper flakes, sugar, mustard, garlic salt and cayenne pepper; whisk to combine. Drizzle about 1/3 of vinegar mixture over roast. Cover and refrigerate remaining vinegar mixture.
4. Cover crockpot; cook on low for 10-12 hours. Drizzle about 1/3 of reserved vinegar mixture over roast during last ½ hour of cooking.
5. Remove meat and onions; drain. Chop or shred meat and onions. Serve with remaining vinegar mixture or your favorite barbeque sauce.
If you enjoyed this recipe, you may like...