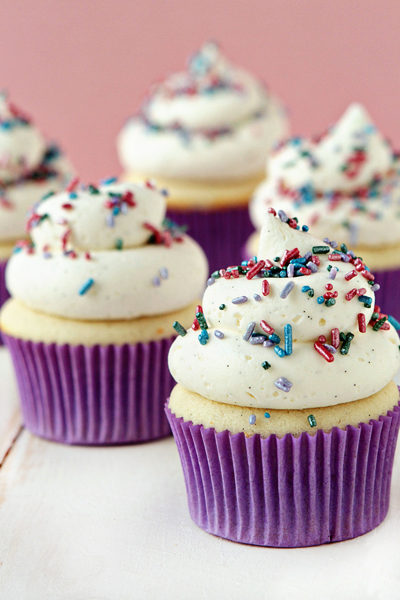 I get so caught up with trying to create new cupcake flavor combinations that I often forget that sweet simplicity is still insanely delicious. So after countless requests from readers, I am finally sharing a basic vanilla cupcake recipe.
I tried a few different recipe adaptions in search of vanilla bliss and after a couple of test batches, I think this recipe may just be one of my favorite combinations to date. It starts with a vanilla bean infused white cake that has an incredible crumb. It's light, fluffy and is the perfect foundation for a huge dollop of vanilla bean buttercream.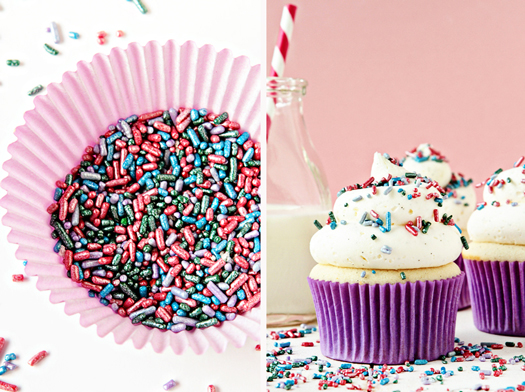 Although this combination may certainly be a little traditional, it's anything but boring. In fact, Brian, a die hard chocolate fan fell in love with this cupcake immediately and said it was one of his new favorites.
Jazzing these babies up with bright liners* and a sprinkling of pearlized jimmies*, makes them sassy enough to serve for any occasion. And there you have it, my absolute favorite vanilla on vanilla cupcake recipe.
Vanilla Cupcakes
July 27th, 2011
Yield: 18-20 cupcakes
Ingredients:
For the Cupcakes
2 1/4 cups cake flour (I used Swan's Down brand)
1 tablespoon baking powder
1/2 teaspoon kosher salt
1 1/4 cups whole milk, room temperature
4 large egg whites, room temperature
1 stick (8 tablespoons) unsalted butter, at room temperature
1 1/2 cups sugar
seeds scraped from one vanilla bean
2 teaspoons pure vanilla extract
For the Buttercream
3 sticks unsalted butter, softened
seeds scraped from one vanilla bean
2 teaspoons clear vanilla extract (this helps maintain the bright white color)
1 ½ pounds (24 ounces) confectioners' sugar, sifted
4-6 tablespoons heavy cream or milk
Directions:
For the Cupcakes
1. Center a rack in the oven to 350 degrees F. Line cupcake pan with paper liners.
2. In a large bowl, sift together the flour, baking powder and salt.
3. In a medium bowl, whisk together the milk and egg whites.
4. In the bowl of a stand mixer fitted with the paddle attachment, or with a hand mixer, beat the butter, sugar and vanilla bean seeds at medium speed for 3 minutes, or until the butter and sugar are very light. Add in the vanilla extract and one third of the flour mixture, still beating on medium speed. Beat in half of the milk-egg mixture, then beat in half of the remaining dry ingredients until well incorporated. Add the rest of the milk and eggs, beating until the batter fully incorporated and smooth, then add the last of the dry ingredients.
5. Once ingredients are thoroughly incorporated, give the batter a good 2-minute beating to ensure that it is thoroughly mixed and well aerated. Using a large scoop (about 3 tablespoons), distribute the batter between 18 muffin wells, filling each well 2/3 full.
6. Bake for 18-24 minutes, or until a toothpick inserted into the centers come out clean. Cool on wire rack.
For the Buttercream
1. In a large mixing bowl, cream butter and seeds from vanilla bean until fluffy. With the mixer on low speed, slowly add in confectioners' sugar, and continue beating until well blended.
2. Add in vanilla, and 3 tablespoons of heavy cream or milk. Blend on low speed until moistened.
3. Add an additional 1 to 3 tablespoons of heavy cream or milk until you reach the desired consistency. Beat at high speed until frosting is smooth and fluffy.
Notes:
- Cupcakes were frosting using the large round tip from Bake It Pretty
- *Cupcake liners from Bake It Pretty
- *Pearlized Jimmies were purchased from Bakers Nook
- Cake recipe adapted from Dorie Greenspan's Perfect Party Cake
Copyright © My Baking Addiction
If you enjoyed this recipe, you may like...