If you love the lip-puckering flavor of limes, you will adore this simple lime curd! Make this tart curd in minutes using the microwave and you'll have the perfect addition to so many desserts.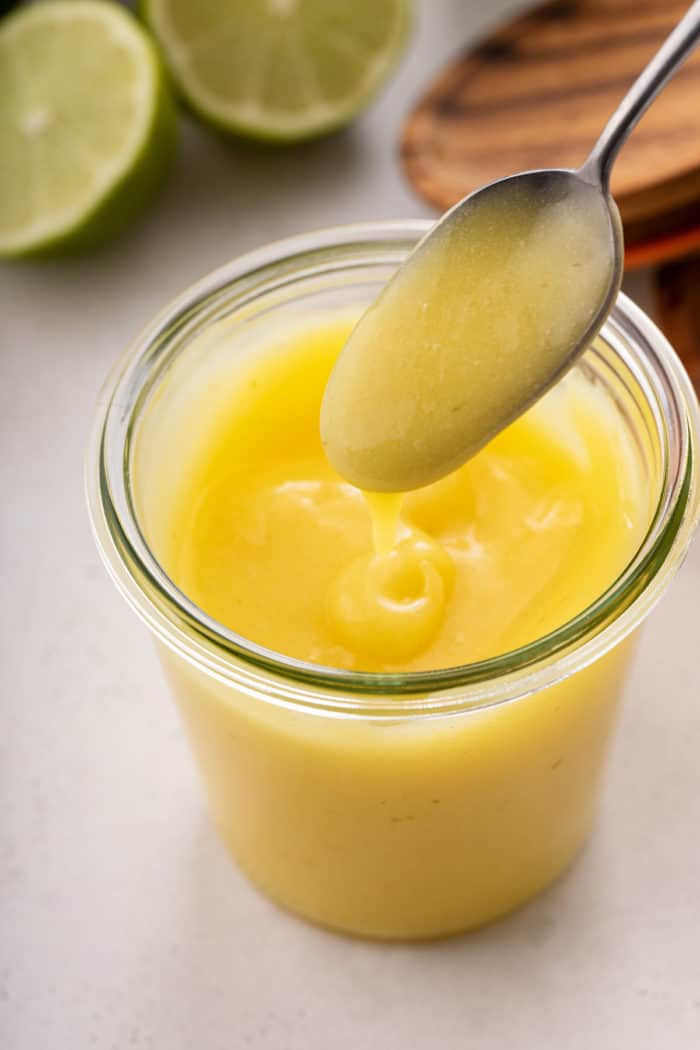 My super simple microwave lemon curd is one of my favorite recipes and one of my top reader recipes – and for good reason.
It's such an easy recipe and is done in a matter of minutes, but you would never guess that it was made in the microwave after you try it. It's just as silky and tart and perfect as a lemon curd made the traditional way.
So when I got to wondering if this method would work for lime curd, I obviously had to give it a try.
You know I was so happy to discover that not only does it work – it's delicious! If you love limes and their lip-puckering flavor in recipes like frozen lime pie, this tart lime curd is perfect for you.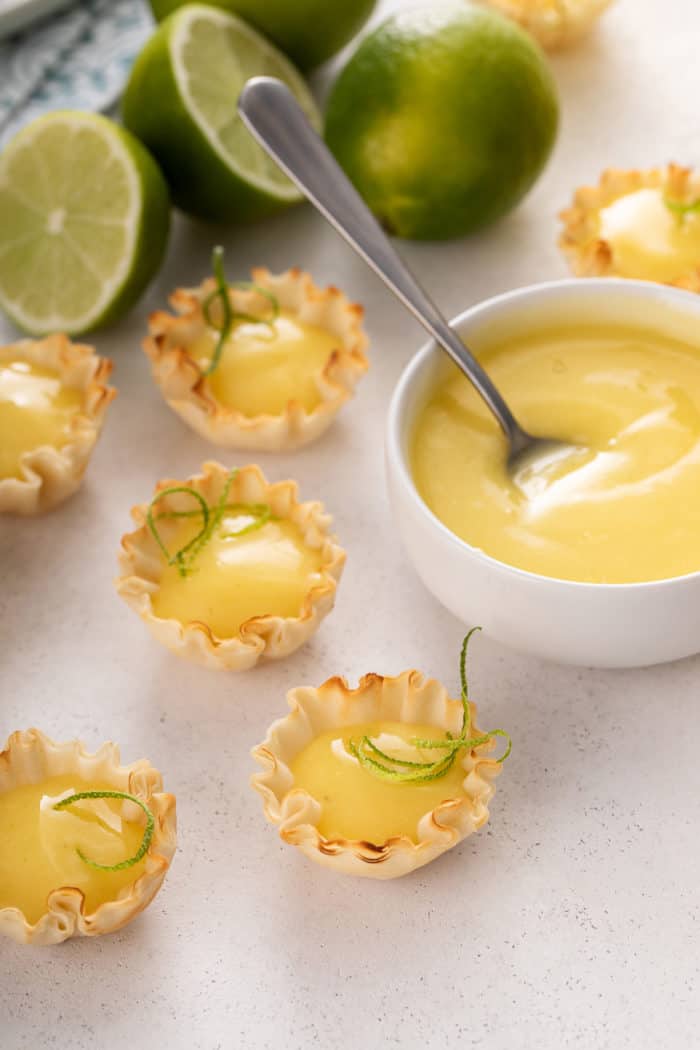 WHAT IS LIME CURD?
Fruit curds are a type of dessert spread that are most commonly made with citrus, although they can also be made with fruits like passion fruit, cranberries, and mango. Try grapefruit curd or blackberry curd!
In addition to the juice of the fruit, curds are made with eggs, sugar, butter, and the zest of the citrus.
Curds are often used in tarts, as a topping or filling for cakes and other pastries, or even as a spread on toast or scones.
Lemon curd is probably the most famous type of curd, but lime curd is a great alternative and perfect for summer!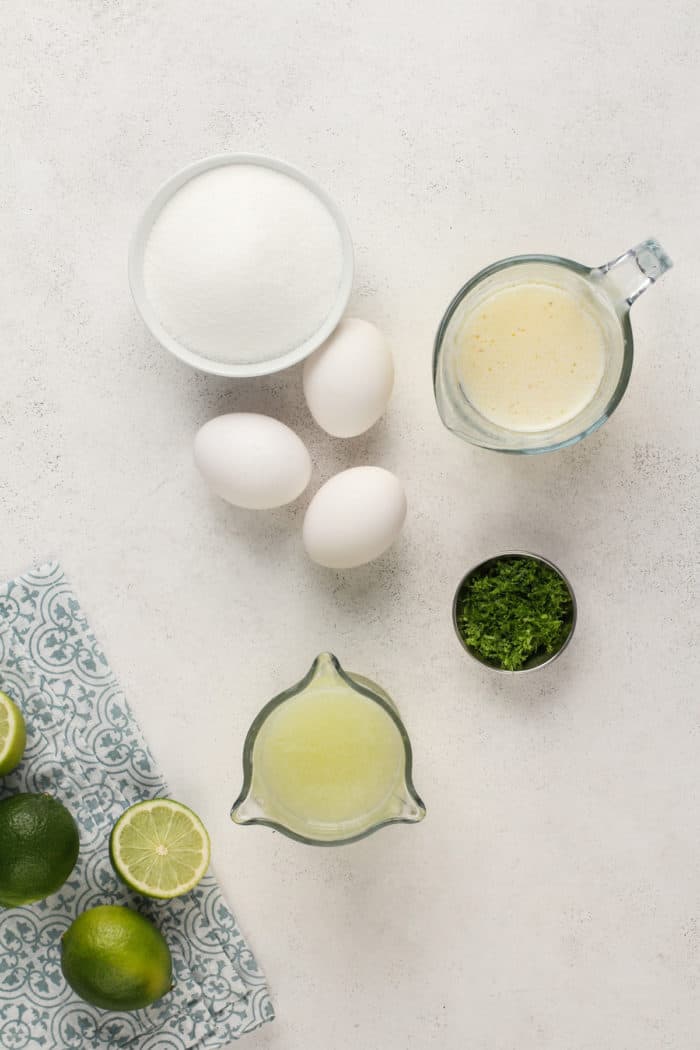 HOW TO MAKE LIME CURD
If you've been an MBA reader for a while, you know that I love making lemon curd in the microwave.
Yes, that's right, the microwave! It's way faster and easier than the traditional stove-top method, but the results are just as incredible.
So of course I had to take that same method and apply it to this lime curd. If you've never made a fruit curd before, don't stress – this is so easy, you just might find yourself making it every week.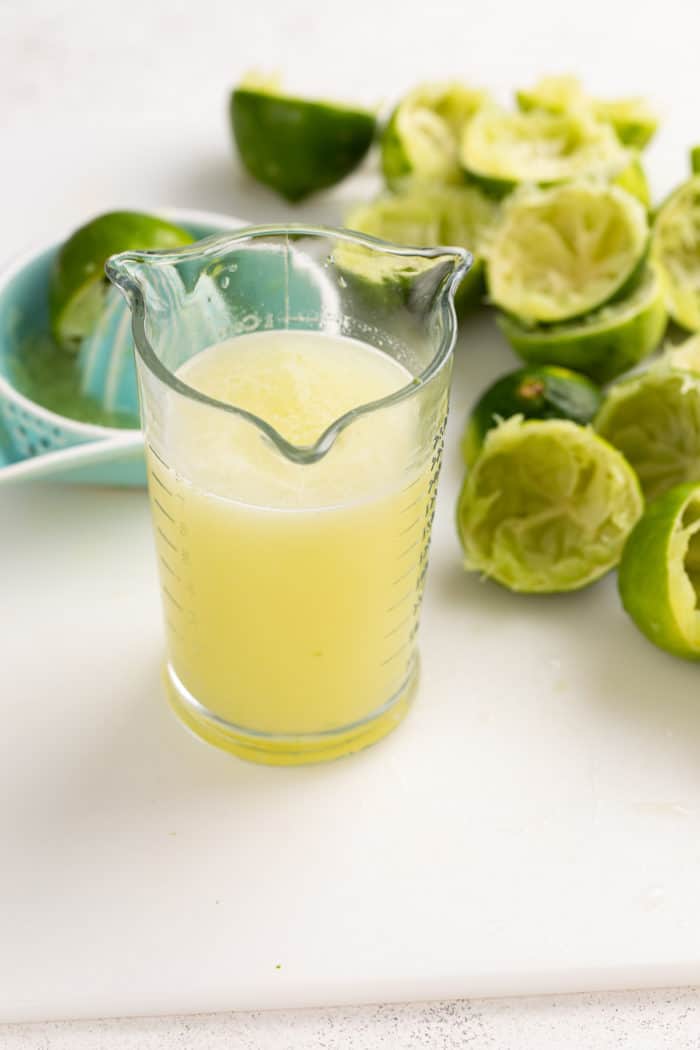 Ingredients you'll need
Like some of the very best classic recipes, lime curd uses only a handful of simple ingredients. In fact, it uses just 5 ingredients!
Granulated sugar: Obviously when you're using an ingredient as tart as lime juice, you have to balance it out with sugar for sweetness. This recipe uses granulated sugar.
Eggs: Some curd recipes rely just on egg yolks. This one uses 3 whole eggs – yolks and whites – so it's even simpler to make. No need to separate your eggs!
Lime juice: As you might imagine, lime curd uses a lot of lime juice. You'll need 1 cup of lime juice in this recipe; depending on the size of your limes, you'll need around 12 limes for that much juice.
Lime zest: We also need some of the lime zest for this curd. You'll need to zest 4-6 of the limes to get a tablespoon of lime zest.
Butter: Butter is the final ingredient to make this lime curd super silky. It adds just the right kind of richness and gives the curd a great mouth feel.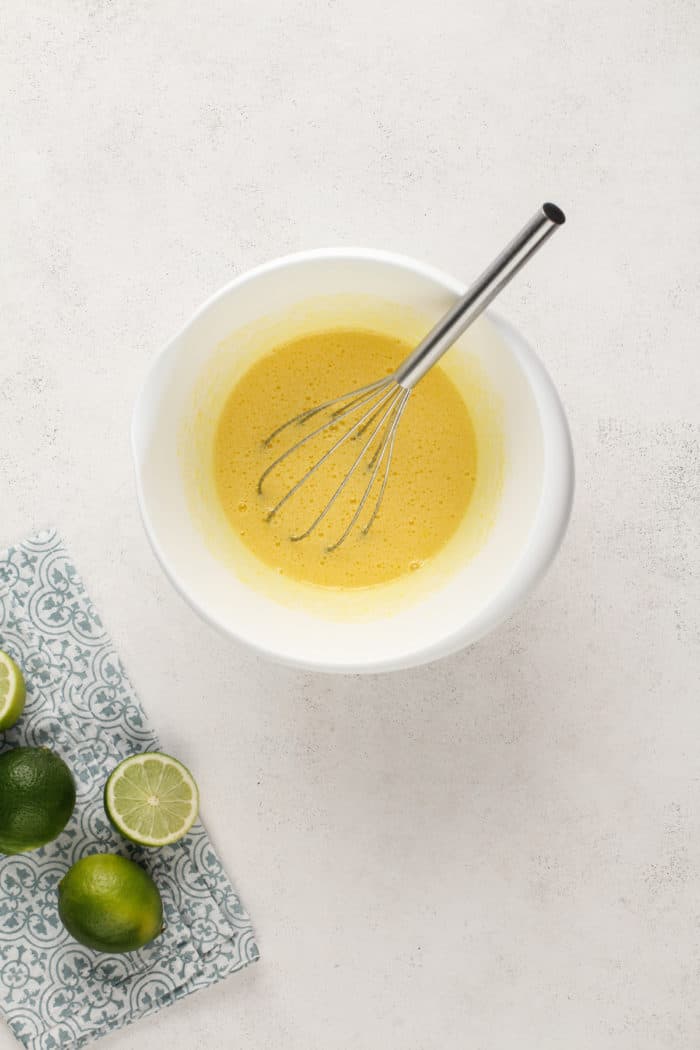 Making this recipe
Unlike some curd recipes that have you stand over the stove and temper eggs, this lime curd is made in the microwave so it takes just a matter of minutes to cook.
Grab a large microwave-safe bowl and whisk together the sugar and eggs until they are nice and smooth. Then whisk in the rest of the ingredients: lime juice, lime zest, and melted butter.
Place the bowl in the microwave and cook on full power in 1-minute intervals, whisking after each minute. Depending on your microwave, you'll need to cook the curd for 3-5 minutes total (stirring after each minute).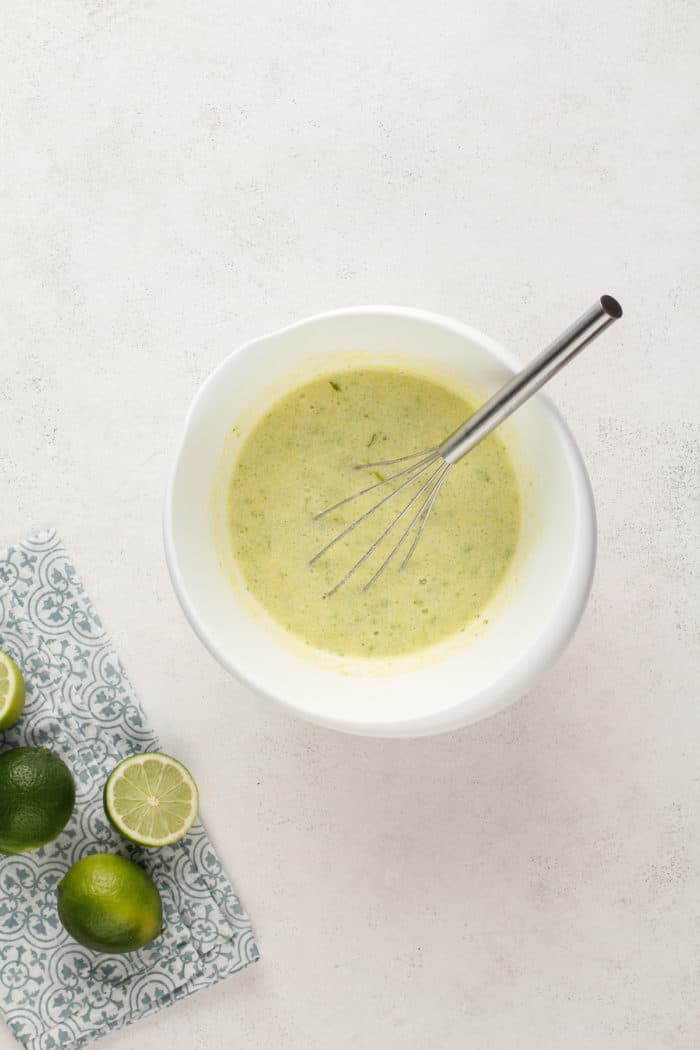 The curd is done when it has thickened and coats the back of a metal spoon. Dip a spoon into the curd and pull it out. Run your finger down the back of the spoon; if it leaves a clear path through the curd, the curd is ready!
Keep in mind that the curd will continue to thicken as it cools.
Run the curd through a fine mesh strainer and place it into clean containers. This will help remove any bits of egg that might have scrambled during cooking.
Let the lime curd cool to room temperature before storing in the refrigerator.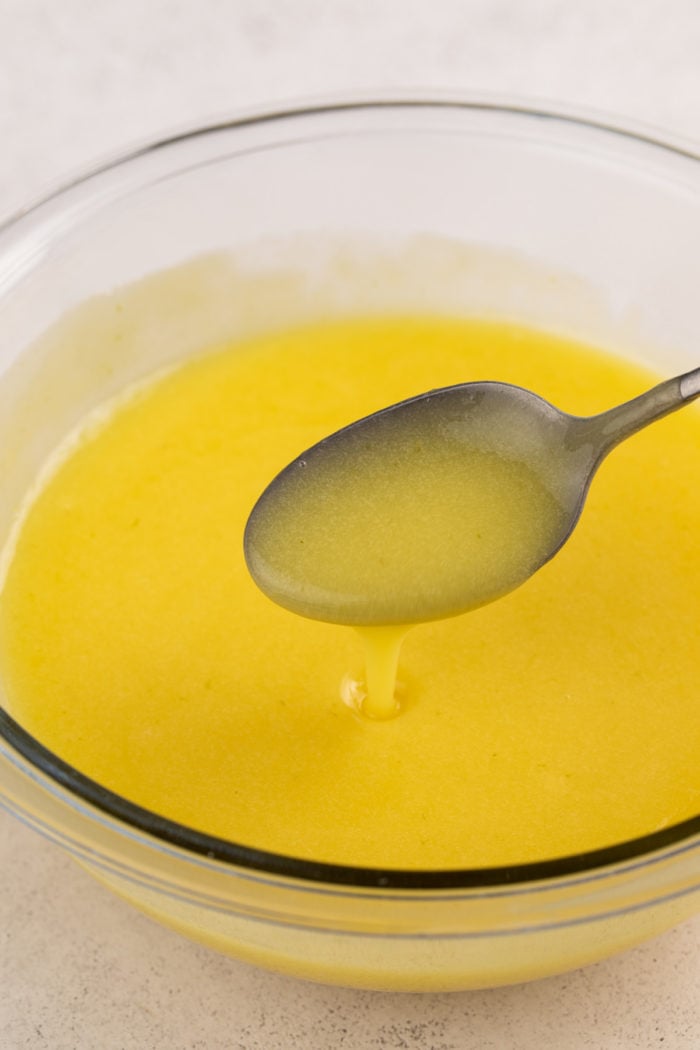 STORAGE AND FREEZING
Store lime curd in a jar or other clean container in the refrigerator for up to 2 weeks.
You can also freeze it! When you pour it into your jar, place a piece of plastic wrap on top so it's touching the top of the curd before you close the container.
Freeze for up to 6 months. Thaw in the refrigerator overnight and stir well before using.
Once you've thawed your lime curd, you'll want to use it within a couple of days, so it may be best to freeze it in smaller containers so you can use it as you need it.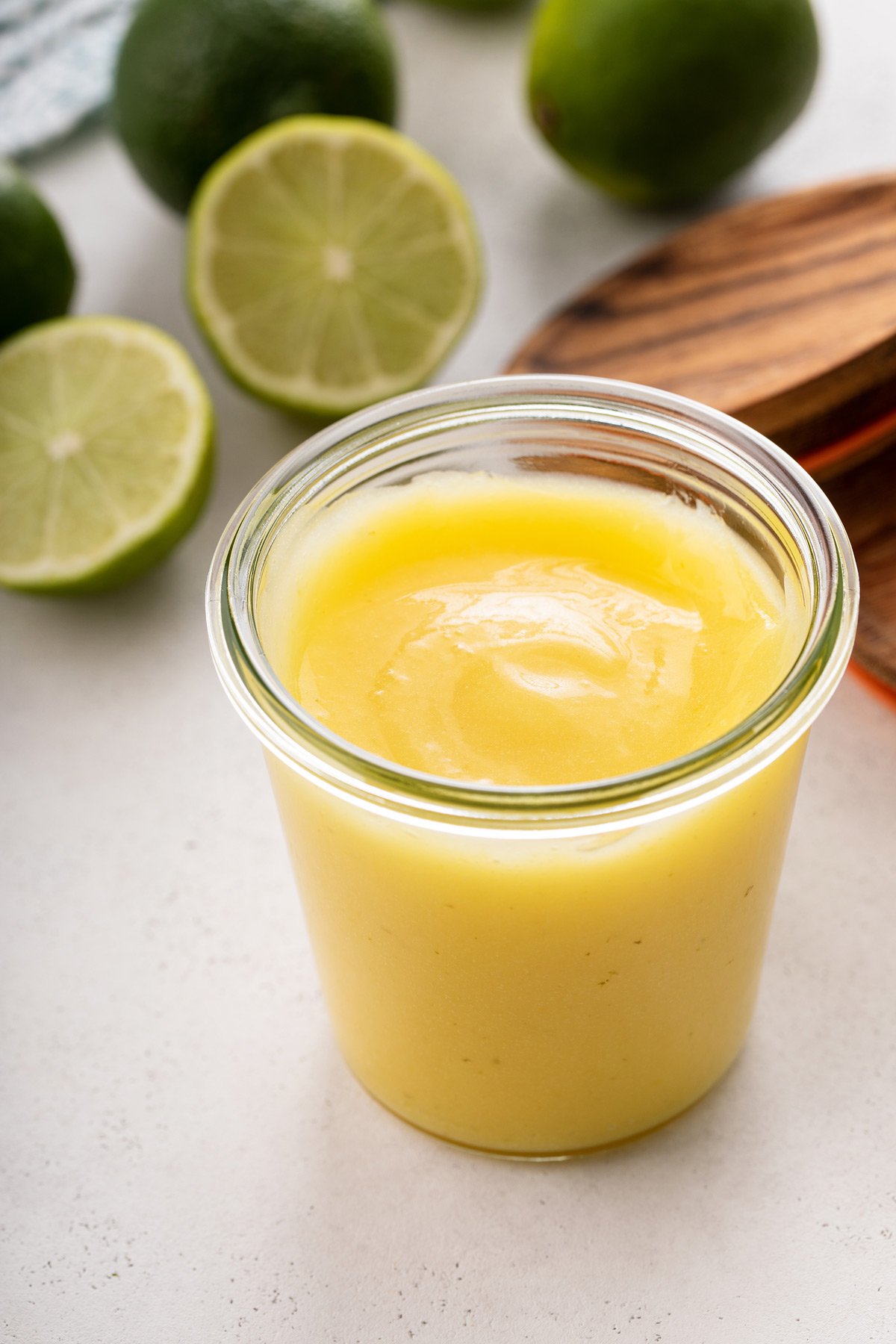 LIME CURD USES
Ok but what do you actually do with lime curd?
Enjoy it for breakfast spread on a slice of toasted english muffin bread or with a vanilla scone.
Try it with a piece of cream cheese pound cake or whipping cream cake along with a dollop of whipped cream.
Make yourself some mini lime tarts. Spoon the curd into mini phyllo tart shells and top with a curl of lime zest. Add some lightly sweetened whipped cream if you'd like!
You could even use it as a topping for vanilla cheesecake, no-bake cheesecake, mini cheesecakes, or cheesecake bars.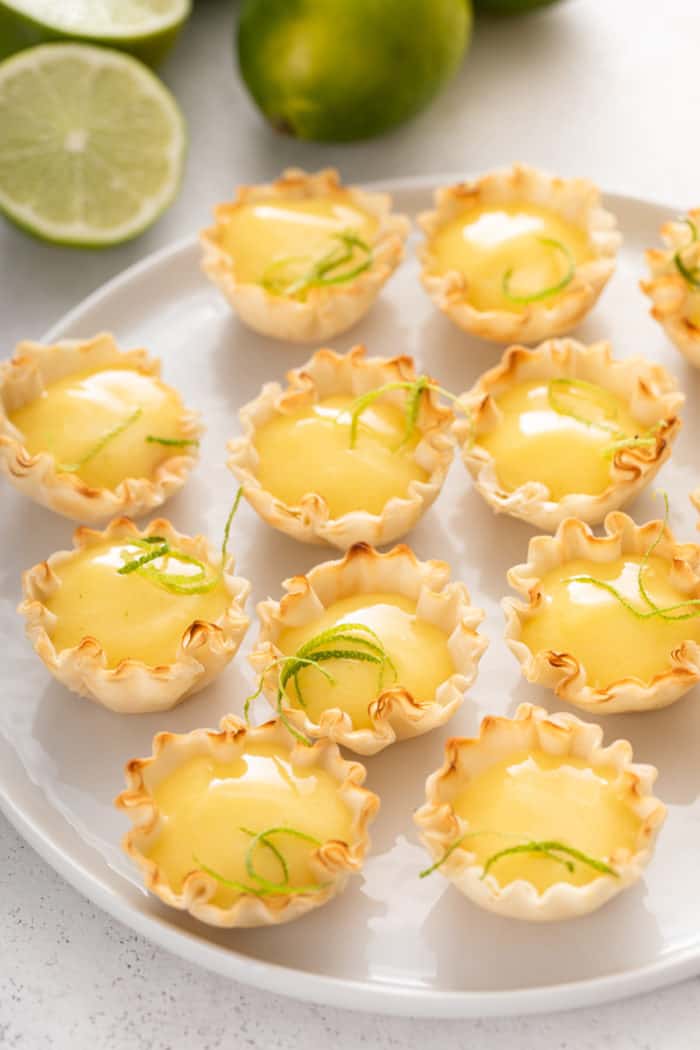 FAQS
How do I choose the best limes for juicing?
Believe it or not, a greener lime doesn't mean that it's a better lime.
What you really want to look for are limes that are softer to the touch – not hard as rock – and feel heavy for their size. That means they have more juice!
Can I use bottled juice?
A cup of lime juice means that you'll need to juice about a dozen limes, which can be a lot of work.
But I do prefer fresh lime juice to bottled lime juice. That said, if you aren't physically able to juice limes, you can use bottled juice.
The exception for me is key lime juice. I do think that bottled key lime juice is great – which leads us to our next question…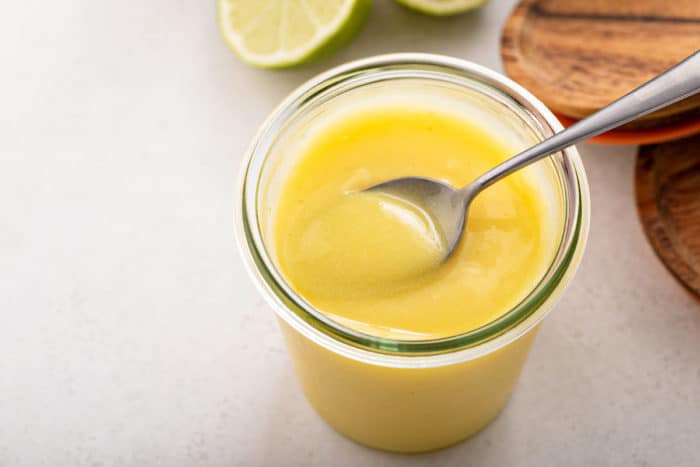 Can I make lime curd with key limes?
You could make this lime curd with key lime juice instead of regular lime juice if you'd like. Key limes are less acidic and a little less tart.
So if you want a bright lime curd that doesn't have quite as much of that lip-puckering sensation, key lime juice is a perfect choice!
What should the consistency of lime curd be like?
Once the lime curd has cooled, it will thicken up a bit more than it was right after cooking. The consistency is spreadable – a little bit thinner than jam. You'll be able to spoon it onto cake, ice cream, or cheesecake.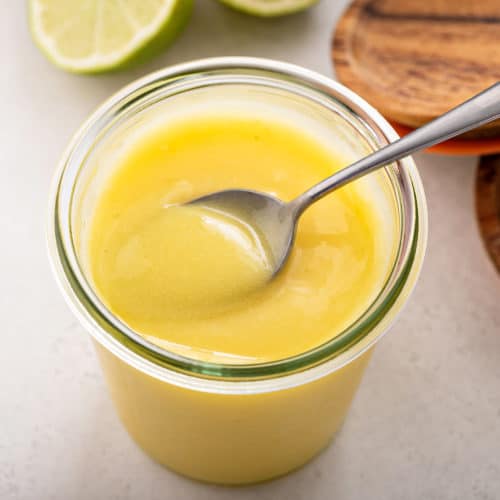 Lime Curd
If you love the lip-puckering flavor of limes, you will adore this simple lime curd! Make this tart curd in minutes using the microwave and you'll have the perfect addition to so many desserts.
Print
Pin
Ingredients
1

cup

granulated sugar

3

eggs

yolks and whites

1

cup

fresh lime juice

about 12 limes

1

tablespoon

lime zest

from about 4-6 limes

½

cup

unsalted butter

melted
Instructions
In a large microwave-safe bowl, whisk together the sugar and eggs until smooth and thoroughly combined. Whisk in lime juice, lime zest and melted butter.

Cook in the microwave on full power for one minute intervals, stirring after each minute. This process will take about 3-5 minutes depending on the strength of your microwave. You will know the lime curd is done cooking when it coats the back of a metal spoon.

Remove from the microwave, push through a fine, mesh sieve and pour into a sterile jar or container.

Once the curd has cooled to room temperature, cover it with a lid and store it in the refrigerator for about 2 weeks. The curd will thicken as it cools.
Nutrition
Serving:
2
tablespoons
|
Calories:
76
kcal
|
Carbohydrates:
9
g
|
Protein:
1
g
|
Fat:
4
g
|
Saturated Fat:
3
g
|
Polyunsaturated Fat:
0.3
g
|
Monounsaturated Fat:
1
g
|
Trans Fat:
0.2
g
|
Cholesterol:
31
mg
|
Sodium:
9
mg
|
Potassium:
21
mg
|
Fiber:
0.05
g
|
Sugar:
9
g
|
Vitamin A:
153
IU
|
Vitamin C:
3
mg
|
Calcium:
6
mg
|
Iron:
0.1
mg
The default measuring system on My Baking Addiction is US Customary. Unit conversions are provided as a courtesy; please be aware that there may be some discrepancies.
Card may contain affiliate links. As an Amazon Associate and member of other affiliate programs, I earn from qualifying purchases.