Did you know you can make a delicious rotisserie-style chicken at home with your air fryer? This air fryer rotisserie chicken is flavorful and juicy, with perfectly crispy skin.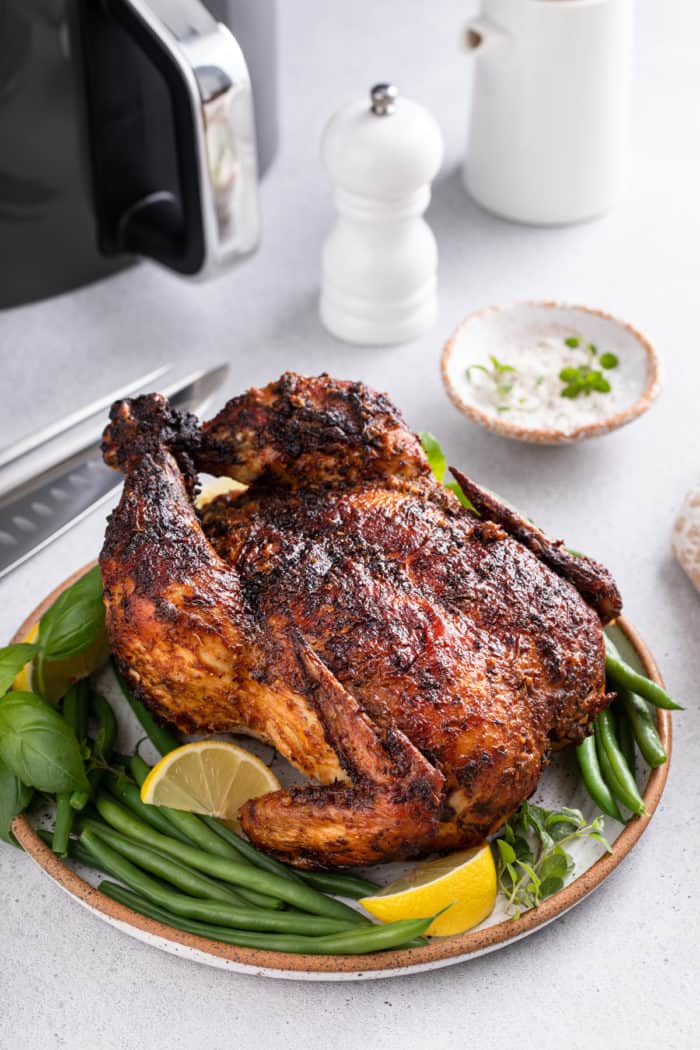 This post contains affiliate links.
Easy dinners are the only thing I'm capable of making right now.
Life is busy, Christmas is coming up, and I don't have the time or energy to do anything complicated right now. Unfortunately, we still have to eat dinner every night. So it's easy recipes to the rescue.
This air fryer rotisserie chicken is saving me these days. I can throw it in the air fryer and it'll give us a couple of day's worth of meals. You know that saying: Cook once, eat twice.
If you love rotisserie-style chicken with its crispy skin and juicy meat, don't have a home rotisserie (who really does?) but do have an air fryer, this is the recipe for you!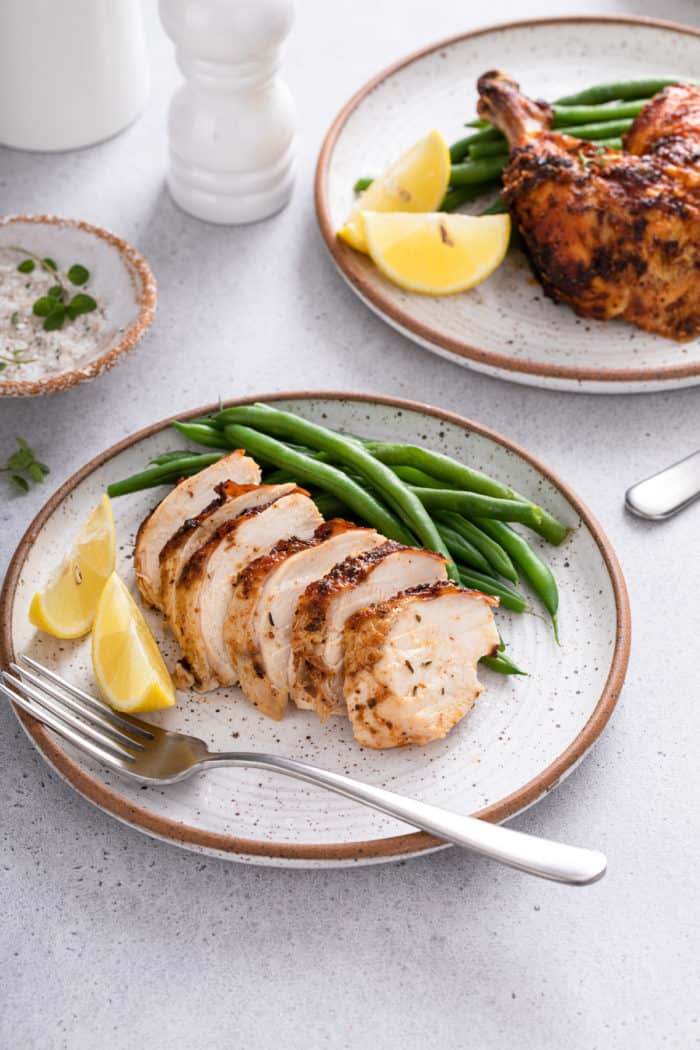 ROTISSERIE-STYLE CHICKEN AT HOME
Rotisserie chickens are one of my absolute favorite easy dinner shortcuts.
Whether it's picking up a hot rotisserie chicken to serve alongside our favorite veggies or using the meat in chicken pot pie casserole, it's one trick I always like to have up my sleeve.
But the one downside to buying a rotisserie chicken at the grocery store is that by the time you get it home, the skin just isn't as crispy. And that's the best part of a freshly roasted chicken!
Unfortunately, in order to make a true rotisserie chicken at home, you need to have a countertop rotisserie oven. Not only can they run anywhere from $150 to $300+, they take up a lot of space.
Not ideal if you're on a budget or don't have a lot of room in your kitchen.
Luckily, I discovered that you can make an amazing rotisserie-style chicken using an appliance you probably already have: your air fryer!
If you already love using your air fryer to make air fryer chicken tenders, air fryer brussels sprouts, air fryer roasted potatoes, and more, then keep reading to learn how to make the most incredible roast chicken in it, too!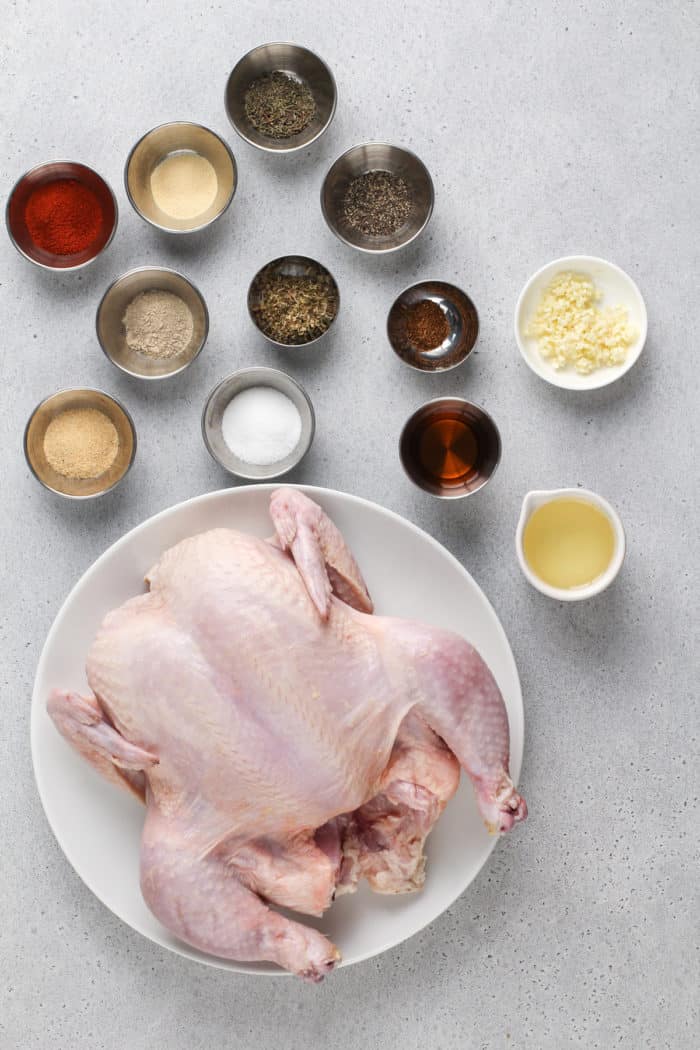 HOW TO MAKE AIR FRYER ROTISSERIE CHICKEN
If you've never roasted a whole chicken before, don't be intimidated. It's much easier than you'd think, and it's even easier when you use your air fryer!
Rotisserie seasoning
One of the secrets to making the best air fryer rotisserie chicken is making a super flavorful seasoning mix to rub on the outside of the chicken.
Not only will it make the chicken delicious and the skin nice and crispy, but it'll give the chicken that gorgeous color that you see on the store-bought rotisserie chickens.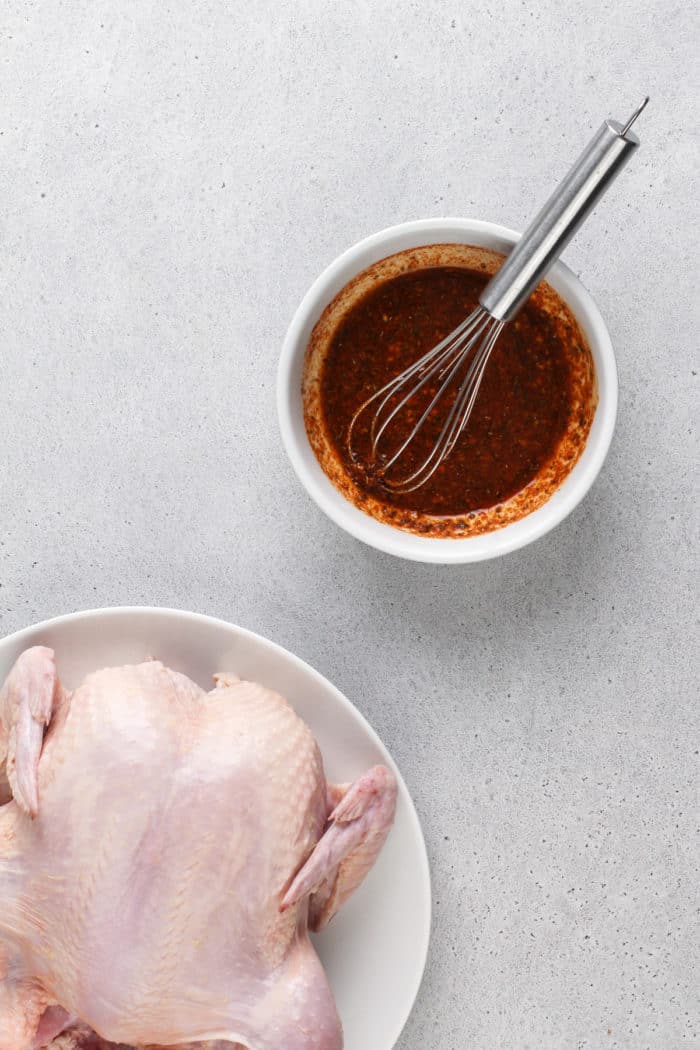 For the seasoning, you will need:
4 teaspoons fine sea salt
2 teaspoons paprika
1 teaspoon onion powder
1 teaspoon dried thyme
1 teaspoon white pepper
½ teaspoon black pepper
½ teaspoon garlic powder
½ teaspoon dried oregano, marjoram, and/or rosemary (optional)
¼ to ½ teaspoon cayenne pepper
2 cloves garlic, finely minced
3-4 tablespoons olive oil
2 tablespoons red wine vinegar
I know this list looks long, but you probably already have most of these spices in your pantry! I promise they all bring something important to this party, so try not to skimp on any of them if you can.
The olive oil and vinegar (yes, vinegar!) turn the mixture into a paste that you can easily slather on the skin of the bird.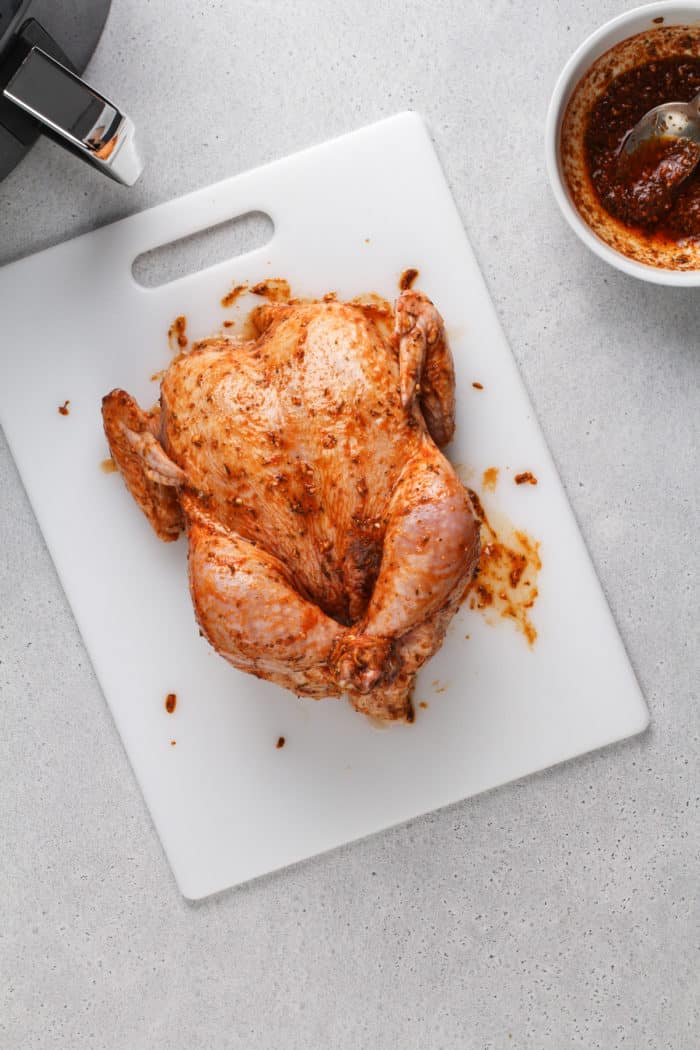 Equipment you'll need
As I mentioned before (and it should be obvious by the recipe name), you will need an air fryer to make air fryer rotisserie chicken.
Depending on the size of your air fryer, you may need to make sure you buy a smaller chicken (something closer to 3-4 pounds). So just be aware of how big your air fryer basket is when you do your grocery shopping.
You will also need some butcher's twine and a basting brush, and I recommend having an instant-read thermometer.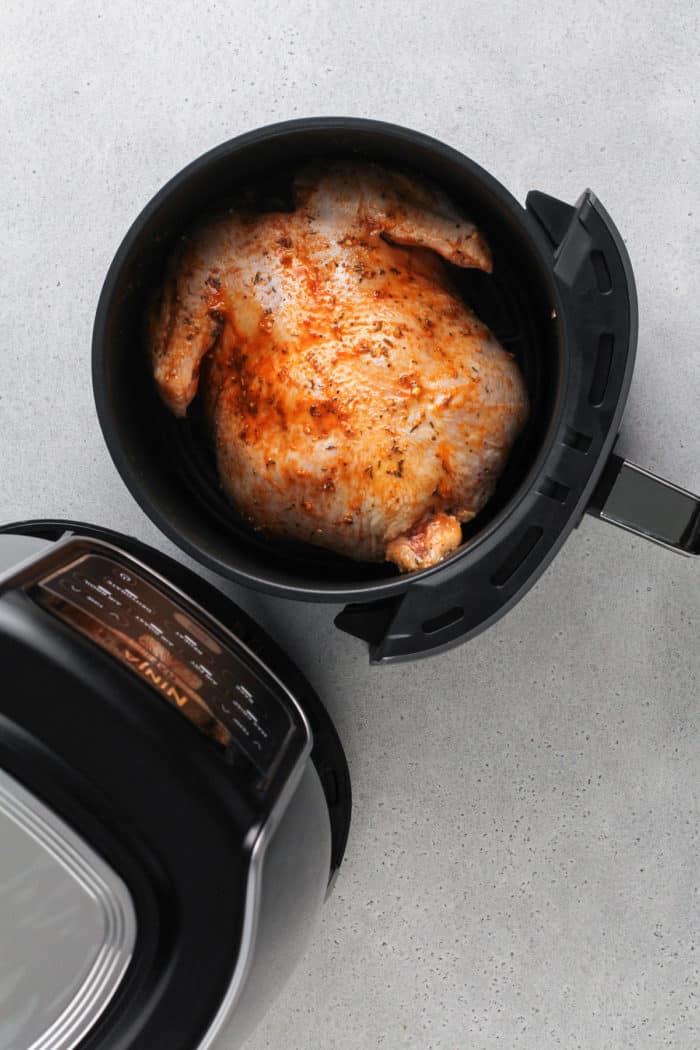 Making this recipe
Mix together the spices, garlic, olive oil, and vinegar in a small bowl. Set this aside.
Preheat the air fryer to 380ºF for 5-10 minutes while you get your chicken ready to go.
If you are feeling a bit more ambitious and want the crispiest skin and most even cooking of your chicken, use the butcher's twine to truss the chicken. If you've never done this before, here is a helpful video to help you learn the best way to truss a chicken.
Don't worry if trussing seems outside of your comfort zone. You can simply use the twine to tie the ends of the legs together. This will make the chicken easier to transfer in and out of the air fryer basket.
Once the chicken is trussed or the legs are tied, rub most of the seasoning mixture all over the outside of the bird. Reserve the remaining seasoning.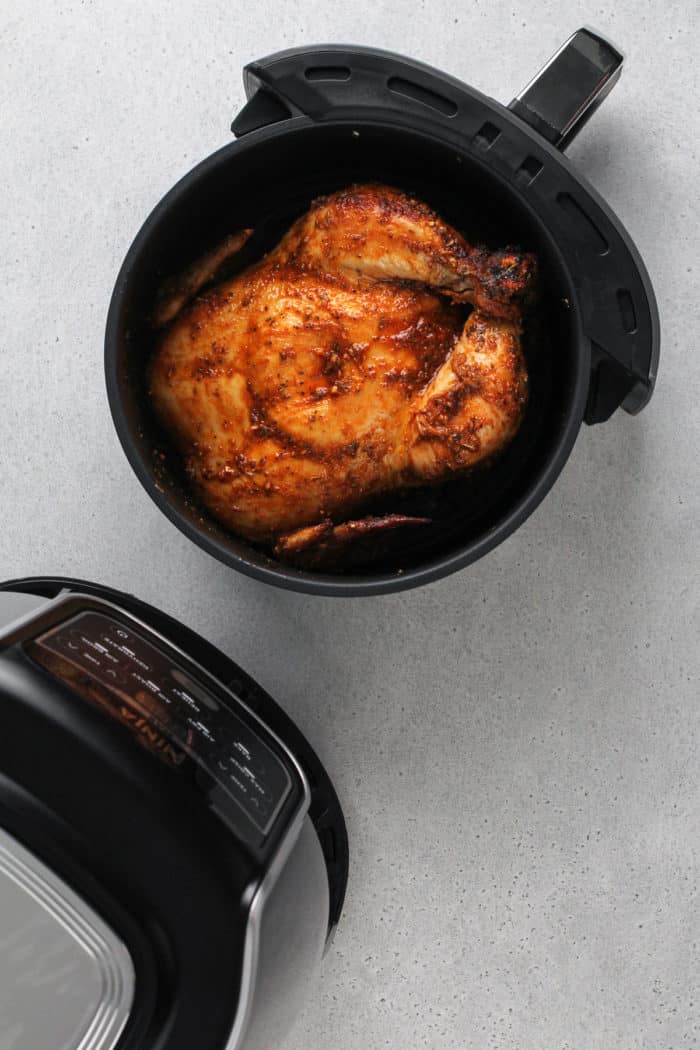 By now your air fryer should be preheated. Spritz or brush the bottom of the basket with canola or olive oil (don't use a nonstick cooking spray, as those can destroy the nonstick coating of the basket).
Place the chicken into the basket breast side down.
Cook the chicken at 380ºF for 30 minutes. Carefully flip the chicken so that the breast side is now facing up. Use your basting brush to brush the reserved seasoning mixture over the chicken.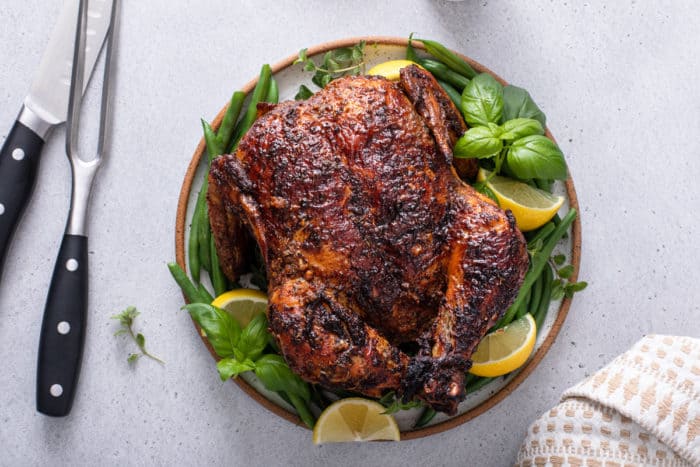 Keep cooking at 380ºF for another 20-30 minutes. You know the chicken is done when the internal temperature reads 165ºF on an instant-read thermometer. Make sure to check the thickest part of the thigh, and make sure the thermometer is not touching the bone.
When your air fryer rotisserie chicken is done, move it to a wire rack set over a sheet pan to rest for at least 10 minutes before carving and serving. If you are concerned about the chicken getting cold while resting, lightly cover it with a piece of foil until you're ready to serve it.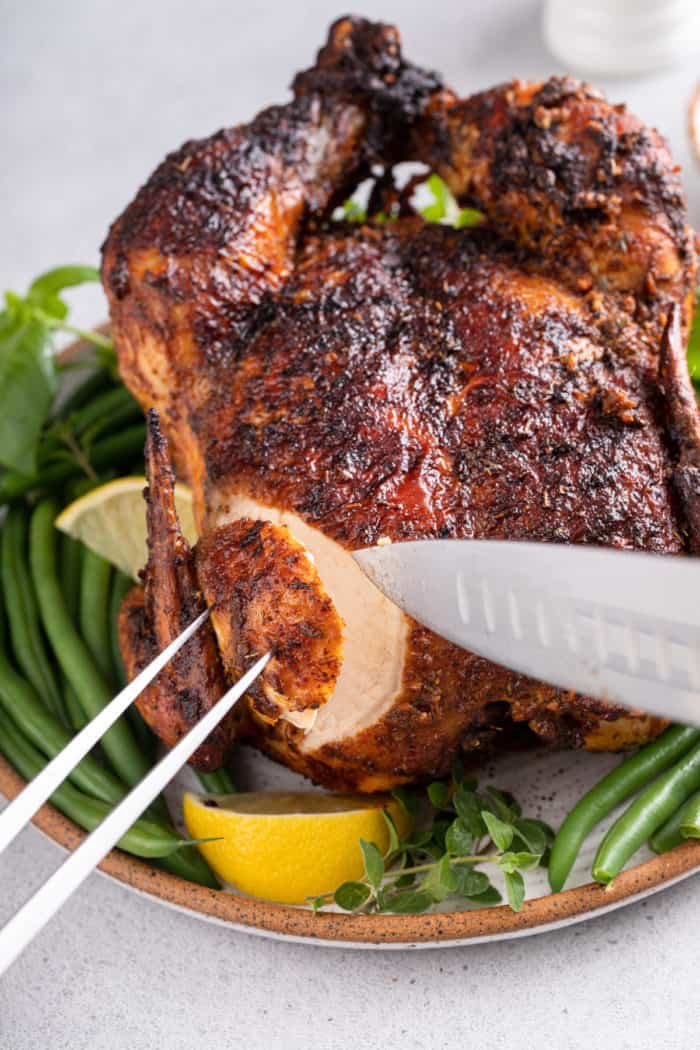 SERVING SUGGESTIONS
There are so many ways to enjoy this air fryer rotisserie chicken!
Carve it up and serve it alongside your favorite garlic mashed potatoes or Jiffy corn casserole and honey glazed carrots. Or use the time while your chicken is resting to quickly whip up some air fryer green beans!
Throw together a green salad with some homemade ranch dressing and you'll have a comforting meal that will warm your body and soul.
If you find yourself with leftover chicken, shred it up and add it to corn chowder or goat cheese pasta! And don't forget to save the bones for homemade chicken stock.
No matter how you serve it, this air fryer rotisserie chicken is a trick you will love knowing!