Brown butter pumpkin bread is rich and flavorful, full of sweet pumpkin, toasted pecans, and nutty browned butter. This moist bread is delicious for breakfast or an afternoon snack alongside a cup of your favorite coffee or tea.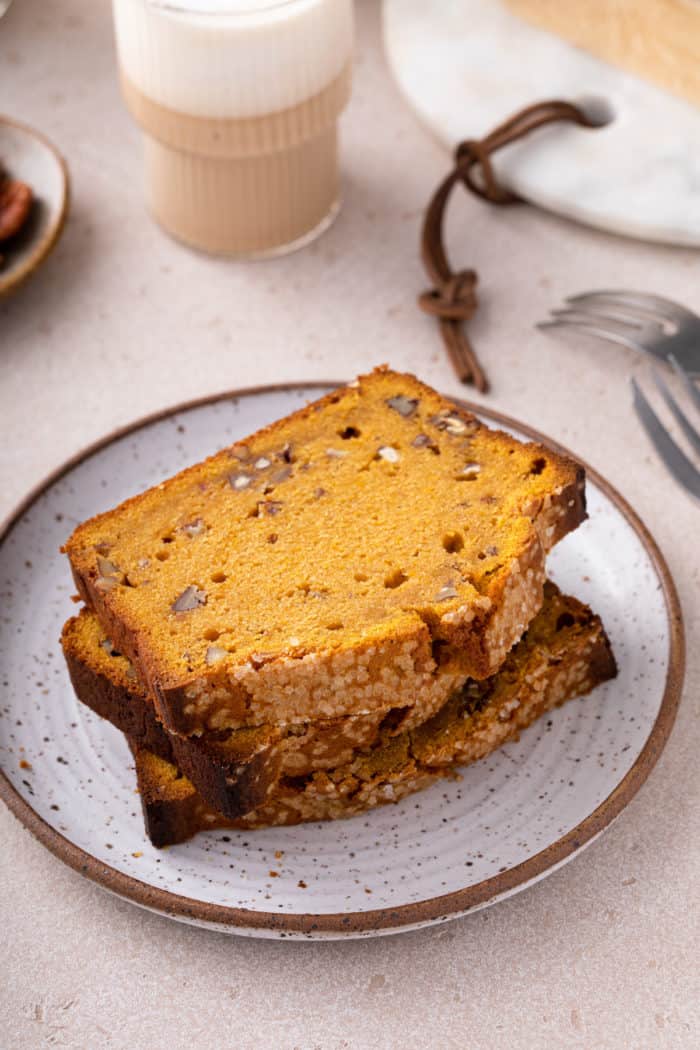 This post contains affiliate links.
There are a handful of recipes that I make every single fall without fail.
My nana's pumpkin crunch cake, my pumpkin cheesecake, and my pumpkin bread (and sometimes pumpkin chocolate chip bread) are all on that list.
Pumpkin bread is especially high on the list and is always a crowd favorite, whether I make it for my family to snack on during the week or take a loaf in for Elle's teachers as a special treat.
This year, I thought it would be fun to combine two of my favorite recipes – my classic pumpkin bread and Dominique Ansel's banana bread – into one epic brown butter pumpkin bread.
The result is a super rich, buttery bread with pumpkin and fall spices accented by the nuttiness of the brown butter. It's incredible when spread with butter (or maple butter!) or even some cream cheese for a decadent breakfast or afternoon snack.
This is a recipe that is definitely going on the annual fall recipe list.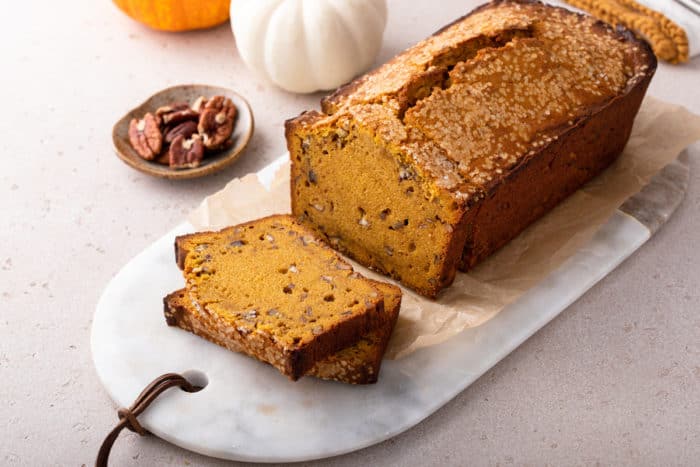 HOW TO MAKE BROWN BUTTER PUMPKIN BREAD
Just like the original recipes that this brown butter pumpkin bread is based on, the final bread is so flavorful and moist that everyone will assume that it was complicated to make.
But the truth is that you don't even need a mixer to throw this bread together! Just grab a couple of bowls and a whisk and you're on your way.
Ingredients you'll need
There are a few key ingredients that really make this brown butter pumpkin bread extra amazing:
Brown butter: Browning butter is a simple way to add incredible depth of flavor to all kinds of recipes. It adds a nutty flavor and aroma to the butter that pairs so well with the pumpkin and spices in this bread. If you've never browned butter before, I have a whole post that will teach you how to brown butter.
Pumpkin puree: This recipe uses a whole 15-ounce can of pumpkin puree. Make sure you use pure pumpkin puree, not pumpkin pie filling.
Pumpkin pie spice: I like using my homemade pumpkin pie spice to get all of the best fall spices into this bread while only having to measure out one thing.
Maple extract: Maple pairs so well with other fall ingredients and brown butter. (Don't believe me? Try my brown butter rice krispie treats!) A bit of maple extract adds lots of flavor here.
Toasted pecans: A cup of toasted chopped pecans adds some great crunch and flavor to this bread. If you don't like nuts or are allergic, you can feel free to leave them out.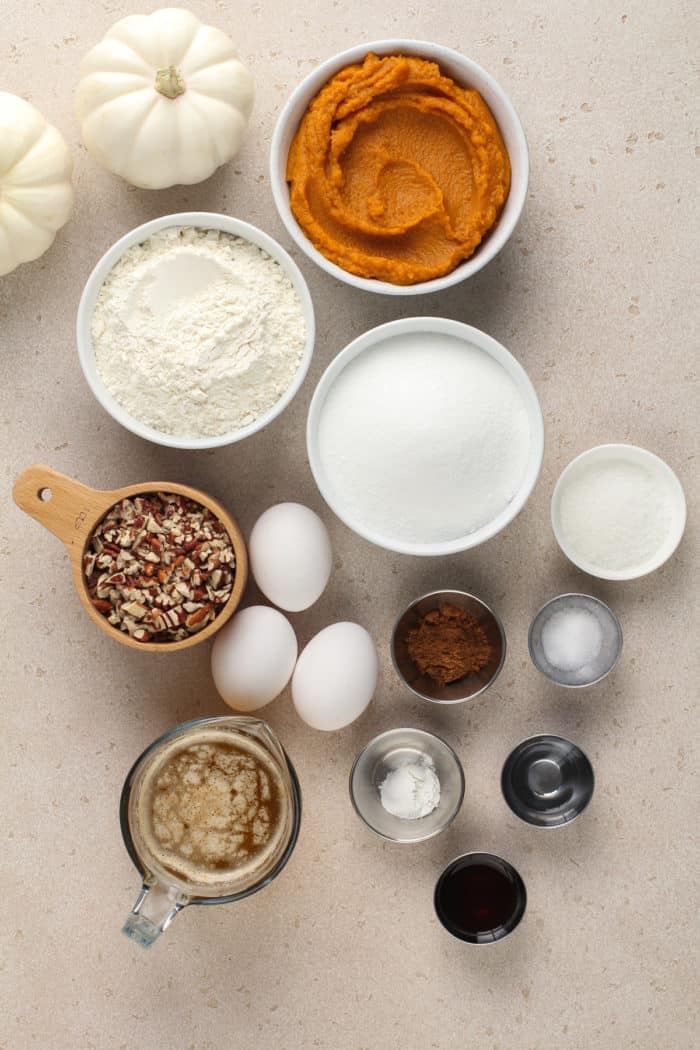 Other ingredients you'll need for this recipe include:
2 cups granulated sugar
2 cups all-purpose flour
¾ teaspoon baking soda
1 teaspoon kosher salt
1 teaspoon baking powder
3 eggs
2 teaspoons vanilla extract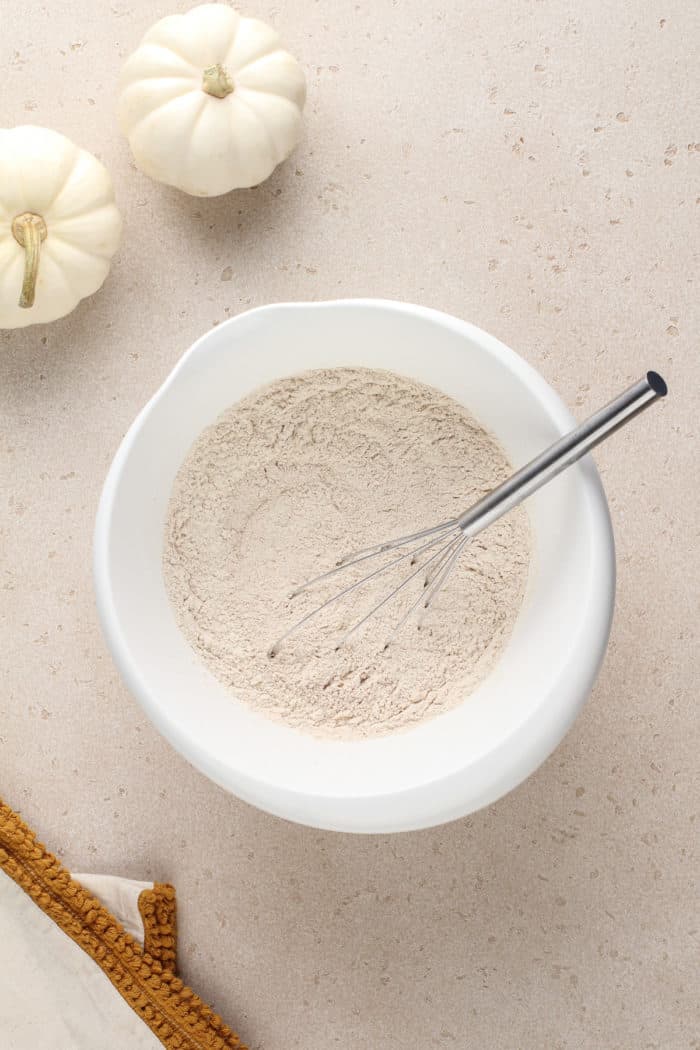 Making this brown butter pumpkin bread
As I mentioned above, you don't need a mixer to make this recipe. You can easily throw the batter together with just a couple of bowls and a whisk.
In a large bowl, start by whisking together the sugar, flour, baking soda, pumpkin pie spice, salt, and baking powder.
In another bowl, whisk the eggs with the pumpkin and the maple and vanilla extracts.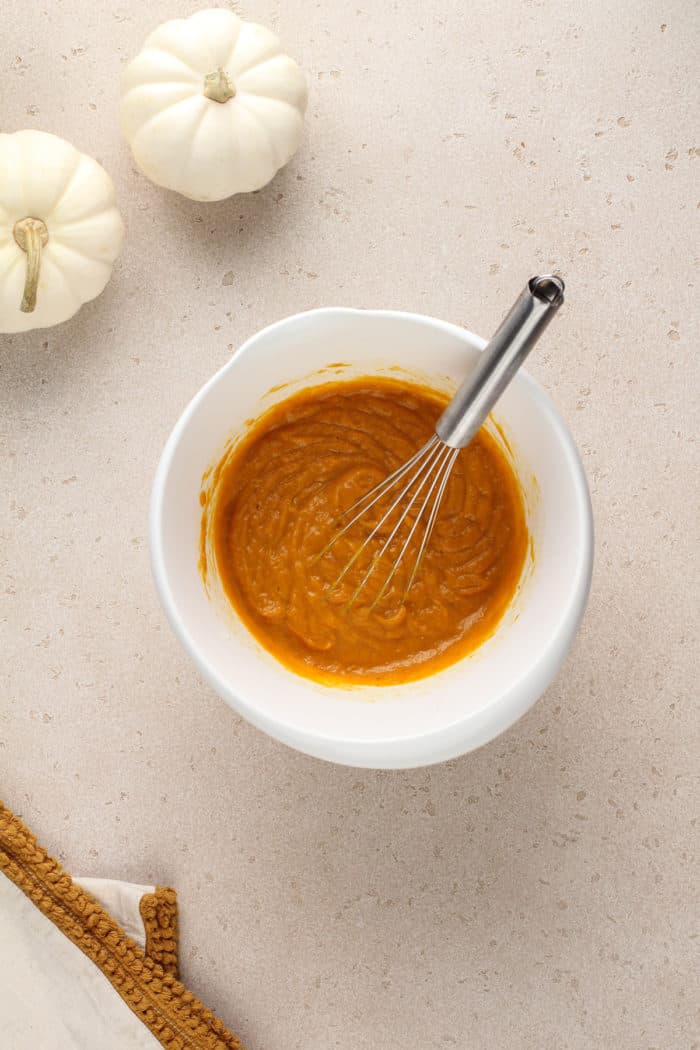 Add the wet ingredients to the dry ingredients, mixing just until combined. Add the brown butter and whisk until combined, then fold in the pecans.
Pour the batter into a greased 10×5-inch loaf pan. If you don't have a loaf pan in this size, skip down to "recipe variations" for a muffin option.
I like to top my bread with coarse sugar before baking to give it a nice crunchy top.
Bake the bread for just over an hour. It's ready when a toothpick or cake tester inserted into the center comes out clean.
Let the bread cool for at least 20 minutes before digging in!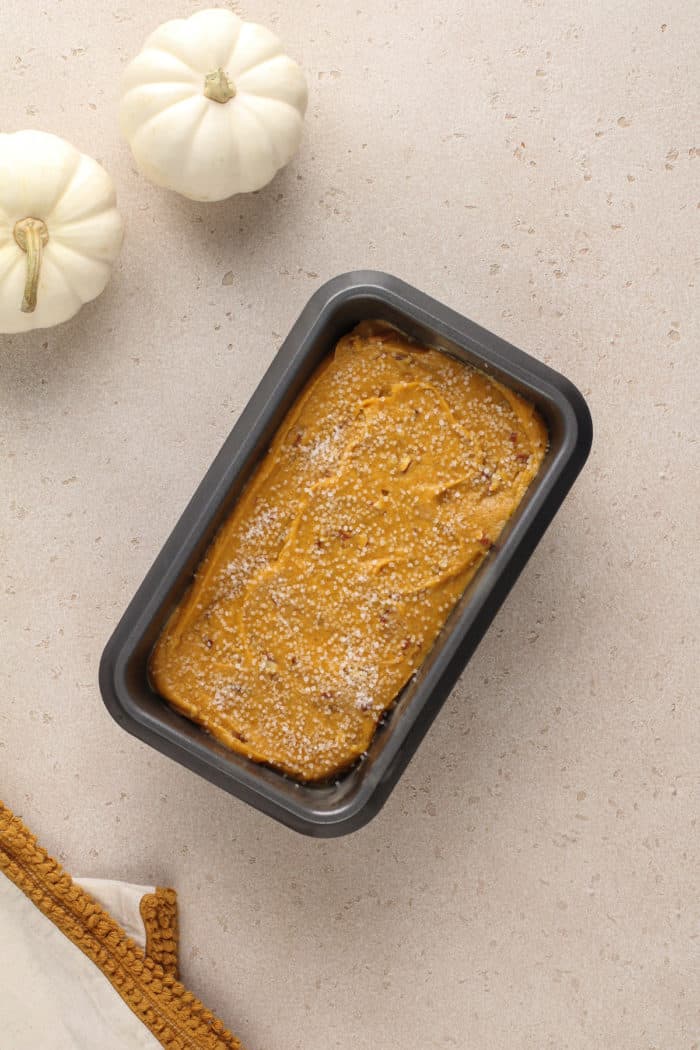 RECIPE VARIATIONS
If you don't have a 10×5-inch loaf pan, you can easily make this brown butter pumpkin bread into muffins instead.
To do that, divide the batter between 24 lined muffin wells. Bake at 350°F for 20-25 minutes, until a toothpick inserted into the center comes out clean.
Don't love pecans? Try swapping out the chopped pecans for 1 cup of chocolate chips instead!
Have an excess of butternut squash on hand? Use butternut squash puree instead of pumpkin puree for a twist on my butternut squash bread.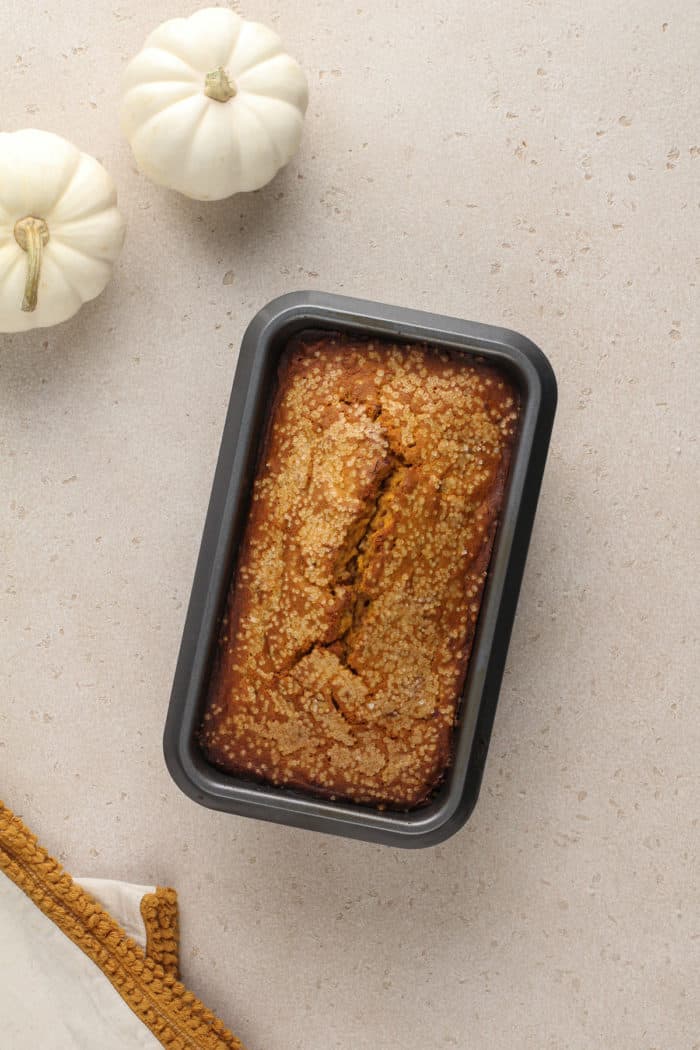 STORAGE AND FREEZING TIPS
Store your brown butter pumpkin bread well wrapped at room temperature for up to 3 days.
If you want a longer-term storage option, turn to the freezer!
You can freeze the whole loaf of bread or individual slices. Make sure the bread has fully cooled before doing either.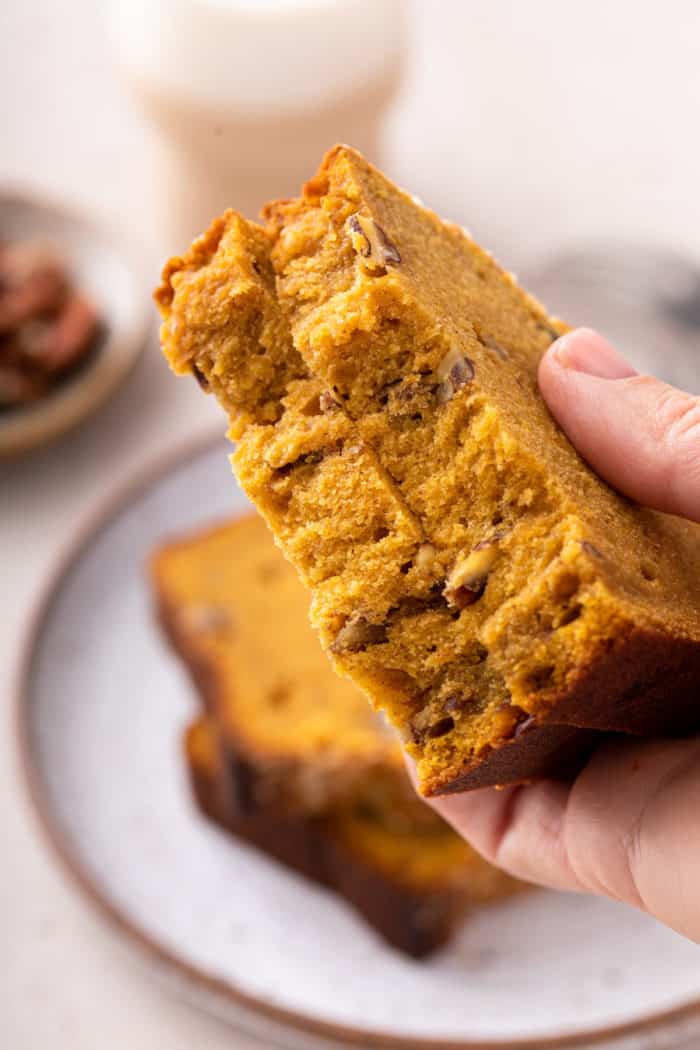 Wrap the entire loaf of bread in plastic wrap followed by heavy duty foil. If you have cut individual slices, wrap each in a layer of plastic wrap and then place them in a zip-top freezer bag.
Freeze the bread for up to 3 months. Thaw the bread at room temperature.
If you froze individual slices, you can also unwrap a frozen slice and pop it in the microwave for 30-60 seconds to thaw it and warm it at the same time. This is my favorite way to have a slice of brown butter pumpkin bread for breakfast any day of the week!