Bananas. I love them, but as you may recall, I can never seem to use them up before they are speckled brown and less than appetizing on my Cheerios. However, these past their prime 'naners are the perfect excuse to bake something delicious! Last week, I was left with a few of this type of bananas adorning my counter top, so I hit up allrecipes in search of a new banana recipe to try when I came across these amazingly delicious banana bars.
The original recipe which is linked below, used a jellyroll pan and called for canned cream cheese frosting, but I decided to use a 9×13 pan…which made the bars more cake like. I also made my own frosting and added a bit of cinnamon. However, I think these would be delicious no matter what pan size or frosting type you choose to use. These came out super moist and everyone that tried one absolutely loved the flavor. Put those brown bananas to good use or let some get super ripe on purpose because these are a must try!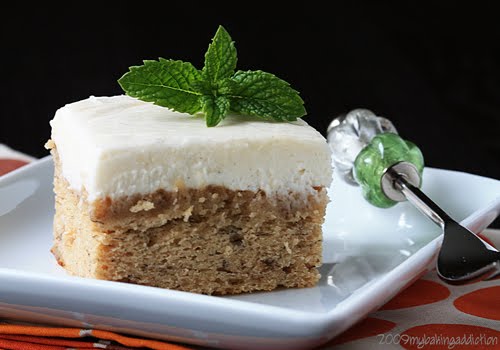 Banana Bars with Vanilla Bean Cream Cheese Frosting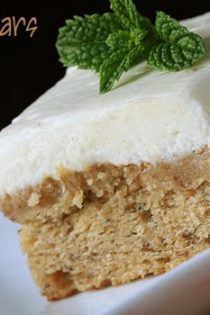 Ingredients:
For the Cake
1/2 cup butter, softened
1 1/2 cups white sugar
2 eggs
1 cup sour cream
1 teaspoon vanilla extract (I used Beanilla's Vanilla Bean Paste)
2 cups all-purpose flour
1 teaspoon baking soda
1/4 teaspoon salt
1 teaspoon cinnamon
1 cup mashed ripe bananas
For the Frosting
2 (8) ounce package cream cheese, softened
1 stick unsalted butter; softened
2 lbs. confectioners' sugar
2 teaspoons vanilla extract (I used Beanilla's Vanilla Bean Paste)
Directions:
For the Cake
1. Preheat oven to 350°F (175°C). Grease a 9"x13" inch pan.
2. In a large bowl, cream together the butter and sugar until smooth. Beat in the eggs, one at a time, then stir in the sour cream and vanilla.
3. Combine the flour, baking soda, salt and cinnamon; stir into the batter. Finally, mix in the mashed banana. Spread evenly into the prepared pan.
4. Bake for 25-30 minutes in the preheated oven, until a toothpick inserted into the center comes out clean. Allow bars to cool completely before frosting with the cream cheese frosting.
For the Frosting
1. In the bowl of your mixer fitted with the paddle attachment, mix cream cheese and butter until smooth.
2. Gradually add in the confectioners' sugar and mix until smooth and creamy. Stir in vanilla extract. Spread on cooled cake.
Follow Jamie on Instagram. We love to see what you're baking from MBA! Be sure to tag @jamiemba and use the hashtag #mbarecipes!
[pinit]