Chewy Lime Sugar Cookies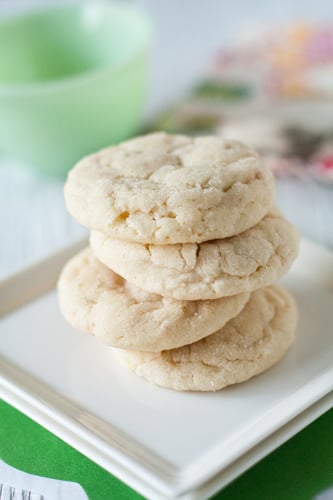 Are you a lime lover? If so, look no further because this is one amazing cookie. It's sweet, soft, chewy, limey and amazing.
Lime flavored treats are a summer staple in my house, I love the fresh, crisp flavor it imparts to both desserts and savory dishes. When I had my Hip Hostess giveaway last month, a reader left me a link to these cookies. Out of over 500 comments, this recipe stood out in my mind, so I immediately bookmarked it! Well, I am glad I did, because they are simple and brilliant!
I actually followed this recipe exactly as written which is rare for me, but it honestly looked perfect. The coconut adds a slight textural element and it marries perfectly with the tartness of the lime and the sweetness of the sugar. This recipe compelled my friend, Jo to leave me a love note on my desk after I brought one to work for her. I am definitely going to play around with this recipe using other citrus fruits…think oranges, lemons and grapefruit! Now wipe the drool from your mouth and make them, eat them, and love them! Have a great weekend and thanks so much for checking out this fabulous recipe!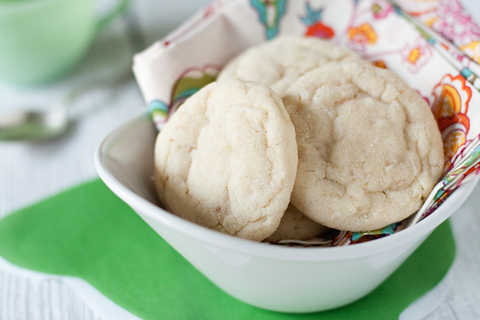 Chewy Lime Sugar Cookies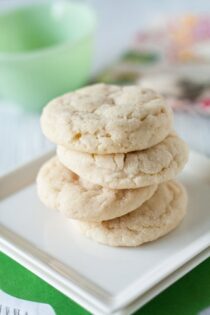 Ingredients:
2 3/4 cups all-purpose flour
1 teaspoon baking soda
1/2 teaspoon baking powder
1/2 teaspoon salt
1 cup unsalted butter, softened
1 1/2 cups white sugar
1 egg
1/2 teaspoon vanilla extract
Zest of one large lime, finely minced
3 tbsp lime juice
½ cup unsweetened toasted coconut
1/2 cup sugar for rolling cookies
Directions:
Preheat oven to 350 degrees. Line cookie sheets with parchment paper.
In a small bowl, stir together flour, baking soda, baking powder and salt. Set aside.
Using a mixer, beat together the butter and sugar until smooth and very fluffy.
Beat in egg, vanilla extract, lime juice and lime zest.
Gradually blend in the dry ingredients and toasted coconut.
Roll rounded teaspoonfuls of dough into balls, and roll in sugar. Place on lined cookie sheets about 1 1/2 inches apart.
Bake 8 to 10 minutes in the preheated oven, or until lightly browned.
Let stand on cookie sheet two minutes before removing to cool on wire racks.
Follow Jamie on Instagram. We love to see what you're baking from MBA! Be sure to tag @jamiemba and use the hashtag #mbarecipes!
This post may contain affiliate links. We are a participant in the Amazon Services LLC Associates Program, an affiliate advertising program designed to provide a means for us to earn fees by linking to Amazon.com and affiliated sites.