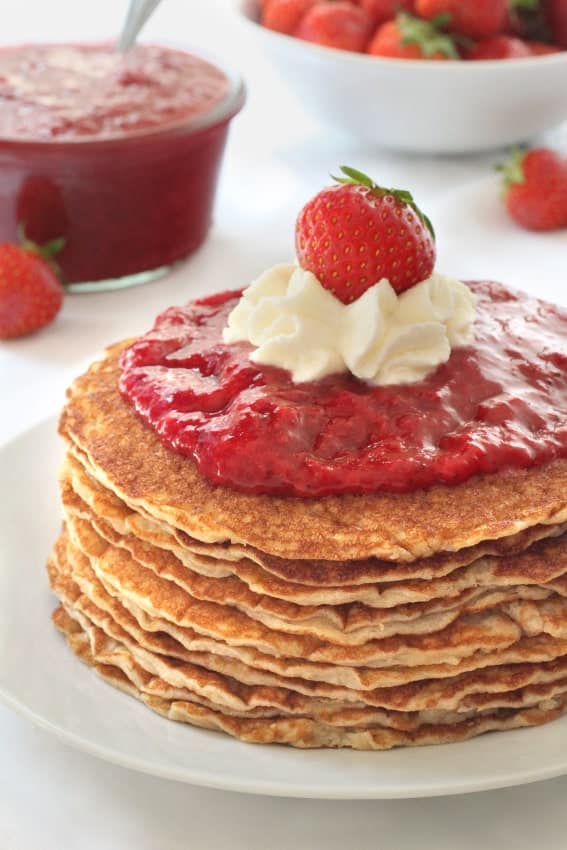 These gluten-free pancakes are almost crepe-like and are served with homemade strawberry sauce!
When I first made these gluten-free pancakes, I was aiming for fat and fluffy. As you can probably see, that's not exactly what I ended up with but I wasn't disappointed at all!
These pancakes are like a cross between crepes and your typical American pancakes. They don't have much of an almond taste and tapioca flour is pretty neutral, resulting in the perfect blank canvas for sucking up the strawberry sauce.
I have such fond memories of Saturday morning pancakes with store-bought blueberry or strawberry pancake sauce. I bought a bottle a few years ago and while pretty tasty, I didn't find it that appetizing after seeing that the first ingredient was high fructose corn syrup and the second ingredient was corn syrup. I don't mind a little corn syrup but as the first and second ingredient? Come on, now.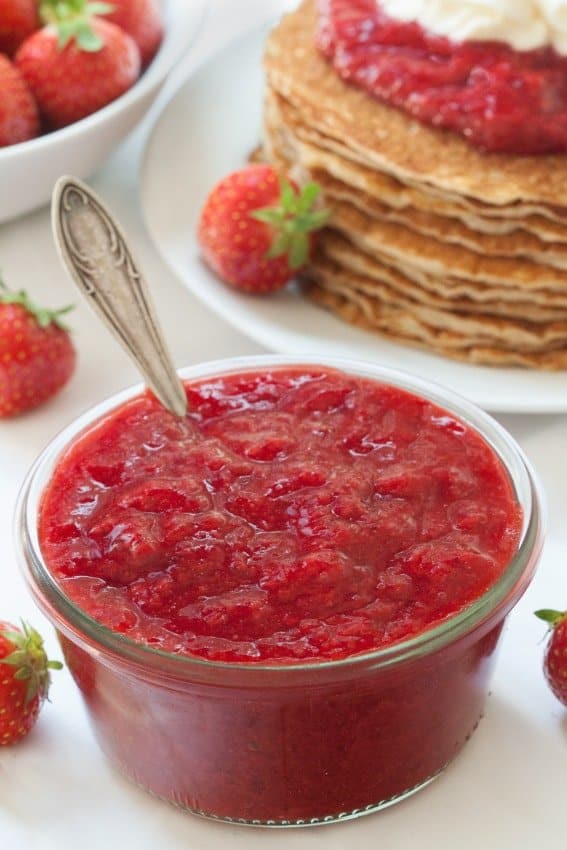 This homemade strawberry sauce only requires a few ingredients and takes hardly any time to put together. Whenever we come home from strawberry picking, I make a quadruple batch of this sauce, freeze it, and enjoy it throughout the year! There's nothing quite like digging through your freezer in January and finding a forgotten bag of this summery, vibrant strawberry sauce.
I only used 3 tablespoons of sugar for over a pound of strawberries and found it plenty sweet. I was using freshly picked strawberries, though, so you may need to add more sugar to taste if using off-season strawberries that aren't at their best. If after cooking you find that the sauce isn't sweet enough, stir in a tablespoon of sugar at a time until it's how you want it. Just keep in mind that if you don't use very flavorful strawberries, then this sauce won't be very flavorful.
And if it's already blueberry season in your neck of the woods, Jamie's homemade blueberry sauce would be amazing with these pancakes!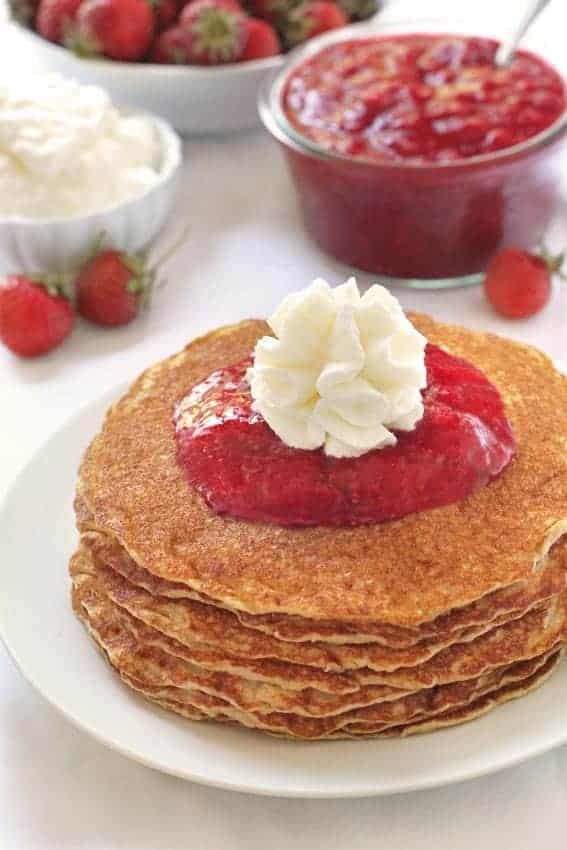 I've included gram measurements for the almond flour and tapioca flour (also called tapioca starch). Weighing the flour ensures that you won't overpack the cups while measuring, which is easy to do with gluten-free flours. If you can't find almond flour or find it to be too expensive, unblanched almond meal will work fine in these pancakes as long as you don't mind the bits of almond skin.
If you don't have access to either of those flours, try my gluten-free banana pancakes. You only needs oats and they're basically banana bread in pancake form!
To add a bit of a strawberries and cream touch to these gluten-free pancakes, I topped them off with some whipped cream. Seriously – breakfast doesn't get much better than this!