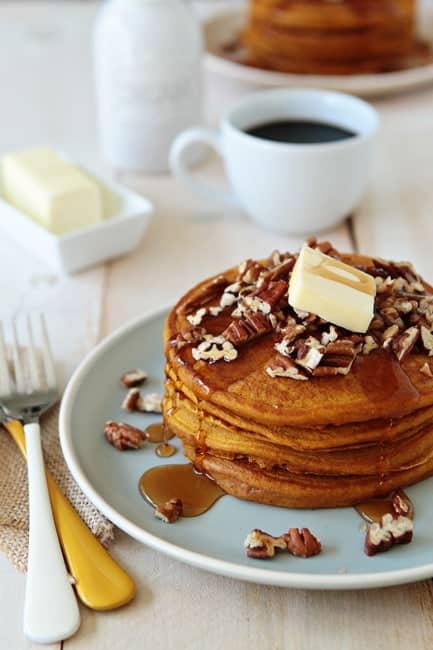 Eric and I were supposed to go out for Sunday brunch yesterday, but after a less than awesome night's sleep, we opted for a homemade brunch – complete with pumpkin pancakes and bacon.
I haven't made pancakes in ages, but the chilly, fall morning air called for something a little heartier than our typical scrambled eggs and toast. And let's face it; I'm down with anything that includes pumpkin pie spice!
Eric and I are both textural eaters (he's way pickier than I am though – just sayin'), so we decided to add toasted Fisher's Pecans to the batter for a delicious crunch. And as you can tell from the photos, we slathered our pancakes in maple syrup, butter and even more toasted pecans.
The result? The perfect Sunday morning brunch – full of Fall flavors and that stick to your ribs feeling that kept us full until dinner.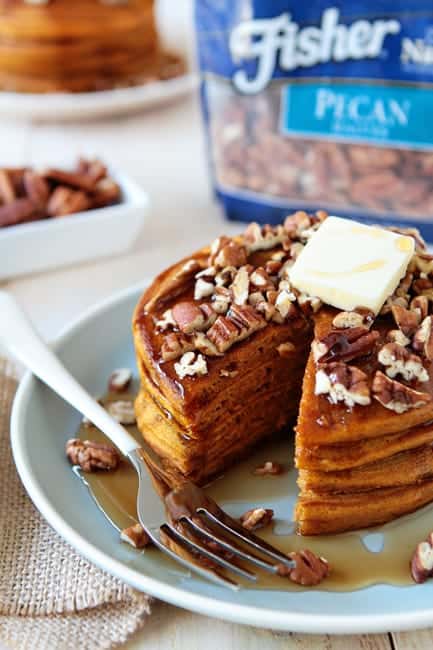 Your Fresh Twist Contest
I am super excited to partner with Fisher Nuts to bring you a few delectable holiday recipes that are filled with nutty goodness. I also want to let you know that Fisher Nuts has a fun contest going on right now through October 22nd. You can enter the contest by sharing your favorite homemade recipe with pecans, walnuts, almonds and/or peanuts for your chance to win a trip to New York City and meet Chef Alex Guarnaschelli. You can check out recipes, enter the contest and view the prize details at MyFreshTwist.com.
[cft format=3]
Disclosure: My Baking Addiction has teamed up with Fisher Nuts to develop recipes using their products. This is a sponsored post written as part of that program. All opinions about Fisher Nuts are my own.
23 Responses to "Pumpkin Pancakes"

Leave a Comment