These mini pumpkin cheesecakes are the perfect make-ahead Thanksgiving dessert. With a creamy pumpkin filling and a chocolate crust, these mini cheesecakes can even be made gluten free.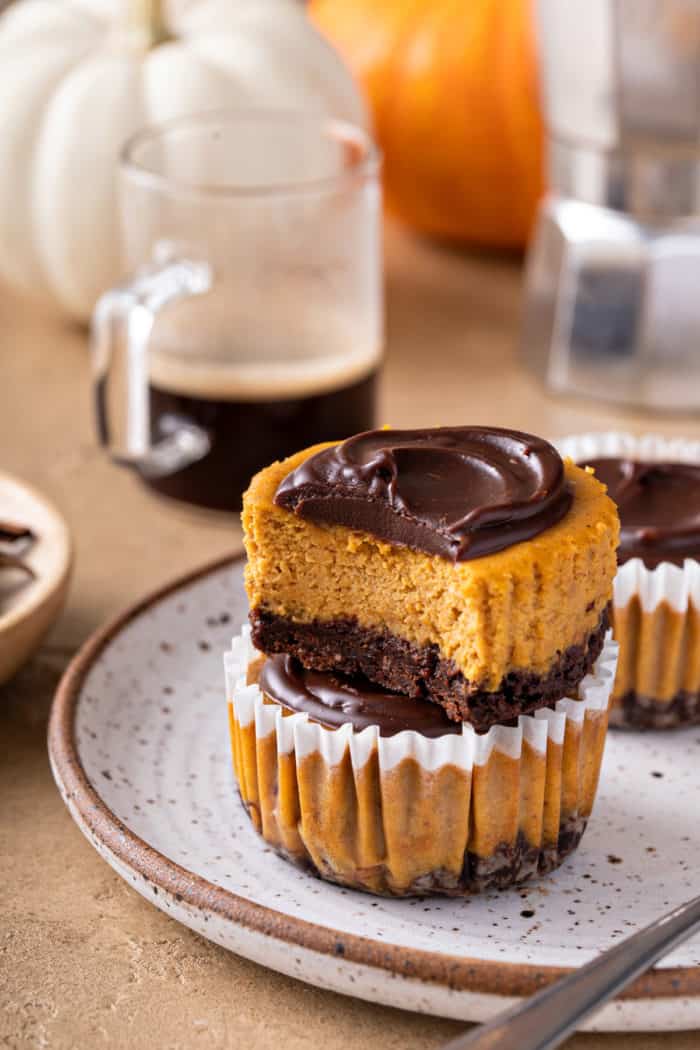 This post contains affiliate links.
Now that October is nearly over, it's time to start thinking about Thanksgiving.
Ok, maybe I was already thinking about Thanksgiving. What can I say, I love planning my Thanksgiving menu!
From sides like garlic mashed potatoes and cranberry fluff to desserts like mini pecan pies and these mini pumpkin cheesecakes, it's the best meal of the year.
This recipe comes from my friend Erin over at Texanerin Baking and is a great mini cheesecake twist on pumpkin cheesecake. With a gluten-free chocolate crust, this is a recipe everyone will adore!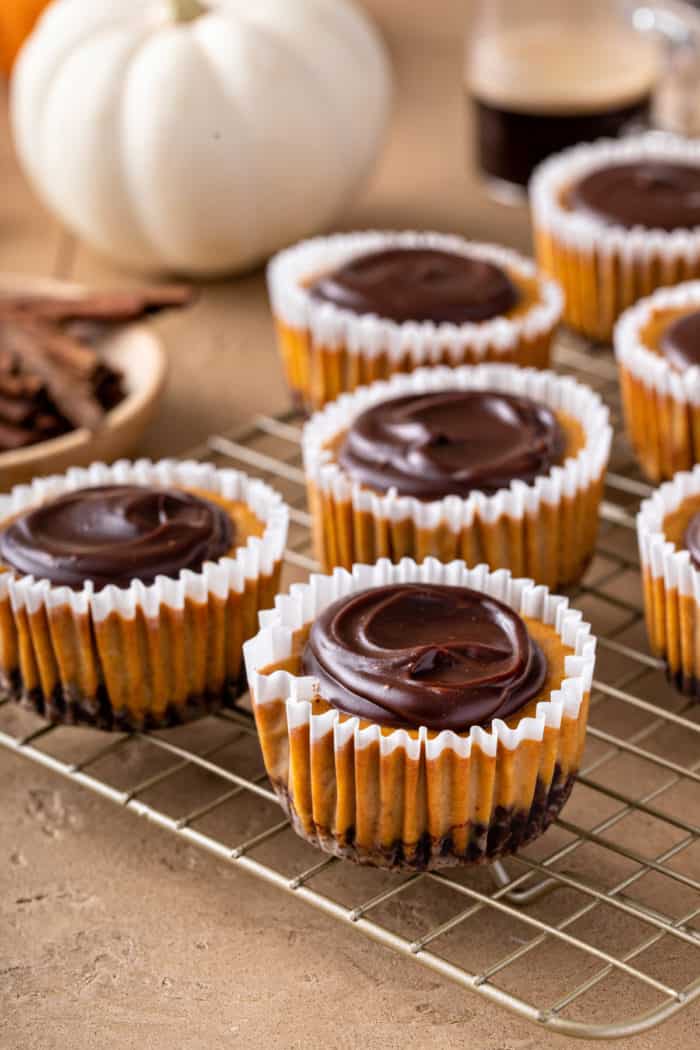 MINI PUMPKIN CHEESECAKES WITH CHOCOLATE CRUST
Have you ever tried pumpkin and chocolate together? It might sound like an unexpected combination, but it's so good!
Just give my pumpkin brownies and try and see what I mean.
These mini pumpkin cheesecakes have a perfectly spiced pumpkin filling on top of a chocolate cookie crust. I also like to top them with a bit of chocolate ganache just before serving. I think it's pretty and it adds some extra chocolate to the mix!
The crust is adapted from mini peanut butter cheesecakes and has three options:
All three versions are equally delicious, so use whatever works best for you!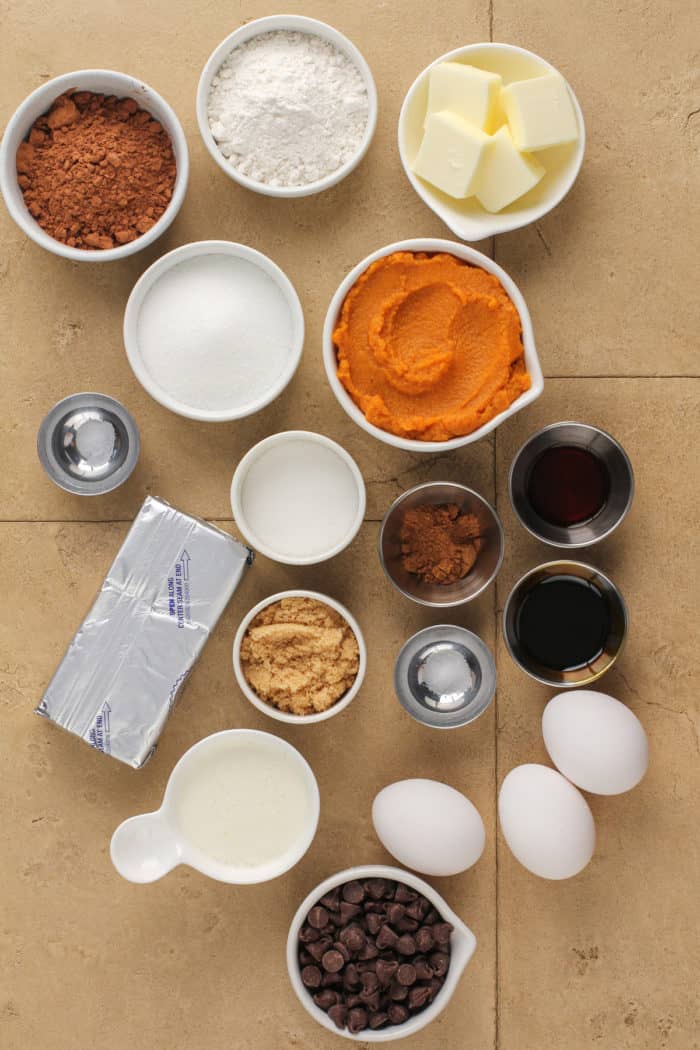 More crust options
If you don't need the crust to be gluten-free and you want to stick with the pumpkin and chocolate combination, you can use an Oreo cookie crust, like what I make for my chocolate cheesecake.
If you don't like the pumpkin and chocolate combo, you could use a classic graham cracker crust (like what I use for my classic mini cheesecakes), a gingersnap crust like I use for no-bake cranberry cheesecake, or use the almond-flour-based crust from gluten-free mini cheesecakes for a gluten-free version.
If you use the last option, leave out the lemon zest and add about a teaspoon of cinnamon and maybe a pinch of ground ginger.
You can also swap out the chocolate ganache topping with salted caramel sauce if you'd like!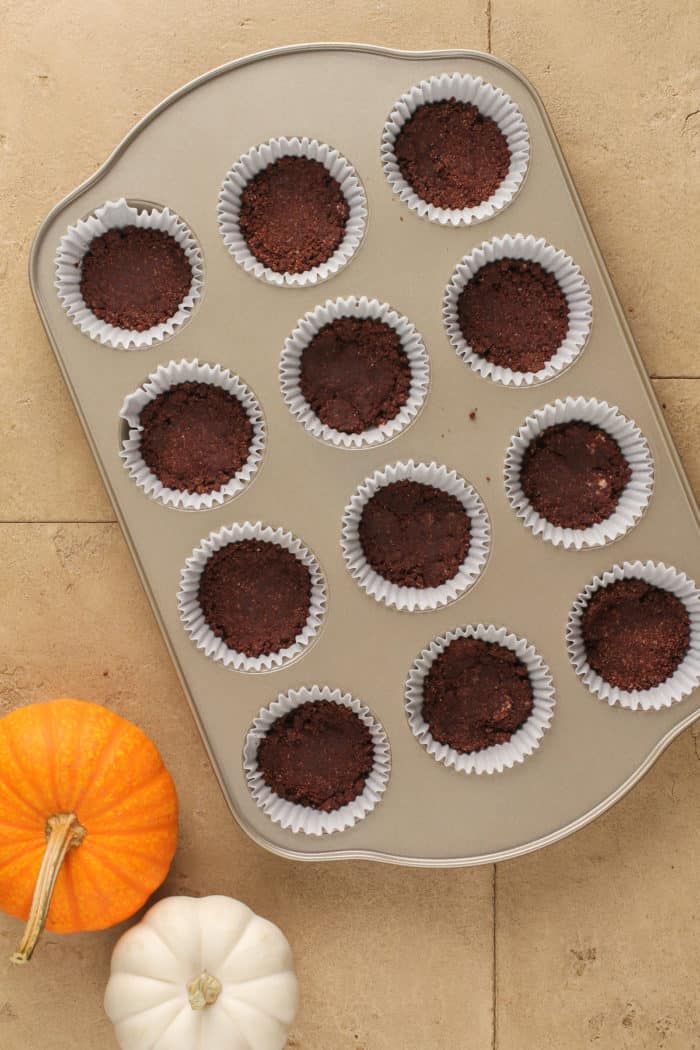 HOW TO MAKE MINI PUMPKIN CHEESECAKES
If making cheesecake intimidates you, don't let it! I promise that it is much easier than you think. And sometimes making mini cheesecakes is a great way to start.
Gluten-free option
As I mentioned above, this recipe has an option for a standard crust with all-purpose flour or two gluten-free options.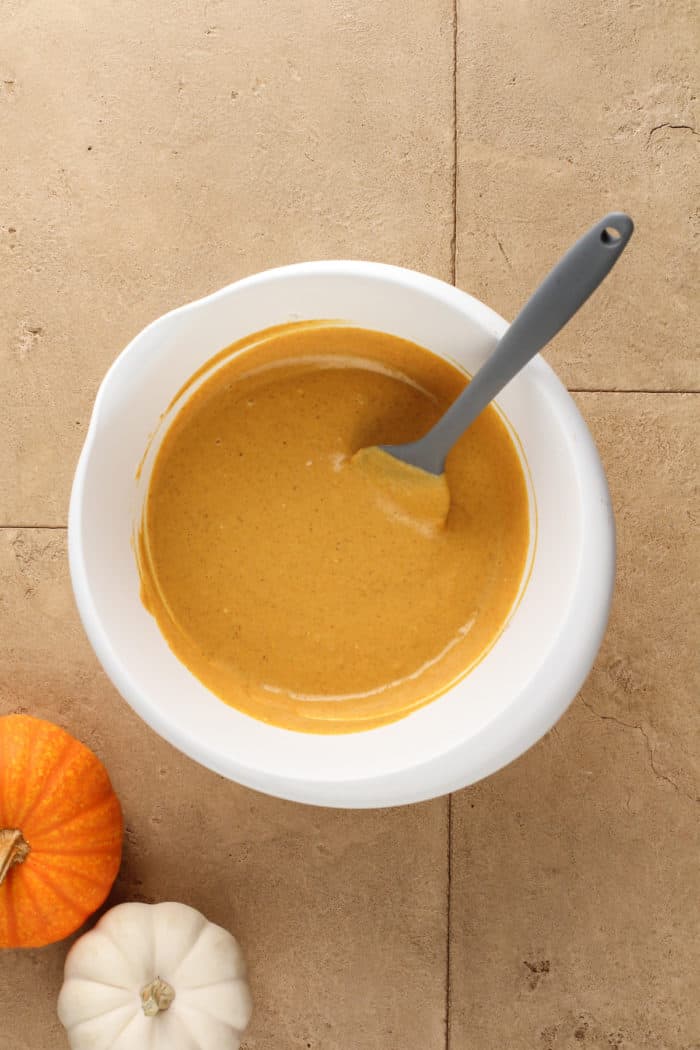 If you need to make the gluten-free version, you can substitute the 6 tablespoons of all-purpose flour in the crust with either:
6 tablespoons gluten-free measure-for-measure (or 1-for-1) baking flour, OR
6 tablespoons buckwheat flour
When baking, the crust may look very bubbly and even soupy, especially if you use the buckwheat flour.
It's the weirdest thing – but it works out in the end!
Keep in mind that this crust recipe will not work in a regular pie pan or springform pan; it will only work for mini cheesecakes.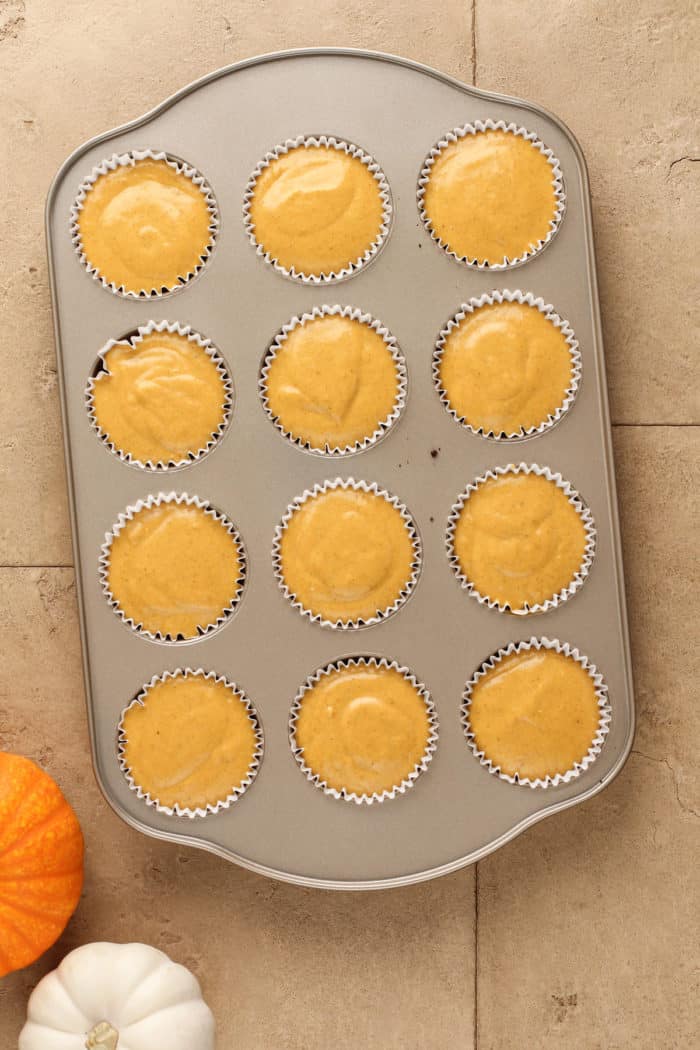 Making this recipe
Start making these mini pumpkin cheesecakes by working on the crust.
Whisk together the sugar, flour (either all-purpose or gluten-free), cocoa powder, and salt. Use an electric mixer to beat in the butter until a sticky dough forms.
Line a standard muffin tin with cupcake liners and divide the dough evenly between the cups. It'll be about 1 tablespoon per cup.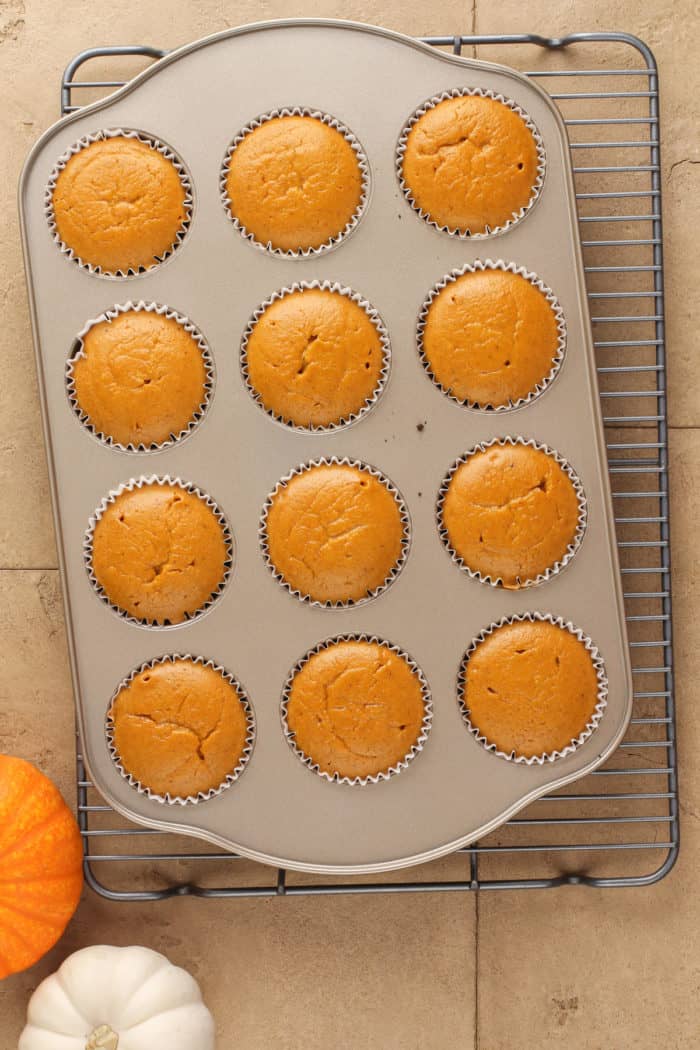 Use the bottom of a small glass (I use a shot glass) to press the dough down, then bake.
After baking and cooling for a minute, you'll want to use the same glass to lightly press the crusts down again to remove any holes. Let cool for 10 minutes while you make the filling.
To make the pumpkin filling, beat the cream cheese with an electric mixer until light and fluffy, then add the sugars, molasses, pumpkin, vanilla, salt, and pumpkin pie spice. Mix on low until well combined.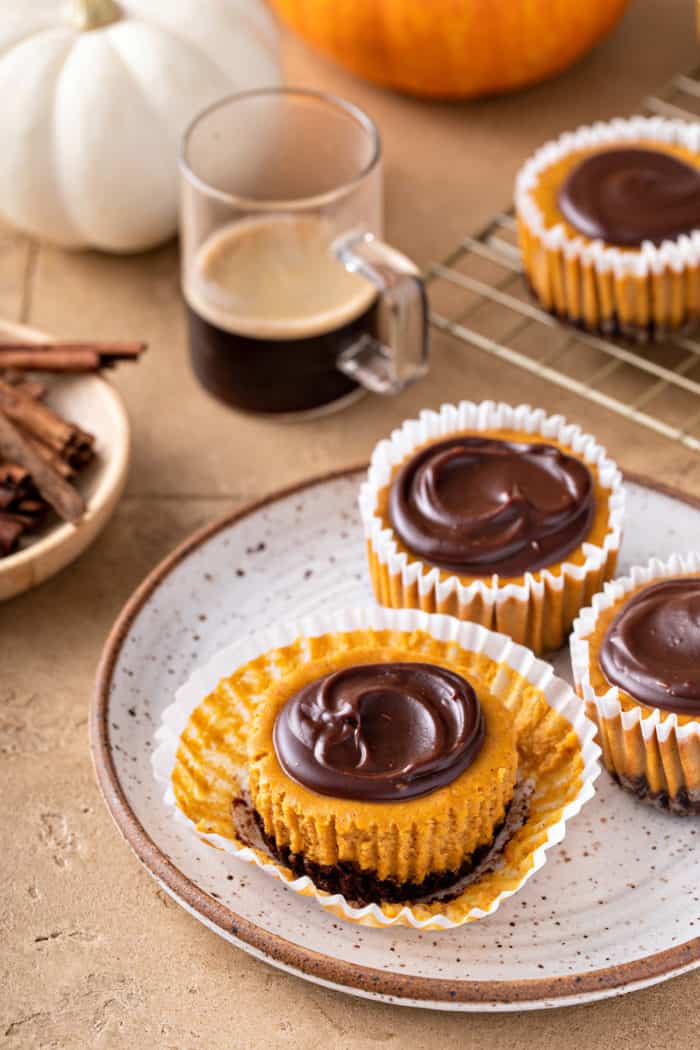 Add the eggs one at a time, mixing after each addition until well combined.
Add the filling on top of the cooled crusts. Using a large cookie scoop makes this easy!
After baking, let the cheesecakes cool in the pan, then refrigerate for at least 2 hours before serving.
Mix together the ganache, then let it cool for 20-30 minutes before serving with the cooled cheesecakes.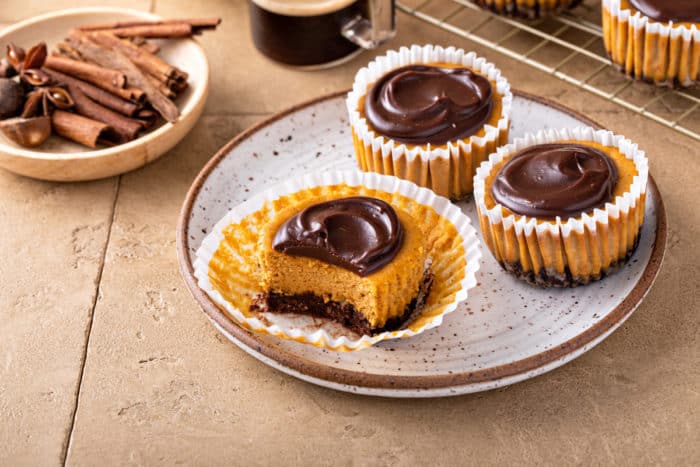 MAKE-AHEAD TIPS
I made these gluten-free mini pumpkin cheesecakes back in September and have been enjoying one a week from the freezer.
For those of you who want to get as much of their Thanksgiving preparation done in advance as possible, these are perfect!
I used to try to time everything so that all the food, including dessert, would be piping hot and fresh from the oven. Luckily, I've seen the errors in my ways and now prepare as much as possible in advance!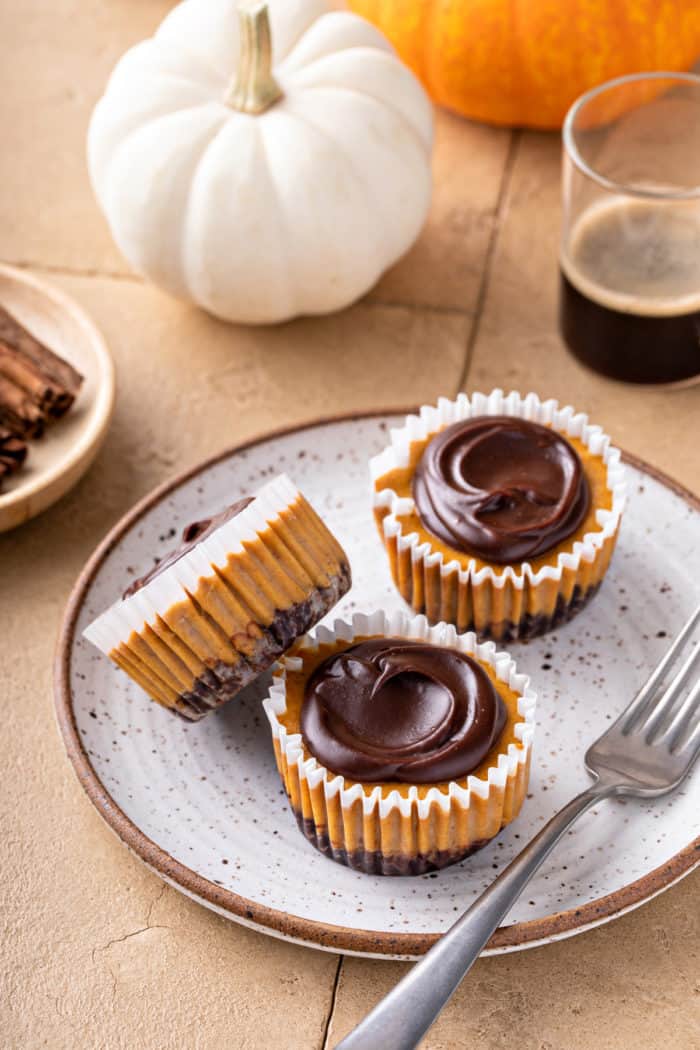 If you want to make these cheesecakes the week of Thanksgiving, simply store them in the refrigerator in an airtight container for up to 3 days.
If you want to make them more than 3 days in advance, place the cooled cheesecakes in an airtight container and freeze for up to a month.
To thaw, place the mini pumpkin cheesecakes in the refrigerator overnight. They'll be ready to top with the ganache just before serving for Thanksgiving dessert!